Today's e-commerce values instant replies and all-time available more than anything. No matter what your business is, people expect quick and helpful responses from the company they trust most. For small businesses, start-ups, affiliate marketers, entrepreneurs, or other online companies, satisfying your customers with only standard business hours isn't going to work.
Live chat and chatbots have been the most popular way to increase customer service hours in the last few years. Many customers want answers to their questions or an easy chat with their favorite businesses or websites. That's where ManyChat pops in. ManyChat is an artificial intelligence conversational tool. It helps online companies with the automation of conversation via Facebook Messenger and other social media platforms. It claims the easy way to create a Facebook chatbot. ManyChat offers businesses and marketers a powerful software tool with in-depth methods for lead generation, answering questions, and keeping the customer satisfied.
But before going with ManyChat, it is essential to go through its review. Is ManyChat worth your money? Please continue reading to find out more about it.
What is ManyChat?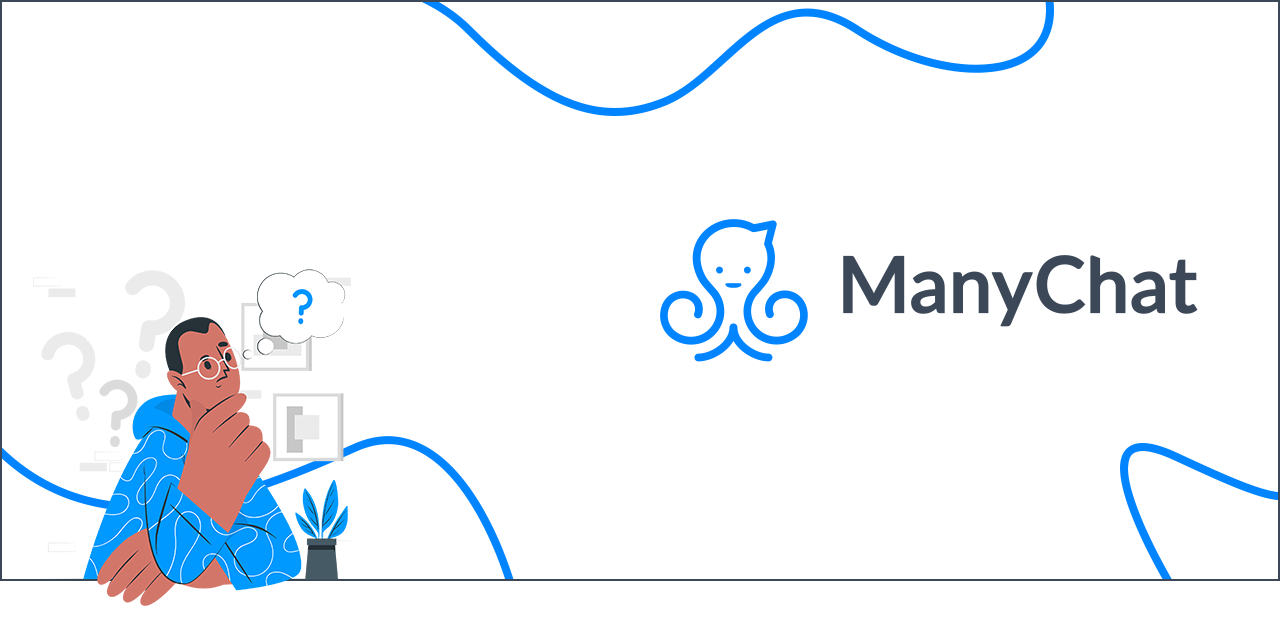 ManyChat is a conversational AI technology that helps eCommerce companies automate interactions via text messaging, Facebook Messenger, and Instagram. Customers may get discount coupons, booking confirmations, promotional messages, and more via email and text messages from administrators.
Managers may connect the system to their Shopify shop and deliver tailored messages to customers who have abandoned carts using the white-labeled platform. ManyChat allows teams to schedule meetings, issue reminders, gather feedback, and exchange news using a single dashboard. Supervisors may also tag consumers to categorize them, establish custom keyword triggers, and set up automatic drip sequences.
ManyChat allows users to create unique chatbot processes and run A/B testing to improve campaign efficiency and view performance metrics. Using built-in templates, operators may also use a drag-and-drop interface to develop, duplicate, and amend marketing campaigns across several social networking networks.
ManyChat Review: Key Features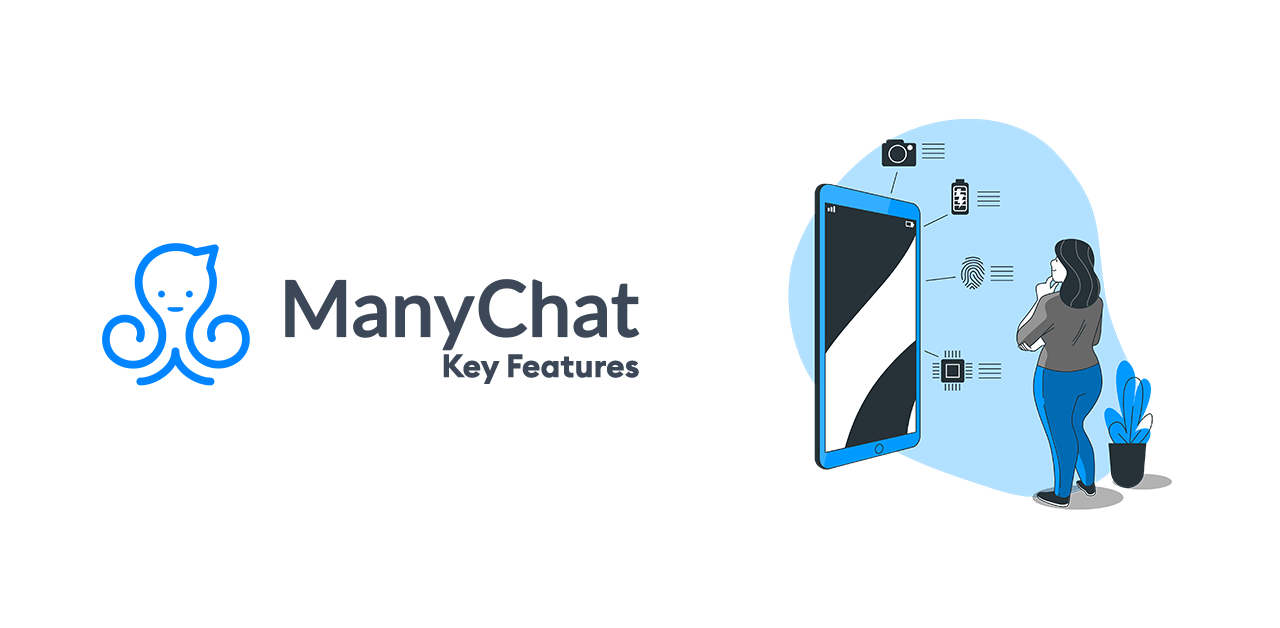 Simple User Interface
As one of the top chatbot development platforms, ManyChat prides itself on its ease of use and is available 24 hours a day. It includes a user interface with many icons that clarify what you need to do with app activities. The platform also includes Basic and Flow Builders. Both allow you to create a basic conversation flow for your bot to utilize while conversing with another individual. On the other hand, the Basic Builder gives you more help. You may use the Flow Builder to create even more chatbot flows.
The app's settings only collect enough information to allow it to function. All app functions are accessible to the flow builder. The title and description of an application describe its functioning. The app does not gather unnecessary information, and any external sources that impact the app's performance are always correctly configured.
You won't need to spend much time on lessons because everything is relatively easy and self-explanatory. ManyChat also does a fantastic job explaining what each function does when used.
Simple Integration with Facebook
Given ManyChat's concentration on Facebook, making integration difficult would be disastrous.
Fortunately, this is an area in which the platform shines.
To have the platform validate your Facebook page, all you have to do is click a button. It will then guide you through a series of steps to provide it access to the website and your Messenger services. If necessary, you may even add more pages.
The platform then sends a sample message to the Messenger account associated with your page. It demonstrates what ManyChat is capable of. You may even configure it to start straight away if you like.
Finally, ManyChat provides a simple URL to the bot it develops. To encourage people to use the bot, give this URL in your marketing materials.
It's all straightforward, and ManyChat does an excellent job of helping you through it. Of course, if you're unsure, Automation Agency can assist you. We can also assist you with integrating ManyChat with your CRM. Submit us a job to let us know you want assistance.
Flow Builder
With ManyChat, we have two options: the standard builder and the Flow Builder. Using Flow Builder, you can get a complete view of your user interactions. It makes things easier but after a long time of learning the principles.
The Basic Builder
With the Basic Builder, your chatbot's content is more organized. All of the messages in a given flow are present in chronological order. As the name says, this interface is essential, but it ensures that you can manage your chatbot.
Customization of Chatbot Automation
Automation is one of ManyChat's most essential features for ensuring that your chatbot exactly works how you want it. The last thing you want is a bot that isn't working correctly and makes you appear unprofessional since this might lose your business.
One of the most important and straightforward things you can do with this feature is to adjust the chatbot's default response. The default response isn't ideal. You want your chatbot's initial response to be customized and make your audience feel like you put work into it.
An Array of Growth Tools
ManyChat also has several growth tools exclusively available to Pro users, like the Facebook Comments tool. This feature, open to all users, allows you to convert post comments into bot subscribers. It's an excellent approach to get leads from individuals who comment on your articles but don't directly message you.
The Facebook Ads tool performs the same thing for those who click on your advertising. Each of these technologies makes it easier to generate leads using ManyChat.
The software also gives metrics for any growth tool you use. It will display vital metrics such as:
Impressions
Opt-ins
Conversion rates
It implies that your ManyChat bot may work in tandem with your other Facebook marketing activities.
Live Chat
Your chatbot may not be able to react to a user's inquiry. Thankfully, ManyChat takes care of this with a simple Live Chat feature.
When you go to the Live Chat tab of the platform, you'll see a list of people who have asked questions that the bot hasn't been able to answer. Then all you have to do is click on the chat to take command. You may even use this information to improve your bot's performance. Again, everything is relatively easy, which is a feature of ManyChat.
Artificial Intelligence (AI) & Natural Language Processing (NLP)
The AI and NLP in ManyChat are simple. ManyChat allows you to mix keywords to generate a custom answer for them. On the other hand, it doesn't support intents and automatic synonyms.
Their keywords feature provides you a user searches about different things. It is a feature that isn't available in every chatbot software.
Template Integration Options
ManyChat is compatible with various third-party templates, some of which help generate leads if you don't want to spend a lot of time making your bot. Buying a template online is one of the best methods to acquire a bot that efficiently connects with many of your followers.
ManyChat Review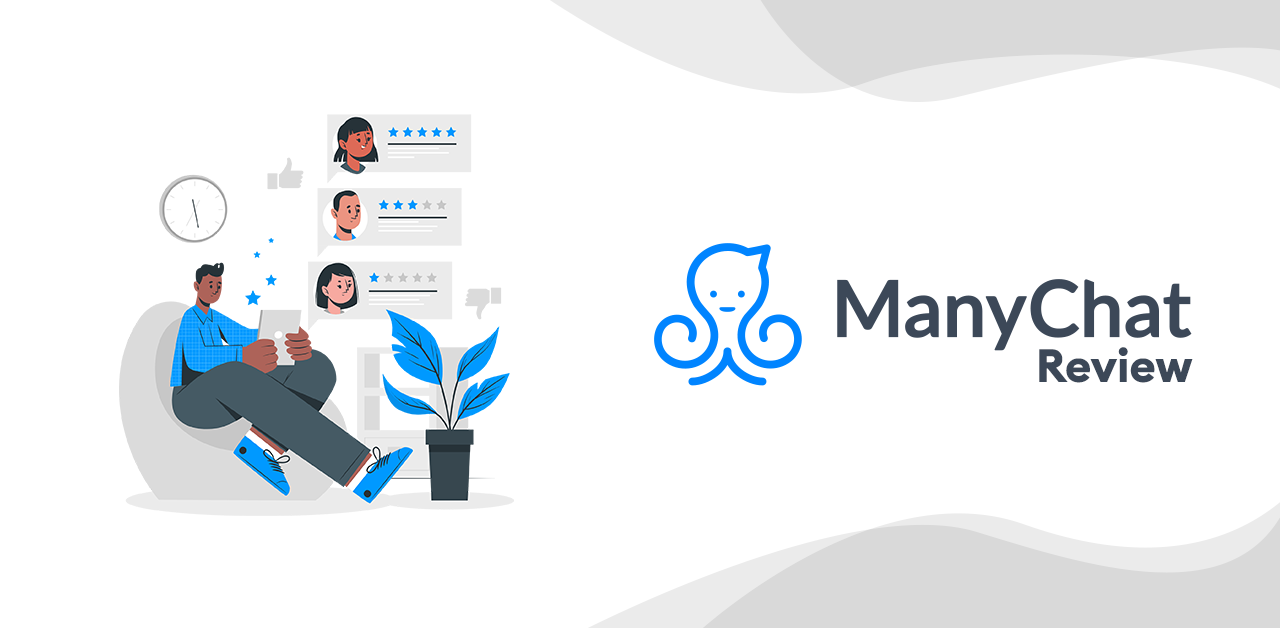 ManyChat Review: Plan and Pricing
ManyChat offers a two-tiered pricing structure: free and pro.
All of the fundamental features are available in the Free plan, including:
Unlimited subscribers
Two drip sequences
Audience segmentation
Visual flow builder
Four growth tools
and more
With the Pro version – from $15
Unlimited drip sequences
Unlimited audience segmentation
Unlimited growth tools.
Sponsored messages
A/B testing
Buy buttons
Email marketing
and more
So, what makes their price so unique? The cost of the Pro plan, on the other hand, varies according to how many members you have.
ManyChat Review: Customer Support
ManyChat provides support through several channels, each focusing on a different topic. You may access the variety of support options by selecting the Help tab.
First and foremost, the significant support material is available. If you need to learn how to use ManyChat's features or solve an issue, you'll probably find it there.
You may also submit a ticket to contact ManyChat's support team directly. You may also join the ManyChat community to meet new people, ask questions, and get ideas and inspiration.
ManyChat Review: Ease of Use
As previously said, ManyChat is relatively simple to use. Still, it does take some time and practice to become familiar with how it operates. You will have no trouble designing and testing chatbots after spending some time with the interface. The left-hand sidebar helps move between tabs and quickly access almost anything.
The tutorials provided by ManyChat are beneficial when learning how to set things up for the first time. You can accomplish practically anything once you get the hang of it. Please look at some of the example bots that ManyChat has on their website for inspiration. ManyChat was a little more difficult to use than other chatbot systems.
ManyChat Review: Is it worth the money?
In a nutshell, the answer is yes. However, if you do a lot of Facebook marketing or have a huge Facebook page, you may only say "yes." If you don't have any of these and don't plan to expand very soon, the premium version of ManyChat may not be required. ManyChat is a fantastic Facebook Messenger bot that gets the job done while also going above and beyond with extra tools and lead generation opportunities, whether it's commercial or not.
Conclusion
ManyChat is an AI chatbot platform that helps establish a conversation with customers. You can use it via Facebook Messenger and other media. Some may find ManyChat a bit difficult to use. It does take some time to get out of the curve. ManyChat is known for creating Facebook chatbots. There are two types of plans available to try on. Try the free plan if you don't want to go with the paid plan. Check if ManyChat fulfills the needs and goals of your company. ManyChat chatbots are powerful and capable of any work. Considering the few flaws, ManyChat will be worth your money.
However, if you still want options to check out BotPenguin. BotPenguin is a chatbot builder that helps businesses connect with their customers.
Related Articles: