Monthly, Facebook has 2.91 billion active users. That's a 6.2% leap from 2021's 2.74 billion users. (Hootsuite)
Simply put, everybody is on Facebook.
What does that mean for your business? It means you have to be there too! Gone are the days when you had to set up massive, expensive billboards only to reach a tiny audience belonging to a particular geographical location.
Today, everything is accessible—and everyone is accessible too, only for the motivated and modern!
It can be challenging to reach mass audiences and prospects. On what basis should you target them, and how do you interact and engage them with a small support team?
Worry not. We also have a solution. Chatbots. Chatbots are an affordable alternative to support agents and marketers, answering 80% of standard questions. (IBM)
But which chatbot maker should you choose for your Facebook business operations, and why?
itsAlive Chatbot is ideal for Facebook users wanting to scale their business, but why should you use it? Keep reading to find out!
This journey will take you through all there is to know about itsAlive Chatbot.
What is a Chatbot?
A chatbot is an AI-driven virtual assistant software capable of sending textual messages on behalf of a human through Machine learning (ML) or as programmed by a human.
Chatbots today are popularly used as a lead generation tool, trying to target potential customers, engaging with current customers, and guiding them through products. Also, In some cases, they can even handle conversations from start to finish, closing deals without any human intervention!
There are many chatbot providers to choose from— allowing you to build your own, choose a template, or even have them made for your tailored needs.
Why you need a chatbot for Facebook
Over 300,000 active chatbots on Messenger and approx. 8billion messages are exchanged between businesses and users each month. (Facebook)
The Facebook messenger app offers a massive business opportunity to marketers leveraging chatbots.
Facebook Messenger marketing can have up to 80 times better engagement than email. The average click-through rate (CTR) for email is 1-2%, whereas Messenger marketing shows a whopping 20-30% CTR. (Search Engine Journal)
Brands can automatically engage with Messenger users that feel more personal, making it a better alternative to Email Marketing.
Social media platforms are used as public forums to express political views, interests, and opinions about brands. It is an ideal route to understand customer issues and pain points and resolve them effectively where they prefer communicating.
Another benefit of deploying chatbots on Facebook Messenger is the 24/7 support and query resolution compared to the slow Live chat option.
What is itsAlive Chatbot?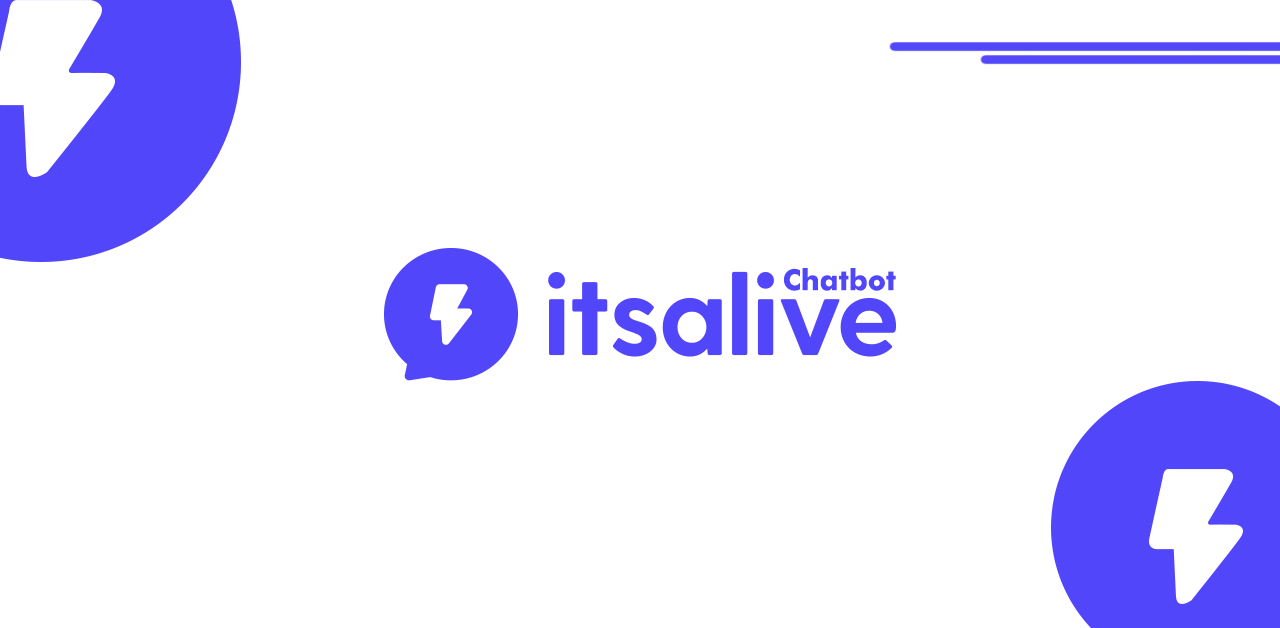 ItsAlive Chatbot is a chatbot maker for people who want to effectively build chatbots in no time on Facebook without knowing how to code.
itsAlive Chatbot implements flows popularly known as "recipes" to structure its chat and make sense of it. If you didn't quite grasp what that meant, think of recipes as scenarios or conditions determining the Chatbot's reaction.
For instance, if the Chatbot says "hello" upon a visitor's arrival, the visitor can reply with a greeting back, branching out into multiple-choice options.
With itsAlive Chatbot, you can-
Build Flows
Add content that fits your business goal by drag-and-drop interface and organize each decision tree using folders.
Deploy Chatbot on any platform
Deploy the Chatbot you created on multiple Facebook pages in seconds. Creators can test it, duplicate it, and share it.
Track Performance
Follow KPIs displayed on the itsAlive chatbot dashboard. Discover great insights, and get to know your audience better.
Optimize
Discover the most functional features of your Chatbot and keywords that failed to work. Optimize your chatbot experience according to its flaws and shortcomings in real-time
itsAlive Chatbot Key Features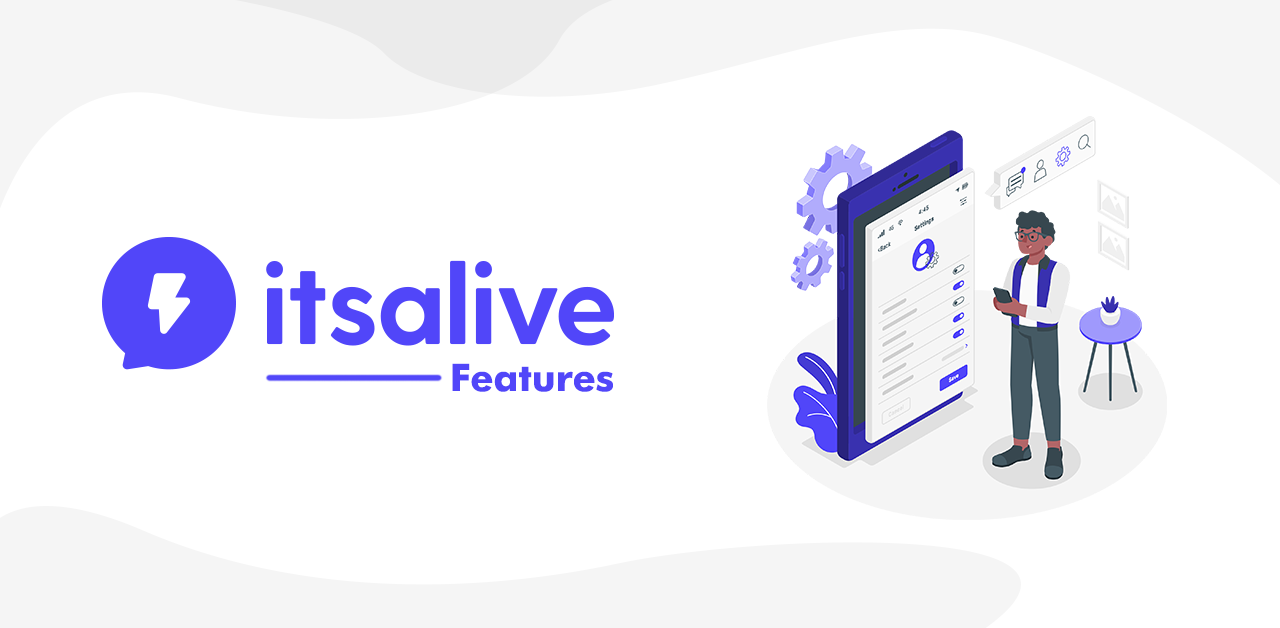 Welcome Message
Setting a welcome message is simple on the itsAlive chatbot platform. The menu called Essentials contains the greeting message, a menu, and unanswered messages. The message is default by nature but can be changed if required.
Optimizing the welcome message is critical because it is the first impression of your business. New visitors will be drawn to it when initiating their first chat conversation.
The persistent menu
This feature allows you to design a menu that is always visible to the user. The menu comes in handy if/when the user needs to navigate back to a certain point in the chat or misclicks, going down the wrong conversational path.
Activity tab
This section shows all of the messages that the bot couldn't understand, allowing you to optimize your content for no such future cases. Another effective way to use the activity tab is if many users ask about a specific product, you could add a dialogue path to that product.
Analytics tab
This tab displays several crucial analytical metrics in a dashboard layout, such as the number of subscribers, average session span, and message count.
Bot Testing
Clicking the "Go to your messenger" button in the dashboard will take you directly to Messenger, where you can try out your bot and make sure it works the way you want it.
API Connection
Facebook chatbots are even more pertinent when connected to an existing ecosystem. Better your services by integrating your platforms via an itsAlive chatbot.
An API connection will allow users to send information collected by a chatbot directly to a CRM or import important information.
Popular Integrations of itsAlive Chatbot
itsAlive Chatbot can seamlessly integrate with popular software and apps most businesses already use.
Optimize your approach by connecting other CRM platforms while maintaining the best conversational experience for your users.
Facebook Inbox
Salesforce
Hubspot
Google Sheets
Mailchimp
Airtable
Instagram
Youtube
Slack
WordPress
How can you benefit from using itsAlive Chatbot?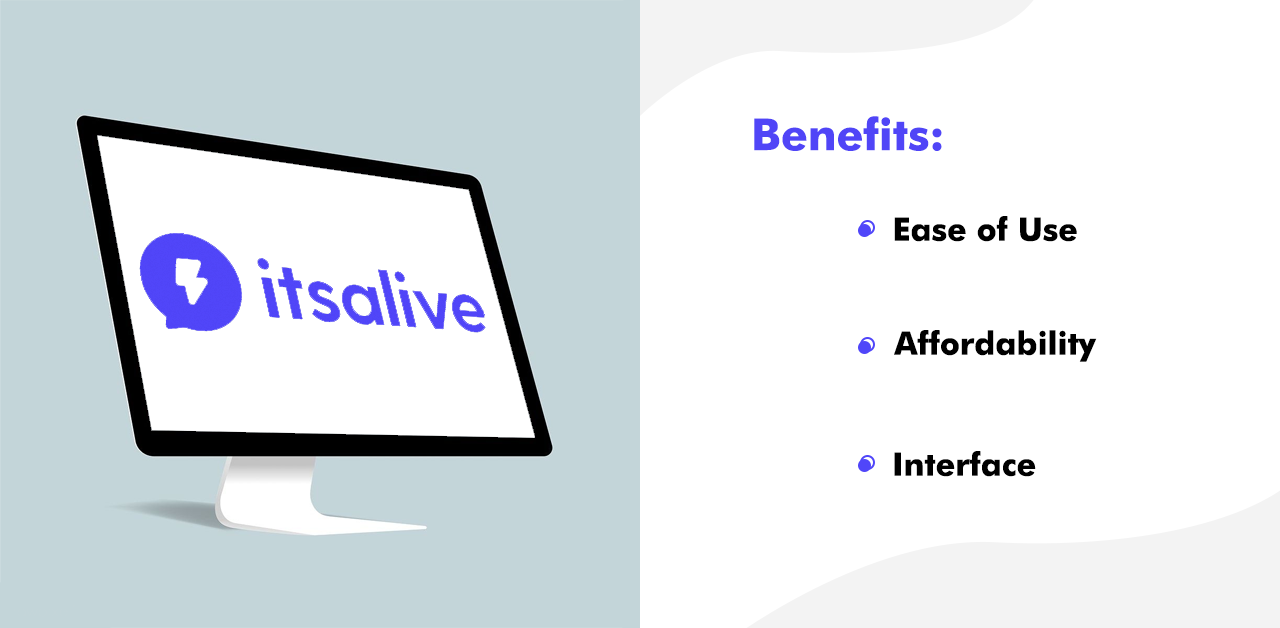 Ease of Use
After getting accustomed to the recipe workflow, users can build an itsAlive chatbot within hours. The initial learning period can take some time if you have had no prior experience with chatbot flow designing.
You can, however, refer to one of the itsAlive chatbot tutorials on their website for a deeper understanding of any issues you face.
ItsAlive is a highly easy-to-use marketing chatbot platform. Finding your way back is easy despite not having any technical skills; you don't need them to use the Chatbot effectively!
Affordability
itsAlive Chatbot is one of the most affordable pricing plans for businesses wanting to scale. itsAlive works by making its pricing plans suitable for organizations of different sizes.
Many chatbot providers may be ideal for small businesses. Still, they may lack behind in features once you see your business growing, along with which there's a growth in requirements too.
On the other hand, popular chatbot providers for Facebook, like Chatfuel, have great features built for enterprises. Still, they can be a load on your budget if you run/work in a start-up.
Interface
The itsAlive chatbot builder has a beautiful, inviting interface, which is one of the better ones compared to its popular counterparts.
The dashboard is streamlined and easy to navigate through each section, which is a plus if you're multitasking or working on many bots simultaneously.
The overall layout is minimalistic and practical with a catchy design. The drawback of having such a minimalistic design is that the features may seem lacking. For instance, the flowchart lacks a bird's eye view of the entire flow.
How itsAlive Chatbot works
Creating an itsAlive chatbot using the free flow builder is easy. Here's how itsAlive understands a business's challenges in their environment to provide a solution that will save time and help achieve goals.
Understand challenges, insights, and objectives followed by planning the chatbot design with the brand strategy in mind.
Conceptualizing & UX designing the Chatbot while also paying close attention to the user experience, constructing a decision tree that keeps a fluid conversation going.
Telling a brand story using the right tone of voice and creative content to get the audience hooked to your brand.
Integrating and developing all the bots with the ItsAlive CMS and adding custom features to meet your needs.
Testing & optimizing all the features to ascertain the content is relevant and remove any faults or issues in the flow design.
Launching and promoting the Chatbot (s) with all the tools required to share it with a target audience and measure its performance.
itsAlive Chatbot Pricing
As mentioned earlier, itsAlive Chatbot has one of the most affordable pricing systems available in the chatbot market, including a free trial and free basic plan.
With a massive five-tier pricing plan, things can get a little overwhelming!
Free- 1 Chatbot/1000 messages/Mo.
Solo- 1 Chatbot/ 5000 messages/ Mo.
Plus- 2 Chatbots/ 20,000 Messages/ Mo.
Pro - 5 Chatbots/ 100,000 Messages/Mo.
Enterprise- Custom
The free plan has none of the advanced features included in the other plans except the primary chatbot builder.
The Solo plan has white labeling, a complete analytics report, and a lead generation form but no intercom customer support.
If you're looking for a more reasonable chatbot provider that implements on your website in seconds, check out: BotPenguin!
Wrapping Up
According to Facebook, more than 7million businesses use Facebook as a channel to attract a target audience, and it's time you jump on the bandwagon too.
itsAlive Chatbot is a unique software following a rule-based interface rather than an AI-driven one. It emphasizes Facebook Messenger as the ideal communication channel for generating leads and nurturing them.
The fun, recipe-based workflow can be set up and used by someone with no prior coding experience. Thus, an exceptional fit for anyone to begin within your sales or marketing team.
So if you're looking for a free, functional, and structured chatbot provider, sign up on the itsAlive chatbot platform and get started right away!