Introduction
Are you looking for software to help you manage your sales and customer support account?
Looking for a helpdesk that is built into your Gmail?
Well, Here's a solution!
Hiver is one of the best helpdesks out there, however, one shoe doesn't fit all.
Explore Hiver and its great alternatives to decide which will work best for your business.
What is Hiver?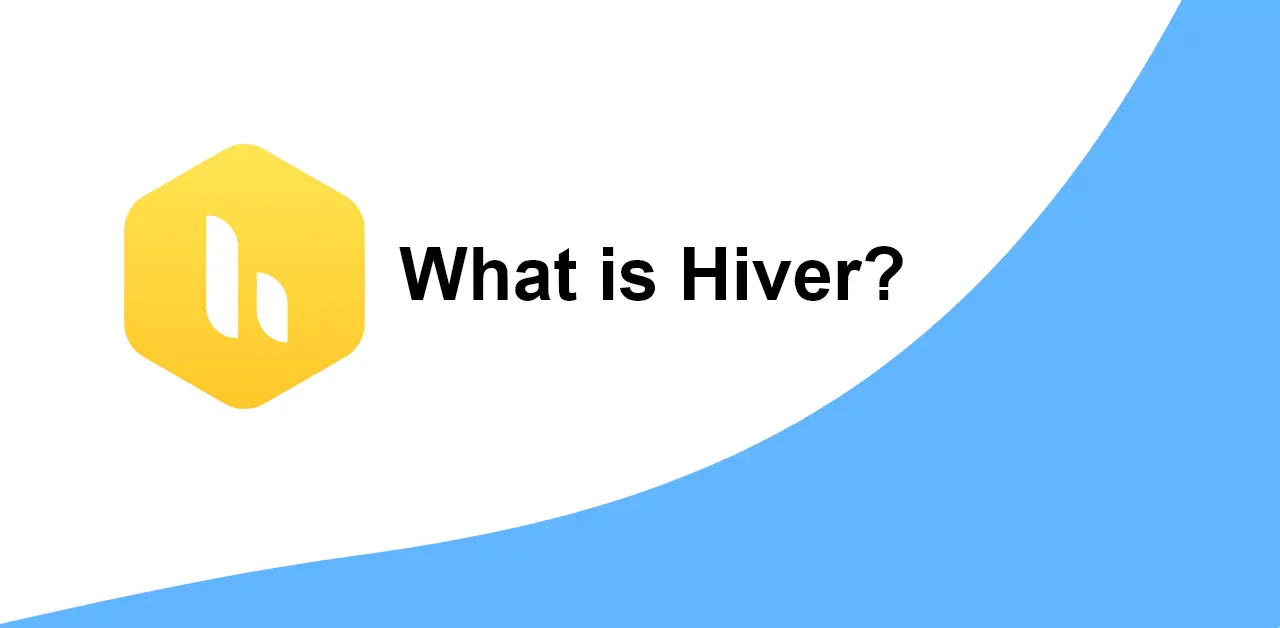 The first helpdesk ever created for Google Workspace was Hiver. It assists teams in providing quick and sympathetic customer service using the Gmail tool they are already accustomed to using. It allows them to manage and track customer emails collaboratively and run the most sophisticated analytics and automation directly from the Gmail interface without having to switch between tabs or waste time learning new software.
Features of Hiver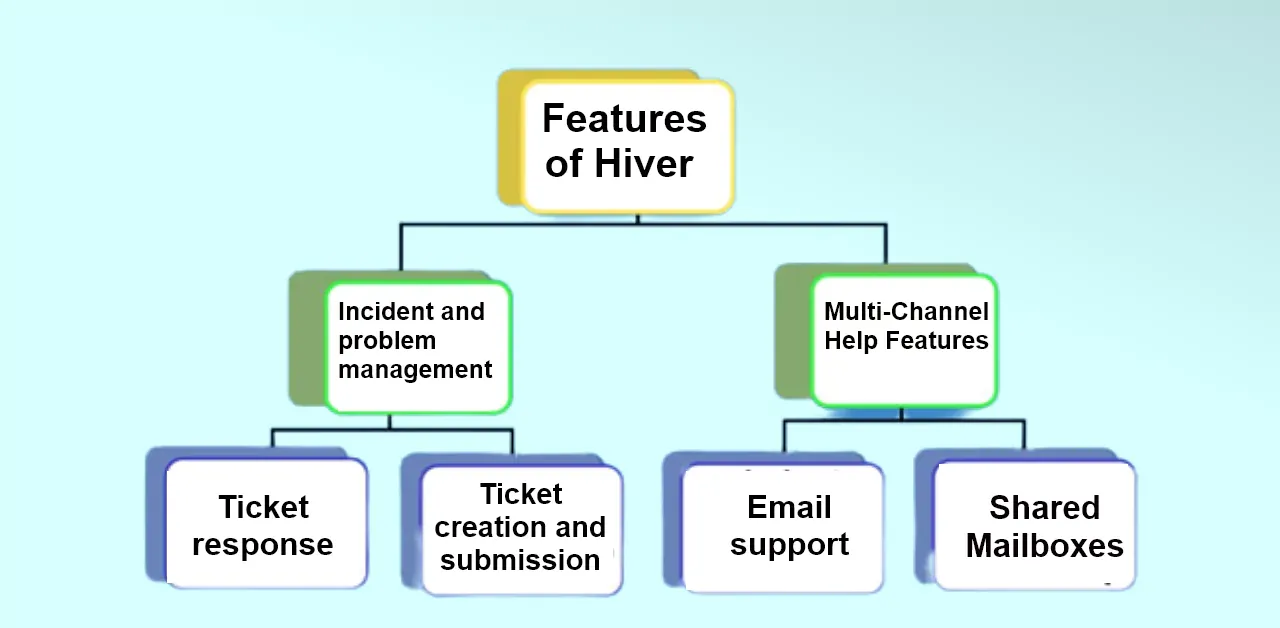 Incident and problem management
Organize and prioritize service tickets
Ticket response
Ticket creation and submission
Multi-Channel Help Features
Email support
Shared Mailboxes
Shared Labels
Email Notes
Benefits of Hiver
Cost-effective Collaboration
Hiver is business software that enables strong and straightforward team collaboration without requiring your firm to spend much money on a custom platform or an off-the-shelf solution. You need a Gmail account to provide excellent customer service, easily manage your day-to-day business operations, hire people and teams, and manage projects directly from the well-known Gmail inbox interface.
Shared inbox
You may control shared inboxes using Hiver and your Gmail account. You can organize your emails, and you can allocate them to the proper team members for the right follow-ups. You can quickly examine all of your emails in the shared inbox, assign tasks to your team members, keep tabs on their progress, and mark emails as resolved.
Shared Notes and Templates
Hiver allows your staff to take notes during email exchanges, fostering better collaboration and communication. Your coworkers can share these notes to offer advice, concepts, and more information to help other employees carry out their tasks effectively. Additionally, according to Hiver reviews, the platform provides reusable email templates that you may distribute to your staff. Once you've written them, you can use them as often.
Pros and Cons of Hiver
Pros:
Shared Mailbox
Easy to set up and manage ongoing ones.
Customer support is amazing- quick check-ins to quick responses.
Manage support emails with more transparency
Communicating internally and alerting specific team members for specific tasks.
Cons:
No way to create support tickets unless related to an email already received.
It is expensive and cannot be afforded by everyone.
Not changing the plans.
Best Hiver Alternatives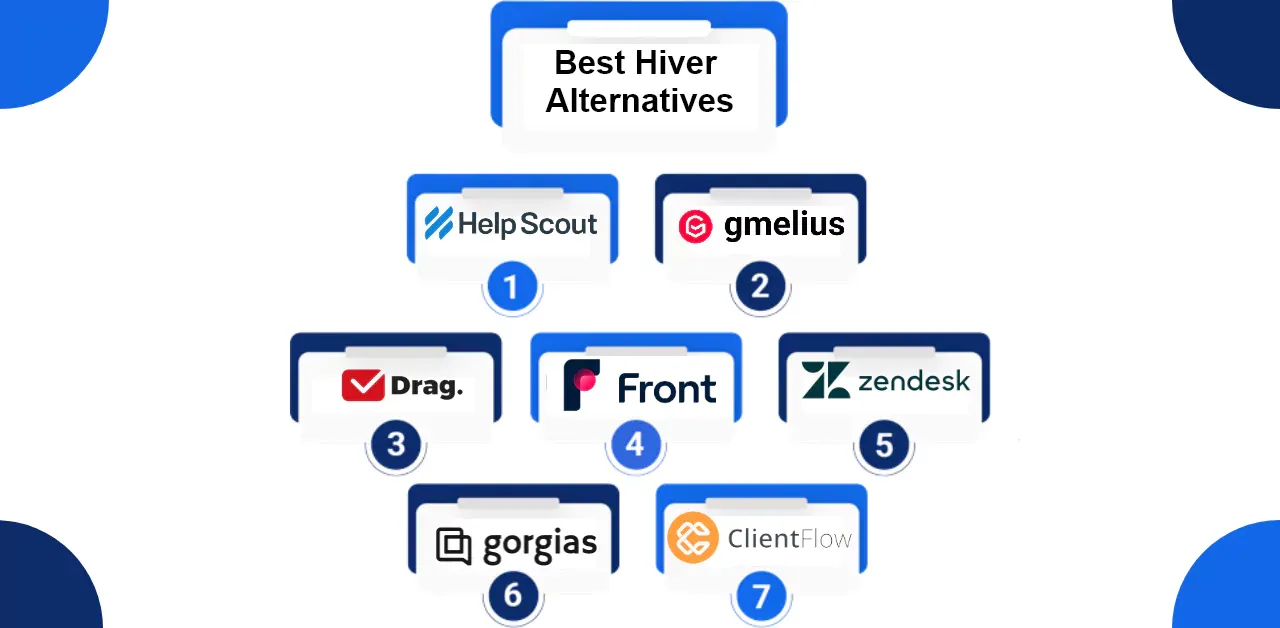 Help Scout(Best Hiver alternative for growing SaaS teams)
Help Scout is a complete package customer support platform designed specifically for growing groups. When you sign up, you get a robust set of customer service tools like a shared inbox. Many productive tools, such as collision detection, help minimize duplicate work and workflows to automate routine tasks. You are also provided access to Docs- a simple knowledge base builder. You may use reports to understand how your team is doing, where they're excelling, and where they need to improve. Use customer profiles to know who you're speaking with to provide your consumers with a VIP experience and reduce back-and-forth conversations. It will save time for both your team and your customers. Some other additional features include
Android and iOS apps
API for advanced capabilities
Integrations with tools like Salesforce, HubSpot, Jira, and Asana.
Advanced permissions for limiting access.
And if you ever need assistance, you have world-class 24/6 support and a huge library of knowledge base content.
Price: Starting at $20/user/month
Gmelius(Best Hiver alternative for teams that require project management tools)
Since Gmelius is a Gmail add-on, it is comparable to Hiver. Similar features, including internal notes, shared labels, ticket assignment options, and reporting, are also included (although on their base subscription, they only collect metrics going back seven days).
The addition of project management capabilities through Kanban boards is what sets Gmelius apart (think Trello). You can make tasks, give them due dates, and assign them to various users.
Although Gmelius has more capability than Hiver, most companies still look for essential customer support capabilities like live chat and knowledge base software. Another thing to consider is that most of their plans contain restrictions on essential functions.
Price: Starting at $7/user/month
Drag(Best Hiver alternative for multi-team collaboration
Drag is a tool that functions as an addition to your current Gmail account, making them comparable. You can also handle different tasks and customer conversations using their Kanban board.
Drag provides various process automation and the capacity to design unique email sequences in addition to the more conventional features like internal notes and ticket assignment (although both functions are limited based on your specific plan).
If teams besides customer care are also using Drag, the extra functionalities are quite helpful. For instance, salespeople may manage deal statuses in a designated workspace and use email sequences.
Price: Free; Paid plans start at $8/user/month
Front(Best Hiver alternative for account management)
It can be a suitable choice if you want to reply from a personal email account but still want access to a shared inbox's features and functionality. You can link different social media and email accounts, and SMS messages can all be received in a single shared inbox.
A few collaboration tools are available in Front, including internal notes, comments, and ticket assignment options. To reduce human labor, there are pre-set rule templates and custom automation (only for more expensive plans).
In addition, Front offers several integrations to link to other products in your support stack and analytics tracking to help you better understand team performance.
Front does, however, lack some support-specific facilities like live chat and knowledge base software, similar to other items on the list. They also save some of their most expensive plans for fundamental capabilities, including reporting.
Price: Starting at $19/user/month
Freshdesk(Best Hiver alternative for phone-heavy teams)
Freshdesk is a Zendesk substitute that provides a support desk and omnichannel plan options. You can manage email, and social media (Facebook/Twitter) chats in a shared inbox with their more basic help desk options. Additionally, various reporting and teamwork tools are included in these proposals.
Multiple customer support solutions, including a shared inbox, knowledge base software, and live chat capabilities, are accessible through their omnichannel plans, which start at $29 per agent per month. They also provide some more sophisticated capabilities, such as AI chatbots. However, they are only available with the most expensive plans.
Included phone minutes on their omnichannel plans are the key differentiation. Having all those systems integrated can save time if your staff provides a lot of phone assistance.
Price: Free; Paid plans starting at $15/user/month
Gorgias(Best Hiver alternative for low-volume eCommerce teams)
Gorgias is help desk software designed with small e-commerce firms in mind. They provide various customer assistance solutions, including a live chat feature and a shared mailbox.
The real differentiator for Gorgias is its ability to integrate with Shopify, Magento (which is not included in their base package), and BigCommerce. These integrations allow you to alter orders and even issue refunds directly from your help desk, which may save your support members and customers a tonne of time and hassle.
All of their plans have ticket limits, which is important to remember. It can be challenging to predict your monthly expenses because if you go over the plan's limit, you'll be charged extra money based on how much you go over.
Price: Starting at $60/month
ClientFlow(Best Hiver alternative for teams wanting time tracking)
In essence, ClientFlow combines the functions of a shared inbox with a project management application. You have access to all the features you anticipate from a shared inbox, including internal notes, the ability to assign tickets, and warnings to prevent duplicate responses.
You can create, assign, and amend tasks on the project management side. The user interface is intuitive and easy to use. The ability to track time directly in the software sets ClientFlow apart.
Having that functionality built in could help you save a lot of time and effort if your team works hourly.
Price: Starting at $19/user/month
Helpwise(Best Hiver alternative for multi-channel support)
A shared inbox application with an outstanding breadth of channels is called Helpwise. Helpswise has you covered whether you communicate with clients using WhatsApp, SMS, email, social media, or Slack.
They offer a wide range of channels and fundamental functionality like internal notes and ticket assignments. Additionally, collision detection is included to lessen duplicate responses and help your team save time.
You should note that their base package does not provide access to all channel integrations. Additionally, Helpwise doesn't have many tools designed exclusively for customer service. More advantageous choices might be available if that is your main use case.
Price: Starting at $20/user/month