Businesses must remain one step ahead to thrive in a dynamic world with fluid technology. Various apps for marketing products, sales, and customer engagement have become an obsolete approach in 2022. Today's market is kind to those brands that have all these features under one umbrella platform.
CRMs are an innovative solution for today's market, but they still fall short in some areas. However, CRM providers have taken a turn nowadays. They have started putting digital marketing, analytics, and chat services into one united CRM software.
One platform that shares this ideology is EngageBay. It is a great marketing platform with an all-in-one solution interface. Marketing isn't about attracting the attention of a select few. It's all about developing a name for yourself in the business and establishing a brand.
EngageBay can give all of this and more through its extensive array of features. It can assist you in gaining visibility, increasing conversion rates, scaling your campaign, analyzing data, and much more. In this article, you will find EngageBay's review – the good and bad for 2022.
What is EngageBay?
EngageBay is an all-in-one marketing platform that includes lead generation, email marketing, marketing automation, CRM, and social media engagement. EngageBay is a tool that allows users to construct email campaigns and automate marketing processes and sales funnels to help firms acquire, engage, nurture, and close prospects. The cloud-based platform may increase leads, create and automate email marketing content distribution, and manage client relationships using the built-in CRM.
EngageBay has a built-in CRM that allows users to manage their company contacts, connections, and pipelines. Businesses may steer leads and contacts effortlessly through the sales pipeline utilizing only one synchronous platform with marketing and sales teams working within EngageBay.
Users can use tools to build contact lists, search inside the contact database, record interaction history, log activity, and manage contacts. In addition, users also receive real-time access into the sales funnel and follow the status of each contract with EngageBay.
Features of EngageBay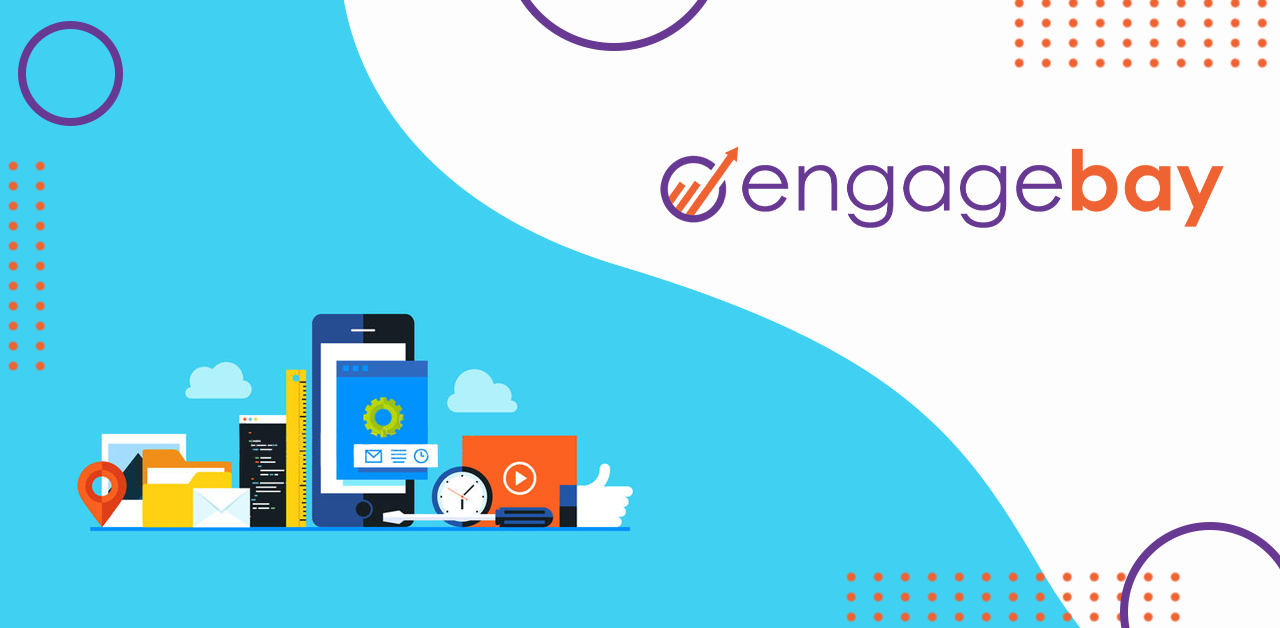 EngageBay is a sales, service, and marketing automation platform that combines an easy-to-use CRM with an all-in-one sales, service, and marketing automation center. This solution provides a central location for sales, support, and marketing employees to collaborate. It's easier to make informed decisions that increase conversions when you have a complete view of your customers.
EngageBay offers many marketing tools and resources, merging many solutions, so you don't have to go for new services. Some of the features you'll get are as follows:
Email marketing
Lead generation tools
Marketing automation services
Landing pages
Contact management
Task management
Deal pipeline
Appointment scheduling
Sales automation
Multiple ticketing segments
Help desk automation
Web forms
Live chat software
EngageBay Review - All-in-One Package
EngageBay provides a fantastic solution for start-ups and small enterprises to sell more and increase their sales funnel. You may utilize one bay at a time, much like Hubspot, or integrate the capabilities into an all-in-one solution. When you purchase the all-in-one bundle, you will receive:
Customer relationship/service hub is quite essential. This whole stack of service solutions includes contact management, deal pipeline, appointment scheduling, task management, and more.
You will get a comprehensive marketing center with email marketing tools, marketing automation, template builders, landing page builders, lead generation, and social network connections, among other things.
Helpdesk software handles issues faster and provides a more extensive selection of help alternatives to your clients. There is also live chat software accessible.
The premise is that by combining everything under one roof, you can avoid paying thousands of dollars on marketing, support, and sales tools. It's a far more convenient method to manage your business with a single pane of glass.
EngageBay Review - Ease of Use
While EngageBay's feature set has a lot to offer, from email marketing campaigns to automation tools, the most excellent part is how simple it is to use.
Setting up a CRM, email sequences, marketing, and support solutions requires significant time and work. You'll need to experiment with landing page builders and understand how to use marketing automation technologies. It's possible that onboarding will take several days.
EngageBay, on the other hand, is so user-friendly that you won't need much time. The interface is beginner-friendly. Most users can start working right away from the first day. Despite the abundance of functions, the UI is clean and easy.
EngageBay Review - Customer Service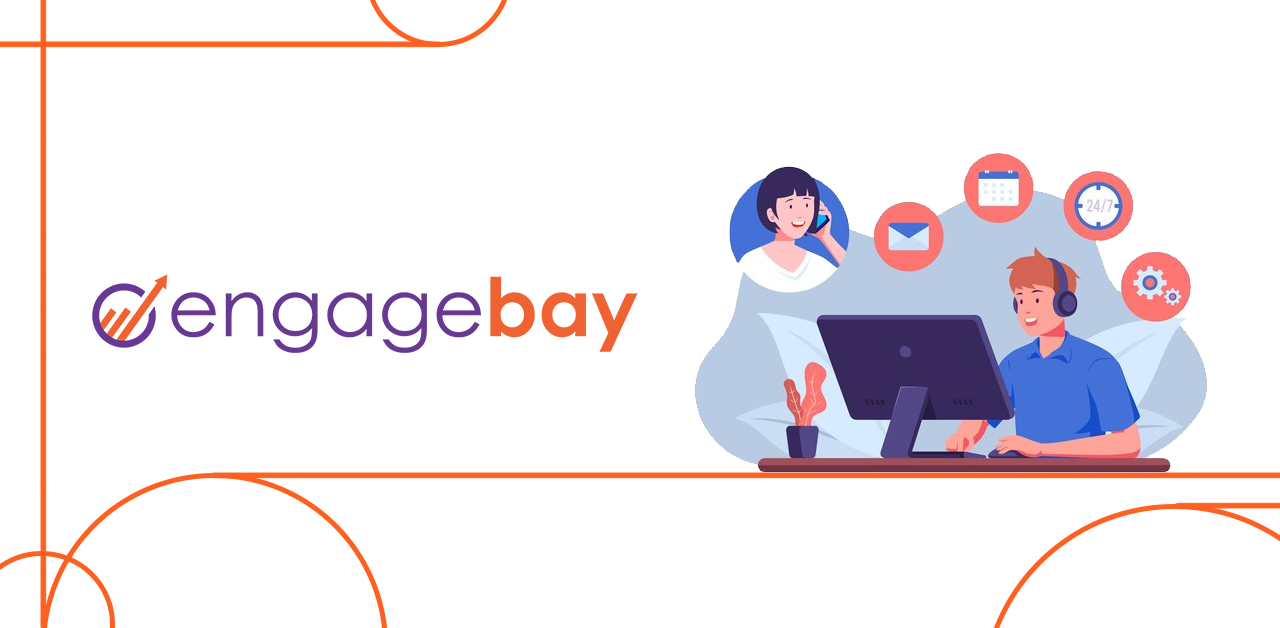 You get treated more nicely based on the plan you choose. If you select the accessible version of any service, you'll have to function without any support. However, you'll have access to various resources and information tools to assist you.
The EngageBay website's product videos, articles, and instructions are handy, and there are even upcoming webinars to attend.
Suppose you need help with something particular, such as successful marketing segmentation or expanding your business while relocating to a new nation. Suppose you pay the highest fee for a "Pro" version of any service.
In that case, you'll also get additional assistance in phone coaching and a service level agreement (SLA) to ensure that your business remains up and functioning. Support agents are located worldwide, from Brazil to the United States.
EngageBay Review - Pricing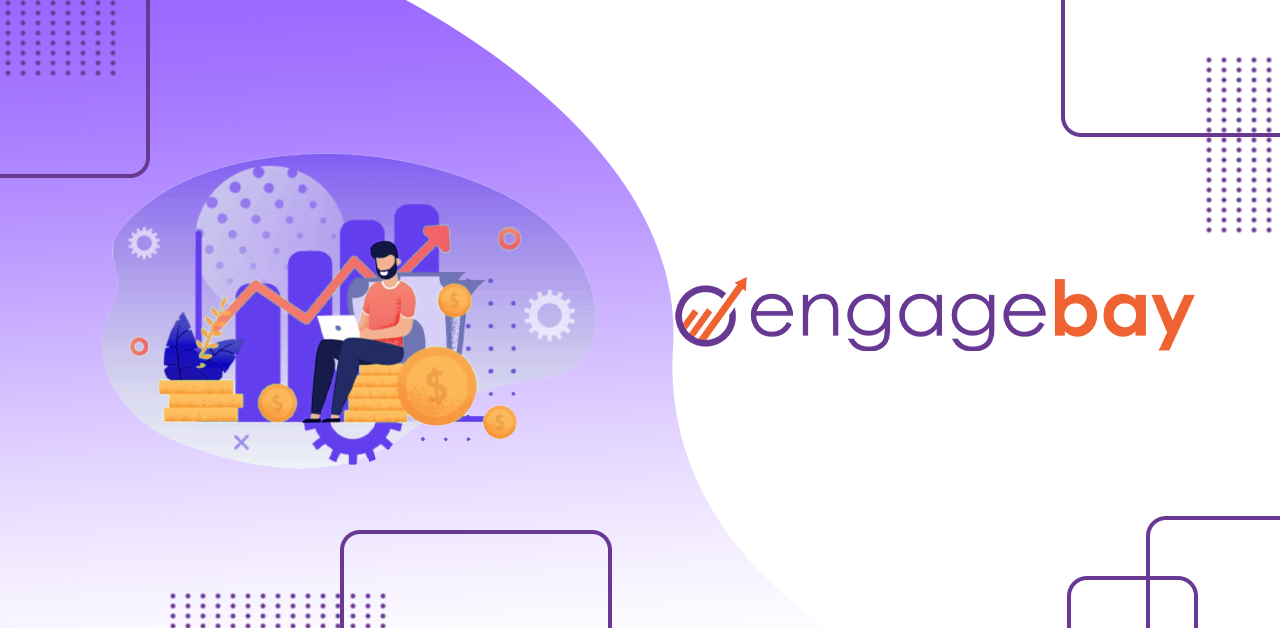 As previously stated, EngageBay is available as a full-stack or as a piecemeal solution. These are the packages you'll have to evaluate if you pick the all-in-one service:
No cost: $0 each month: This package allows you to send 1000 branded emails to 1000 recipients. Essential email marketing and broadcasting services and autoresponders, lead grabbers, sequences, and landing sites are all available. There's also a built-in CRM and a help desk for support.
Basic: $8.99 a month per user: Includes all free features plus up to 15,000 contacts and 10,000 branded emails. The basic plan will unlock extra capabilities such as a social suite for social media marketing, SMS marketing, website pop-ups, third-party integrations, and more.
Growth: starts at $29.99 a month per user. It includes Site messaging, push alerts, A/B testing, call records, product management, service automation, proposals, etc. It is suitable for 50,000 contacts and 25,000 branded emails.
Pro: $47.99 per user per month: Unlimited contacts, 50,000 branded emails, proposal analytics, SSO, marketing automation, uptime SLA support, custom reports, role administration, and phone assistance are all included in the Pro package. The rates mentioned above apply to the "Biennial" payment plan. If you pay annually or monthly instead, you'll have to spend extra.
Like many businesses, you already have tools to handle various marketing and customer service areas. You might want to buy only one portion of the solution.
There are free plans for marketing and CRM/Sales bay, a $7.79 primary option, a $14.99 Growth package, and a $29.99 "Pro" plan. You may upgrade to the entire stack, alter your plan, or amend your payment structure at any time.
For more:
Marketing: Email broadcasting, sequences, lead grabbers, landing sites, autoresponders, video marketing, and custom fields are available at various levels, ranging from free to $29.99. SMS marketing, tag management, third-party connectors, support for additional contacts and emails, web analytics, SSO, and custom reports are all available at higher tiers.
Sales and CRM: Free to $29.99: Contact management, a 360-degree customer view, transaction information, email tracking, task assignment, appointment scheduling, live chat, and a conversational inbox are all available. Calling, predictive lead scoring, sales team leaderboards, sales automation, multi-currency support, and proposal analytics are available with more costly versions.
EngageBay's Service Bay is only available in a single "free forever" package. You can quickly add live chat and help desk features to your website with this service. If you enjoy how the service bay works, you may add more functions later by registering for the marketing or CRM/sales bays.
EngageBay Review - The Good for 2022
The key benefits of using EngageBay:
Customize reports to examine data in a meaningful way and use the reporting module to produce reports and analyses on sales numbers.
Reports on engagement may also determine whether marketing material is doing best.
Automate all marketing activities and sales funnels in minutes with various marketing tools available through a single integrated platform.
To convert website visitors into leads, use bespoke online forms and landing pages.
Pop-up forms that display when a web visitor views or leaves a page. Forms provide data such as subscription opt-ins and email address queries. Furthermore, you can use them to collect contact information.
You can use pre-built EngageBay templates to develop marketing campaigns that can adjust to match your company's branding. In addition, you can also start from scratch using the drag-and-drop WYSIWYG editor.
EngageBay tracks every communication to acquire a complete picture of each consumer.
Access all emails exchanged, phone conversations made, and web visitor activity to gain relevant information.
EngageBay Review - The Bad for 2022
The cons of EngageBay are the following:
Webinar features and landing pages don't support certain features.
It has limited customization options for templates, especially for email and landing pages.
Constant bug issue.
Sometimes you would need to purchase additional tools, which can be costly.
There are some under development products.
Continuous upgrades of features can cause glitches sometimes.
List management needs improvement.
Lack of an outbound phone-centric easy interface.
Conclusion
EngageBay offers high-performance email campaigns, pre-designed templates, SMS marketing, automation tools, and landing sites, all under one umbrella platform. In addition, unlike many CRMs, EngageBay is simple to use.
It is one of the most powerful all-in-one CRM platforms available to companies. It can assist you in replacing multiple marketing tools because it offers all of the capabilities you'll need to grow your company.
BotPenguin is an AI-powered chatbot builder that helps you build chatbots for any sector with zero code.