You may have heard of chatbots and even used one.
A chatbot is a piece of AI-powered software that can carry out many pre-programmed functions autonomously.
As the name implies, the primary purpose is to engage in conversation with users.
As per the bot's range, it can provide personal assistant services, restaurant reservations, and provide required dates in other provinces, such as flight itineraries.
According to recent estimates, around a billion people have interacted with chatbots in some capacity, be it through a mobile app, a website, or a messaging app.
The use of chatbots is growing rapidly as businesses and organizations continue to adopt them to improve customer experiences and automate routine tasks.
Here you will learn the steps to create your first chatbot with BotPenguin.
Benefits of using a Chatbot for your Website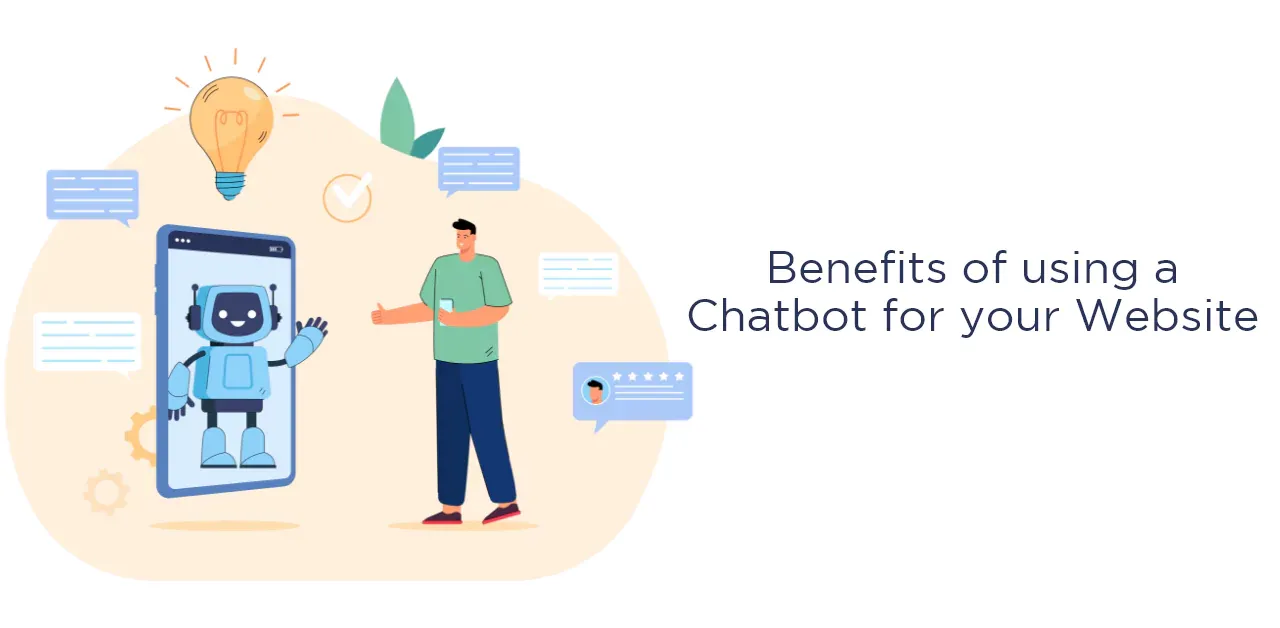 A chatbot has many advantages.
There is a good chance that your lead generation rate will increase by twofold as a result, and you'll likely see higher growth and happier clients as a result.
It may work wonders for a company as the initial point of contact for customers.
The following are some of the key benefits of an online chatbot:
Accessibility: A chatbot is a computer program that is accessible around the clock to assist your consumers.
No human error: chatbots make no mistakes.
Immediate response: They provide customers with their answers right away, with no waiting.
Automatizes routine work: A chatbot may immediately automate repetitive chores.
Monitor consumer data and analytics: Information gathered by a chatbot may provide you with important details about the number of customers, their activity, and their location.
Manages orders and appointments: It may arrange appointments or business meetings for you and manage your orders.
Customer happiness: It never delays a client and is error-free, leading to higher customer satisfaction.
Savings: A bot can manage millions of requests and spare your employees hundreds of hours of labor.
Applicable to diverse businesses: There are several templates and sets of questions easily available for various sectors.

How can you build your first Chatbot with BotPenguin?
BotPenguin is a chatbot development platform that helps businesses to create, deploy, and manage chatbots for various messaging platforms like Facebook Messenger, Slack, and more.
With Botpenguin, you can create a chatbot from scratch or choose from a variety of templates to get started quickly.
The platform provides a visual drag-and-drop interface for designing the chatbot's conversation flow and defining its responses to different user inputs.
You can also use natural language processing (NLP) to understand user requests and provide relevant answers.
Botpenguin offers integrations with popular messaging platforms such as Facebook Messenger, WhatsApp, and Slack—allowing you to deploy your chatbot on the channels where your customers are already interacting.
The platform also provides analytics and reporting tools to help you monitor and optimize your chatbot's performance.
In addition to its user-friendly interface, Botpenguin offers robust security features to ensure the privacy and protection of your data.
The platform is also highly scalable, so you can easily expand your chatbot's capabilities as your business grows.
Building a chatbot with Botpenguin is a simple process that can be done in a few steps:
Sign up for a Botpenguin account and log in to the platform.

Choose a chatbot template or start from scratch and design your chatbot's persona and appearance.

Define the conversation flow and set up the chatbot's responses to different user inputs. You can use natural language processing (NLP) to understand user requests and provide appropriate answers.

Integrate the chatbot with your website or messaging platform, such as Facebook Messenger or WhatsApp.

Test the chatbot and make any necessary adjustments. You can also track and analyze chatbot usage data to see how users are interacting with the chatbot and make improvements.

Launch the chatbot and start engaging with users.
Whether you're a small business or a large enterprise, Botpenguin can help you create a chatbot that meets your specific needs and enhances the customer experience.
Best practices for developing Chatbots
AI chatbot creation enables you to focus on the newest technologies and trends to expand over the long term.
You may boost the competitiveness and robustness of your company in the online market with the creation of a wide variety of bots.
In addition, a lot of businesses can wonder what the formula is for effective Chabot development.
1. Select the appropriate use-case scenario
Businesses from all industries can leverage chatbot technology in more scenarios because of advancements in the field.
The kind of use case entirely depends on you and the kind of business and for what purpose you are going to use your chatbot.
Finance bots, virtual assistants, bolstering HR processes, and other use cases are examples of business applications.
2. Choose a suitable chatbot development framework
Businesses may leverage extensive frameworks or create custom bots. With its frameworks and specific capabilities, a chatbot development business can assist you. The Microsoft Bot Framework API.ai is a notable framework.
3. Recognize your target market
One of the most crucial phases is to have a thorough grasp of the product and the target market before beginning the real development.
Understanding the function of your bot for your audience base should thus be your initial goal.
FAQs
Which AI are chatbots using?
Chatbots use artificial intelligence in a variety of ways.
The most popular ones are machine learning (ML), which drives data and algorithms, and natural language processing (NLP), which powers the chatbot's linguistic functionality.
Why do most chatbots not succeed?
The lack of human involvement in the configuration, training, and optimization of the system, without which chatbots run the danger of failing, is one of the primary causes of chatbot failure.
As a result, despite investing in them, many businesses have been unable to adopt them.
Conclusion
You will undoubtedly achieve fantastic results if you carefully follow the procedures listed above.
Just be sure to use a clear, concise design process while creating your chatbot and the associated conversation flow.
With the appropriate chatbot platform at your side, you will see faster and more effective growth for your company.
If you are thinking of creating a chatbot for your business, you must consider employing BotPenguin.
Aside from providing you with a variety of plans that make it simple for you to use in your business, Botpenguin also offers excellent customer service through its chatbot.
As a result, BotPenguin is here to aid in the creation of chatbots.
Contact us if you have any questions.