Introduction
Just imagine you buy a product or service from a business house and face the problem of using it. During this time, if you do not get a good response from their service provider in solving your problem, what impression will you have on that business?
Having a good relationship with your customer is the key to taking your business to new heights. It is often noticed that business houses don't take this issue seriously, thus resulting in poor business growth.
Analyzing the CRM software before choosing them for your business is essential. A sound CRM system can boost your business and take you to new heights, but your whole business comes at risk if you make a mistake in choosing the right one.
This blog discusses Zoho CRM and Sugar Sell, the two most popular CRM software in the market.
We have highlighted each CRM's key factor and made a detailed comparison of both to help you pick the right choice for your business.
What is Zoho CRM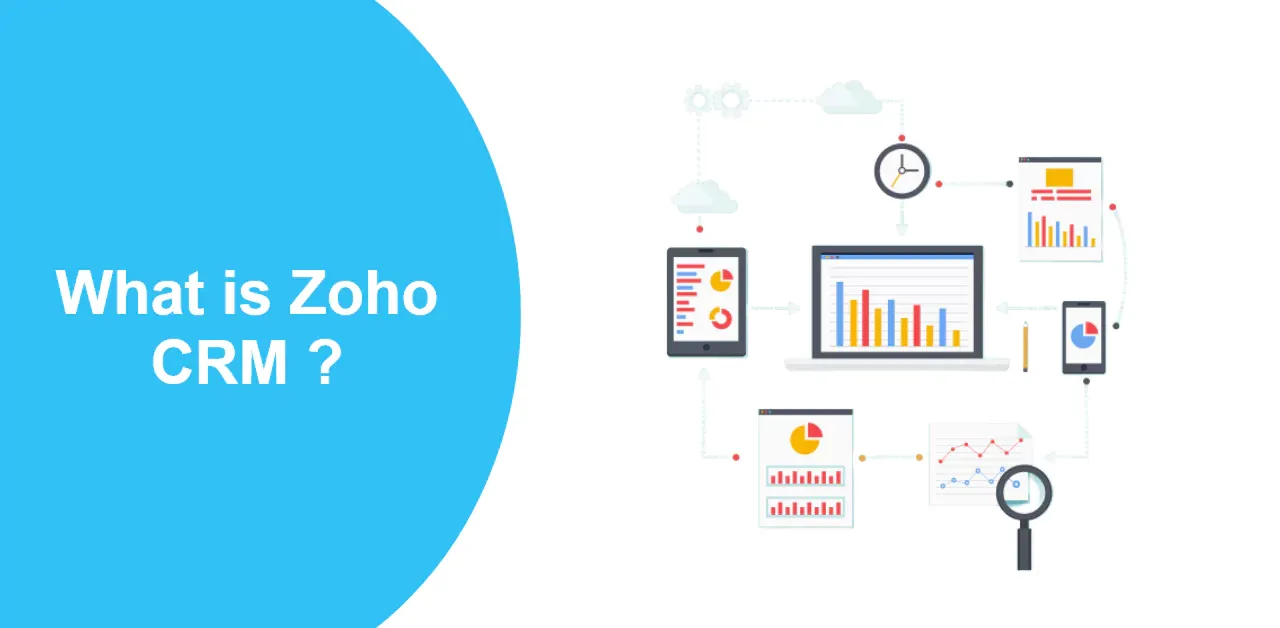 Zoho is a renowned software with unique features and a robust suite. The features offered by Zoho are suitable to satisfy the needs of small and large enterprises.
Zoho is known for 6.95% of the total CRM market because of its user-friendly interface.
Zoho CRM was launched in 2005 and now comes with a platform of 45 applications along with third-party integrations. The platform includes applications that help in general business applications. It also comes with a web-based office and productivity suite. With the combination of applications, Zoho CRM offers an all-in-one business solution.
Zoho offers impressive features like multi-channel communication, taking care of multiple tasks, and CRM insights capable of fulfilling your requirements. It is used to streamline and automates your sales, marketing, and other support from a single platform.
What is Sugar Sell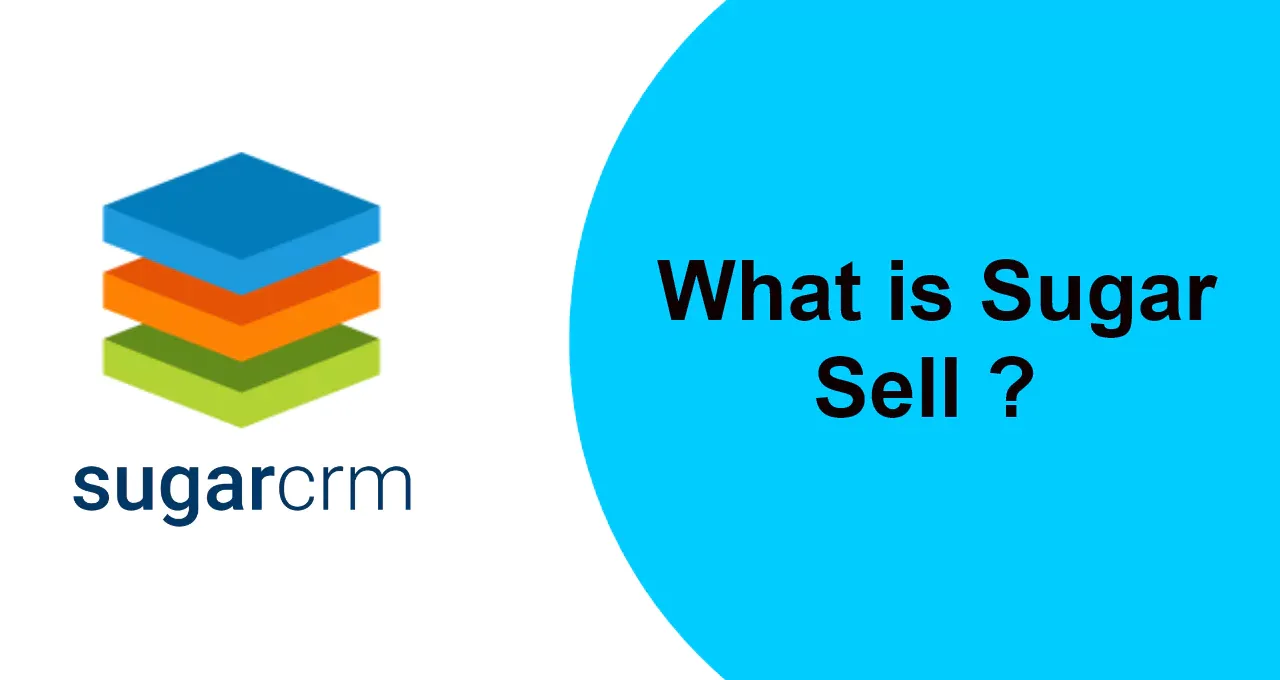 Sugar Sell (formerly known as SugarCRM), founded in 2004, is a privately held software company. Sugar Sell comes with a cloud-based or self-hosted solution, making it one of its kind. It is open-source software that allows you to customize the interface and database in the back-end.
Sugar Sell has many features, making it an excellent option for people looking for a quality CRM. It has offices in different parts of the world, including the US, Mexico, Europe, and Australia.
Sugar Sell has over 2M users, distributed in 120 countries. Some of its famous customers are Crown and Caliber, Sennheiser, and Tyson Foods. The company uses advanced technology, providing its clients the opportunity to deliver the best experience to their customers and build the strongest bonds.
Zoho CRM vs. Sugar Sell- Comparison in Details
Zoho CRM vs. Sugar Sell- Features
Features of Zoho CRM
The Zoho CRM has intricately designed analytics that allows you to view the sales matrix with pie charts and heat maps. With the help of Artificial intelligence, the anomaly detector widget analyzes the predicted trends with the actual sales performances to give you an accurate idea about the sales. Analysts also examine leads at every stage in the sales pipeline.
Zoho CRM allows you to use multiple channels to connect to customers, like email, telephone, social media platforms, live chat, and portals.
Zoho CRM helps you to manage your territories from different parts of the world. Territory management allows you to recognize the region with more profit-gaining opportunities and allocate resources accordingly. On top of that, you can get sales insight as per various territories.
You can easily handle different stages in the sales pipeline with process management in Zoho CRM. It has features like Blueprint, a built-in technology inside the system, and helps the users to go in the right direction in the sales pipeline.
Feature of Sugar Sell
Sugar Sell no-touch information management has different tools that let you capture leads across multiple channels. You can collect customer information from email, voice, text, and other applications. Using this, you can also segment leads based on industry, channel, lead source, geography, and other attributes, making your task much more organized.
Sugar Sell allows your team to see real-time performance against quotas using the sales forecasting tool. Viewing the sales quotas at the individual, group, and sales organization levels becomes much more accessible. A detailed and complete view of your pipeline lets you make the right decisions based on data.
The marketing components provided by Sugar Sell include built-in advertising and social tools. It helps to increase traffic to your website. It also comes with drag-and-drop builders and optimization tools that help to create landing pages, emails, and forms with high conversion rates.
Sugar Sell comes with an assistant named Sugar Hint, acting as an intelligence component. Its main work is to gather data from social, news, and other business sources to remove data entry. It is why you get alerts, either by real-time email, push notifications or periodic email digests that give you updates whenever there is development or activity from your accounts.
Zoho CRM vs. Sugar Sell- Advantages
Zoho CRM- Advantages
End-to-End Customer Engagement- Zoho CRM comes with end-to-end user engagement so that customers know every tiny detail while using the software. It is conducive for customers to learn about their workflow.
Both-end Communication- Zoho CRM is best known for its contextual communication with its customers. This approach allows customers to communicate and share information properly, which helps growth for both parties.
Effortless Team Management - The management team works efficiently in the Zoho CRM. There is high efficiency in work progress because of the efforts put in by the management team to help the users.
Better Mobility & Functionality - Zoho is an easy-to-use software that also comes with mobile apps that make it much easier to function. It gives the customers the flexibility to work on the go and manage their business no matter where they are.
Time and Cost Saving- Zoho CRM is a very efficient software that saves time by automating its workflow. It also comes with a free version and four different plans that help the customers invest the right amount of money needed to get their tasks done. Thus, it can be perfect for saving money.
Workflow Automation - Zoho CRM automated workflow helps the customers to pay more attention to specific tasks. Thus, it makes it very easy to work with.
Sugar Sell- Advantages
It is essential to monitor the sales processes and track the defined metrics against specified KPIs for the proper growth of a business. Sugar Sell helps you create personalized dashboards that will give the sellers a view of the entire work process for better account management. It will also help ensure the proper customer segmentation and get a quick understanding with a click.
It is a very tricky task for a business house to cut extra costs, which will help in efficient resource management. Sugar Sell will help boost your team's productivity with its sales automation tools so they can spend more time engaging with the clients. With its automated pipeline management issues, Sugar Sell helps users to reduce the hassle of manual data entry. Altogether, Sugar Sell helps to find out the true potential in your sales team and promote business growth.
Sugar Sell is known for giving your customers a fantastic buying experience. It helps you to automate the entire sales process and solve the crucial customer-facing problem processes in minimum time. It provides users with a unique environment for driving efficiency in business. It also integrates with other business tools to help move ahead of competitors. Sugar Sell enables you to gain many more happy customers and get a good ROI.
Zoho CRM vs. Sugar Sell- Price
Zoho CRM
It comes with a bunch of different plans for businesses of all sizes. It has five other plans, which are as follows-
Plan 1 - Free plan that can be for three users
Plan 2 - The Standard plan costs $14 per user per month (billed annually) or $20 per user per month(billed monthly).
Plan 3 - The Professional plan costs $23 per user per month (billed annually) or $35 per user per month (billed monthly).
Plan 4 - The Enterprise plan costs $40 per user per month (billed annually) or $50 per user per month (billed monthly).
Plan 5 - The Ultimate plan costs $52 per user per month (billed annually) or $65 per user per month (billed monthly).
Sugar Sell
Plan 1: Sugar Community- Free for all users
Plan 2: Sugar Professional- $40 user per month (billed annually)
Plan 3: Sugar Enterprise- $65 user per month (billed annually)
Plan 4: Sugar Ultimate- $150 user per month (billed annually)
Zoho CRM vs. Sugar Sell- Customer support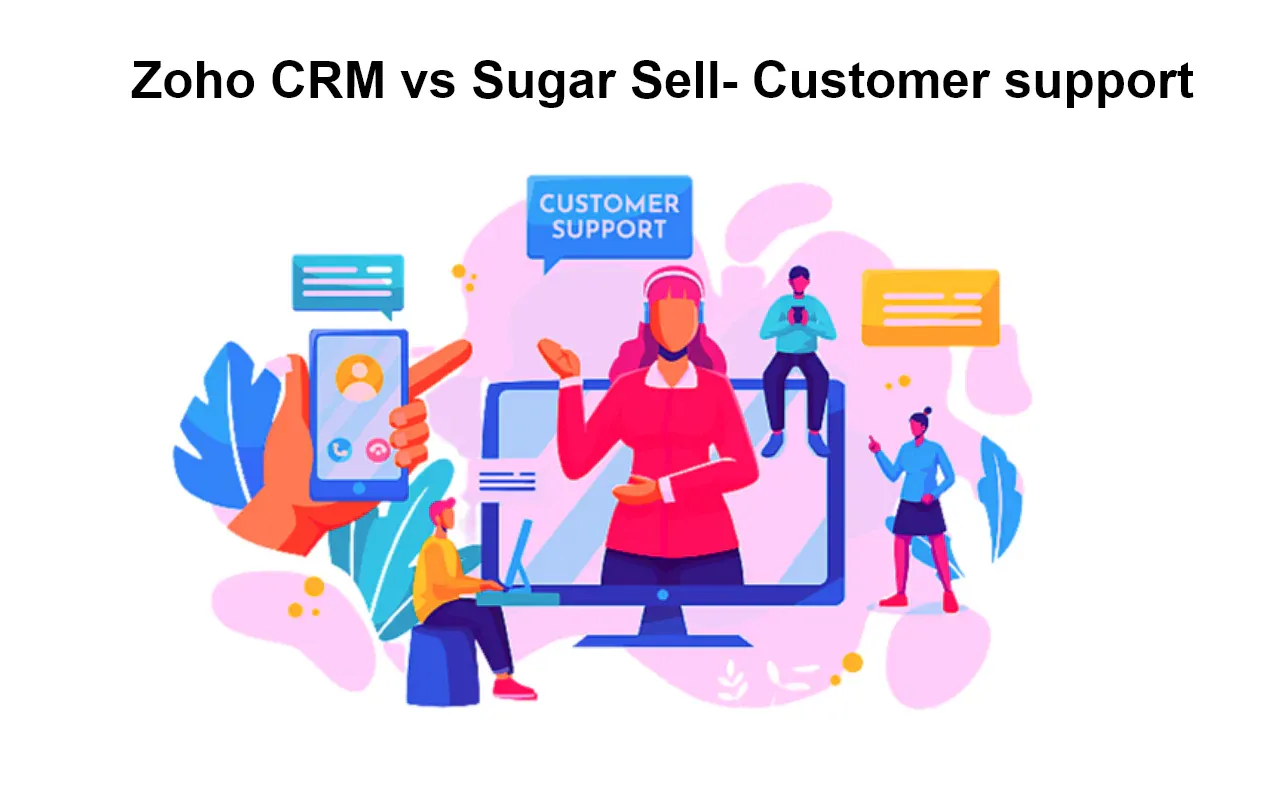 Zoho CRM
Zoho CRM is a unique software with endless options for add-on features. But this increases the chances that questions will arise along the way.
Customers are not always satisfied after visiting the given solution materials and may need a live person to talk to to get the answers to their problems. But sadly, Zoho does not have excellent feedback in this area.
Often customers complain about being placed on hold for over 10 minutes or longer and going through multiple transfers to solve a simple question.
It is an area where Zoho CRM receives a setback and can be dangerous for them in the future if not solved in minimum time.
Sugar Sell
Sugar Sell offers varying levels of customer assistance to their customers depending on their package. Most of the solutions are available in the Documentation, Knowledge Base, Sugar University, and Community sections on the Sugar Support website.
Each plan comes with a specific number of support-authorized contacts to help the customers if they are unable to solve the problem themselves. It depends on the package chosen by the user.
The assistance Sugar Sell offers highly recommended by its users. Sugar Sell has made a simple way for customers to reach a live customer support agent on the phone.
Conclusion
Choosing the right CRM software is very crucial for a business to grow and flourish in the future. Many options are available in the CRM market, but you must be careful before deciding.
This blog discusses the two most trusted CRM software available in the market - Zoho CRM vs. Sugar Sell. We focus on critical areas of comparison features, price points, advantages, and customer service. Both of them are equally good but lacking in some areas.
After going through this blog, you will clearly understand each. But the call to choose the right CRM would be according to your business needs. If you have any queries regarding Zoho CRM vs. Sugar Sell, feel free to drop a comment down below.
Also, if you are looking for an affordable and customizable chatbot-making solution, do the amazing features offered by Botpenguin!