Today, CRM tools have taken over most business processes and are widely popular. It is widely acknowledged that CRM tools organize and streamline lead and customer data. CRM tools help focus the area of maximum marketing and sales efforts.
Zoho CRM is a platform that automates business processes to smoothen the workflow. Also, you can get real-time notifications during customer interactions.
Sounds sweet, doesn't it? But, it is not the whole picture. Continue reading and find out if Zoho CRM will fit your growing business.
What is Zoho CRM?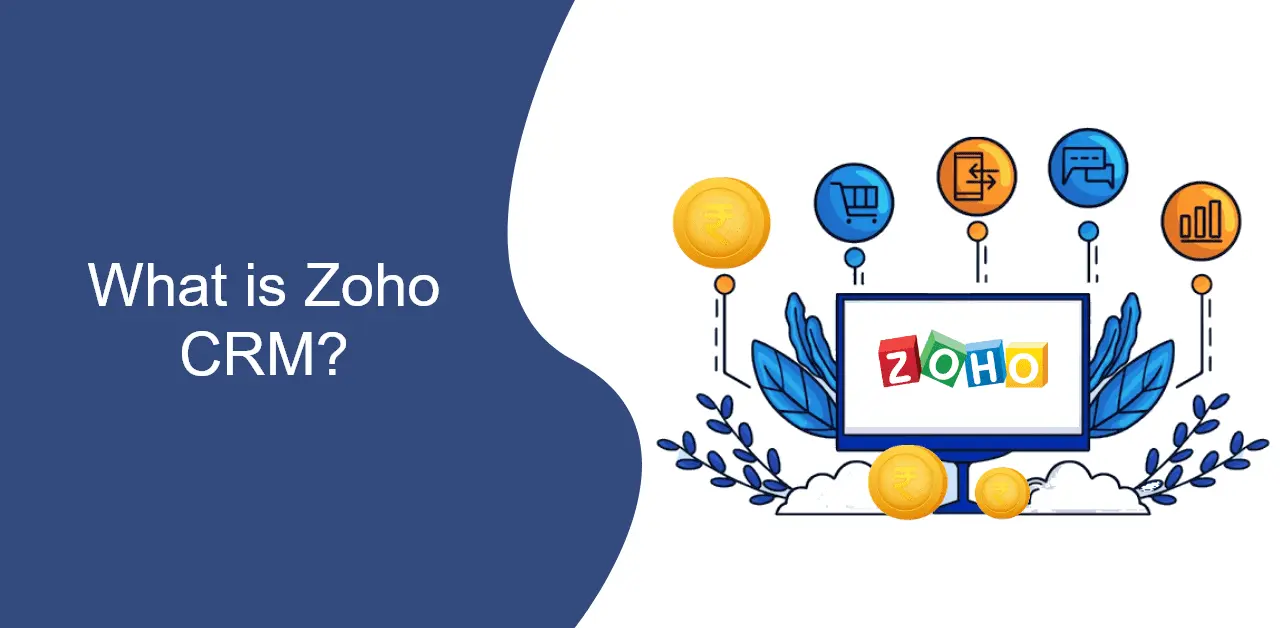 It is a Customer relationship management (CRM) software that heavily emphasizes growing leads, speeding sales, and monitoring performance. It makes excellent use of AI to enable remote workforces to collaborate more effectively.
Zia, an AI-powered assistant, and other cutting-edge alternatives help salespeople target their efforts as efficiently as possible by providing superior lead and deal forecasts to identify the potential clients who are most likely to convert.
The simple platform makes it simple to create a unique CRM for any organization. It interfaces with hundreds of well-known apps and programs.
Zoho CRM Features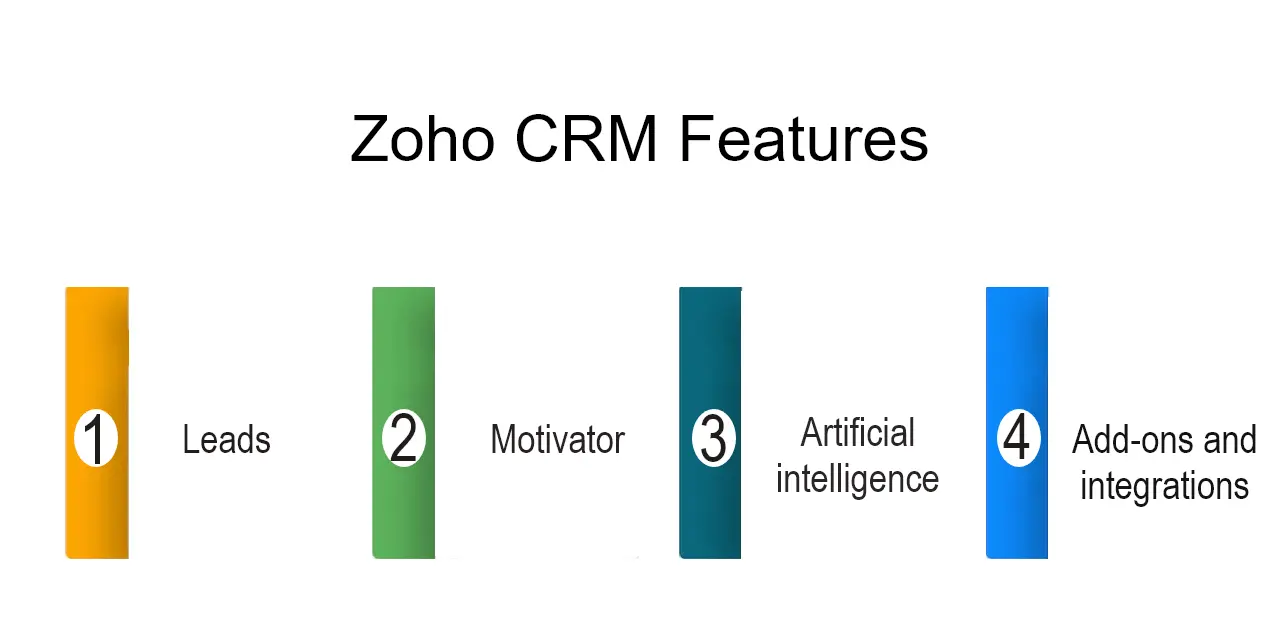 Leads: Individual records for each lead are stored and displayed by custom modules.
Motivator: Routine chores may be made into lucrative, routine-breaking competitions to gamify sales efforts.
Artificial intelligence: All prediction and AI functions are available to Enterprise and Ultimate members.
Add-ons and integrations: Among the integrations offered by all premium subscriptions are Zooms, Slack, MailChimp, and Amazon Seller.
Why is Zoho CRM so popular?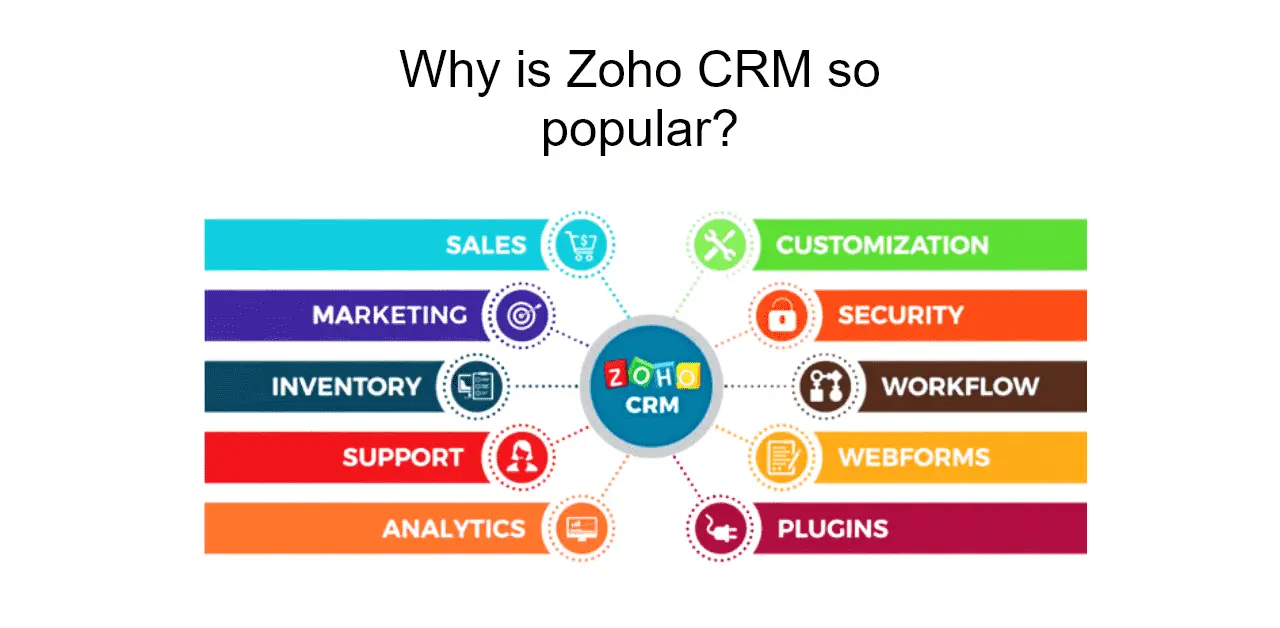 Zoho CRM is a great CRM thanks to its user-friendly mobile apps, powerful mobile integration, and integrated communications tools for workers and teams who spend the bulk of their time away from the office.
Through accessible conferencing connectors, teams from various departments may easily get together within their CRM for sales presentations and product demos.
You can make sure the right people on your sales team are informed in real-time when someone visits your website, reads an email from you, or mentions your brand on social media by using prospect alerts.
Zia AI, with data analysis skills, can spot trends in the historical usage patterns of your platform and offer process enhancements and time-saving automation, which is available to users with Enterprise subscriptions.
It can even assist you in cross-selling by examining sales trends and making the right product recommendations for each customer at the right moment. All of your client's information is centralized in the mobile app with business card scanning capabilities, and call data is automatically recorded for more accuracy and ease.
Zoho CRM Pros
Team meetings and customer presentations may be held using the CRM.
Remote workers can be informed through alerts when new leads contact your company.
Easy to use, decent free tier, inventive, approachable user interface and user experience, good overall product, good mobile application
It is helpful for commercial purposes since it promotes good customer relations and maintains client connections.
Zoho CRM Cons
Weekdays only are eligible for legal assistance. Any package that includes Premium or Enterprise assistance will cost extra.
Numerous top features depend on Zia AI, which is only available with the Enterprise and Ultimate subscriptions.
Daily restrictions exist on many functionalities, such as webhooks and email alerts.
The most despised aspect of Zoho is its customer care; it is pitiful and occasionally quite glitchy, rendering the CRM useless.
Different customer service employees provide you with varying responses, and the absence of an account manager is unpleasant. There are several apps available in the shop.
Zoho CRM Review 2023
Usability
Zoho's dashboard is easy to use, allowing users to switch between standard, customized, and custom homepage displays. You may access various sales-related activities, notifications, and features via the upper navigation bar. But you can also add elements and rearrange the order of your page to better fit your requirements. The day's open tasks and leads are prioritized on the sales agent's personalized homepage.
The "Feeds" notification module is one of several useful features that can be quickly accessed from the top navigation menu. From this point, you may interact with distant team members and exchange ideas to hasten decision-making.
When someone modifies a relevant lead or trade, you're tracking. It will also let you know. When used appropriately, this place functions as a collaborative space and a system of records, ensuring that distant team members are constantly working with the same information and on the same page.
Security
The platform encrypts and decrypts all consumer data using the AES-256 protocol. You may limit certain IP addresses from accessing your Zoho CRM dashboard. By doing this, only employees of your company will have access to confidential company information. For audit and investigative purposes, you may also track every person who logs into the dashboard.
You may also choose the cloud computing area where you wish to host your data. Data centers for Zoho are located in the US and the EU (EU). Picking the one nearest to you is recommended for speed, security, and compliance reasons. Customers who select the EU area are, notably, subject to the stringent GDPR data privacy and security rules.
Cost
There are four options:
Standard: $14 per user per month when billed annually
Professional: $23 per user per month when billed annually
Enterprise (most popular): $40 per user per month when billed annually
Ultimate: $52 per user per month when billed annually
Zoho CRM Review: CRM Analytics
The platform may provide enterprises with broad analytical capabilities. For instance, you may produce in-depth reports using multiple data points on your CRM dashboard. They may be made utilizing a unique visual builder. Choose the CRM modules you wish to use to create data sets and add the necessary fields. For instance, you may create an expense report to examine marketing expenditures.
To evaluate marketing expenditures about the value of transactions created, you may also compare spending against your deal report. Making charts is another effective method to leverage the statistics provided by Zoho CRM. You may produce many types of reports with only one click on the app.
Zoho CRM Review: Integrations
The platform provides a direct connection with several third-party apps for further functionality. For instance, you may combine Google Workspace, Slack, Microsoft Exchange, and QuickBooks with the Zoho CRM. The Google Workspace connection makes it simple for users to access their Gmail contacts, tasks, and events.
Over 10 million users use Slack every day, so likely, most of your coworkers and clients are already familiar with it. Through the connection, Zoho CRM records can be easily shared and retrieved utilizing slash commands. You may sync your contacts, tasks, emails, and events using Microsoft Exchange.
Zoho CRM Review: Ease of Use and Interface
Setting up the Zoho CRM software is simple. Establish a free account, which is all that is required. You may immediately access your CRM dashboard after setting up the platform. With the UI, it's simple to get intimidated. However, there are tutorials to guide new users through it. With time, it becomes simpler.
The multilingual assistance offered by Zoho CRM is one of its best features. With 28 language options, it is appropriate for a worldwide audience. You may download the desktop app on the three most common operating systems, Windows, macOS, or Linux. One of the few CRM systems with native Linux software is Zoho CRM, which is admirable.
Our Review
The CRM tool Zoho CRM is incredibly efficient. Due to its key benefits of affordability, small and medium-sized organizations should choose it wisely. You can access several functions even on the go with the app.
In conclusion, Zoho CRM supports small firms implementing their first integrated CRM system. Any company that seeks to gamify the selling process to foster camaraderie and competition among remote teams has a sales-focused business strategy.
Overall, it's a good option.
Why not test the free version if you're still debating? All you need is an account!