Every company places a high focus on providing excellent customer service.
Customers and prospects want their inquiries answered quickly and effectively to avoid losing business. But it's not always simple to live up to these expectations.
Any Business that is frequently busy may find that the volume of inquiries overwhelms the customer service staff.
They nonetheless continue to consume the time and energy of overburdened virtual assistants.
For this issue, chatbots provide a solution. To automate first-contact interactions with clients, they use artificial intelligence.
Customers benefit from prompt responses, and customer service agents are freed up to handle more complicated inquiries.
So, let's discuss all the top 5 appointment booking chatbots of 2023 that will put your business on a heightened level.

Top 5 Appointment Booking Chatbots of 2023
Multiple companies operate only by appointment, including dentists, jewelers, locksmiths, and beauticians.
Here are the top 5 Appointment booking chatbots:
1. BotPenguin chatbot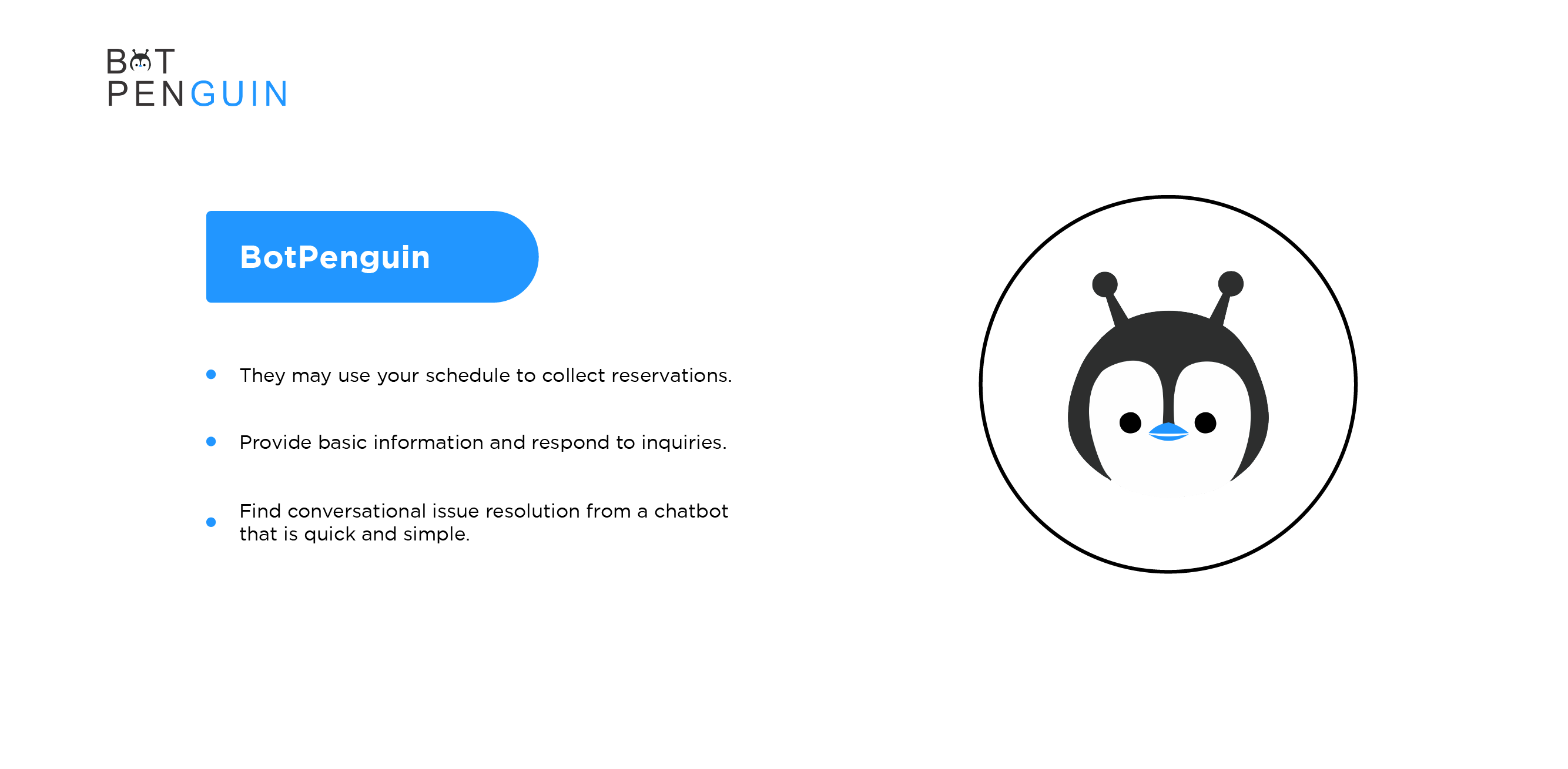 With BotPenguin, you'll never be late for a meeting. Give your users the ability to accomplish more while still enjoying a cake.
Most users despise having to go through navigational elements or bounce across sites to do simple activities like making an appointment.
With its cutting-edge design, BotPenguin engages users and enables them to do more on a single screen.
1. They may use your schedule to collect reservations,
2. Provide basic information and respond to inquiries.
3. Find conversational issue resolution from a chatbot that is quick and simple.
2. LivePerson
You can generate and nurture high-quality leads with the help of the intelligent AI-powered chatbots that Smartloop offers.
In a business setting, it may also be utilized for scheduling appointments.
Using it, you may speak with your consumers directly, give them interesting information, and raise your retention rate.
1. Real-time detection of consumer intent
2. Conversation templates for machines
3. Real-time detection of consumer intent
4. Conversation templates for machines
3. Smartloop
You may create AI-powered and rule-based bots using Smartloop.
You may build your own AI chatbot to manage business operations, namely your appointment reservations.
Conversational bots are provided to businesses using NLP.
1. A chatbot that speaks many languages
2. Can be used for voice and message channels.
3. Voice-enabled
4. Landbot.io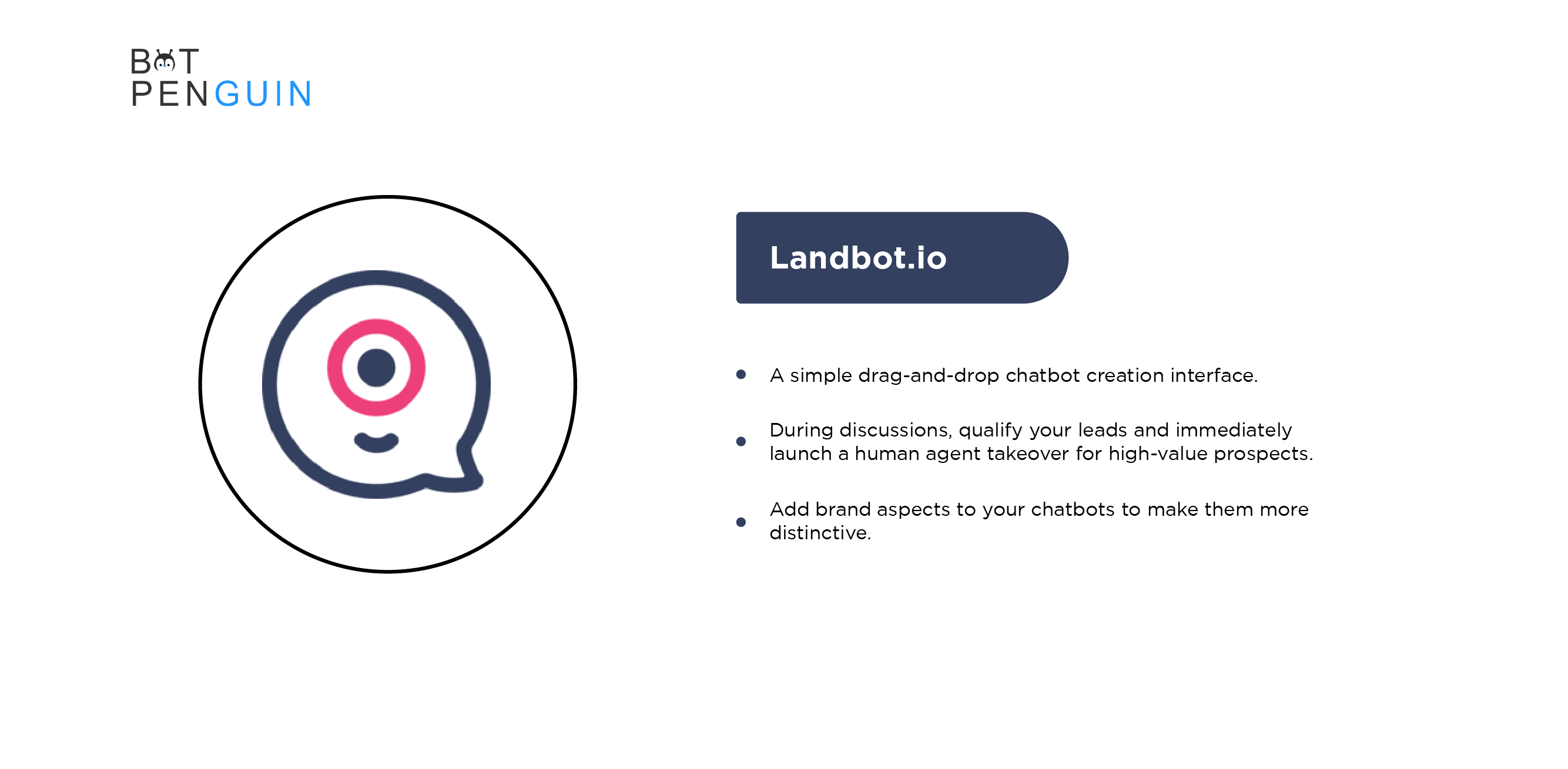 Rules-based and AI-powered bots are available from Landbot.io. With this tool, you may develop chatbots that use AI.
Numerous businesses throughout the world have utilized it since it is incredibly user-friendly.
This gives them a variety of alternatives for taking care of their clients and guests.
1. A simple drag-and-drop chatbot creation interface.
2. During discussions, qualify your leads and immediately launch a human agent takeover for high-value prospects.
3. Add brand aspects to your chatbots to make them more distinctive.
5. Aivo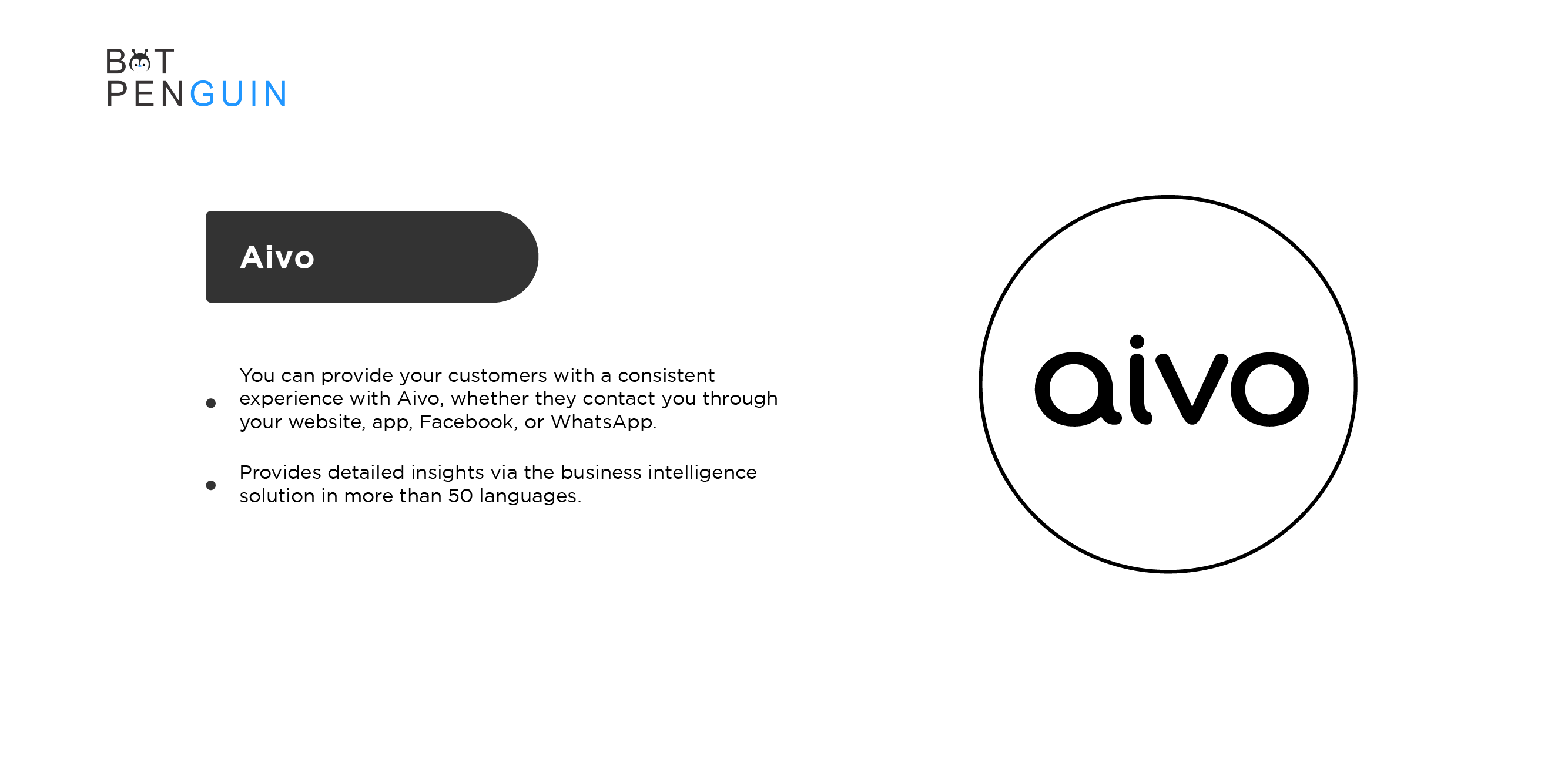 Aivo, one of the most popular AI chatbot platforms, supports your customer service and invites you to respond gradually through content or voice.
You may improve customer service by using Aivo, a user-friendly chatbot.
Their product configuration can help you advance your assets while expanding transformations.
1. You can provide your customers with a consistent experience with Aivo, whether they contact you through your website, app, Facebook, or WhatsApp.
2. Provides detailed insights via the business intelligence solution in more than 50 languages.
Why are Chatbots necessary for Businesses?
The development of technology has significantly altered human communication.
Online messaging has taken the place of face-to-face communication. Due to this, businesses now have to adjust to a new kind of communication.
A flawless buyer's experience is a must for companies to succeed. They must reply to consumer inquiries at all hours of the day and night.
However, it is not the simplest or most affordable task to meet the growing demands of "always-connected" clients.
Delivering round-the-clock customer assistance becomes more expensive as your company expands. Chatbots are useful in this situation.
They make it affordable for brands to expand their support offerings.
Companies are choosing to use chatbots in their marketing campaigns more frequently since they enable the delivery of individualized and dependable brand experiences.
In the long run, that results in improved brand perception and more sales.
FAQs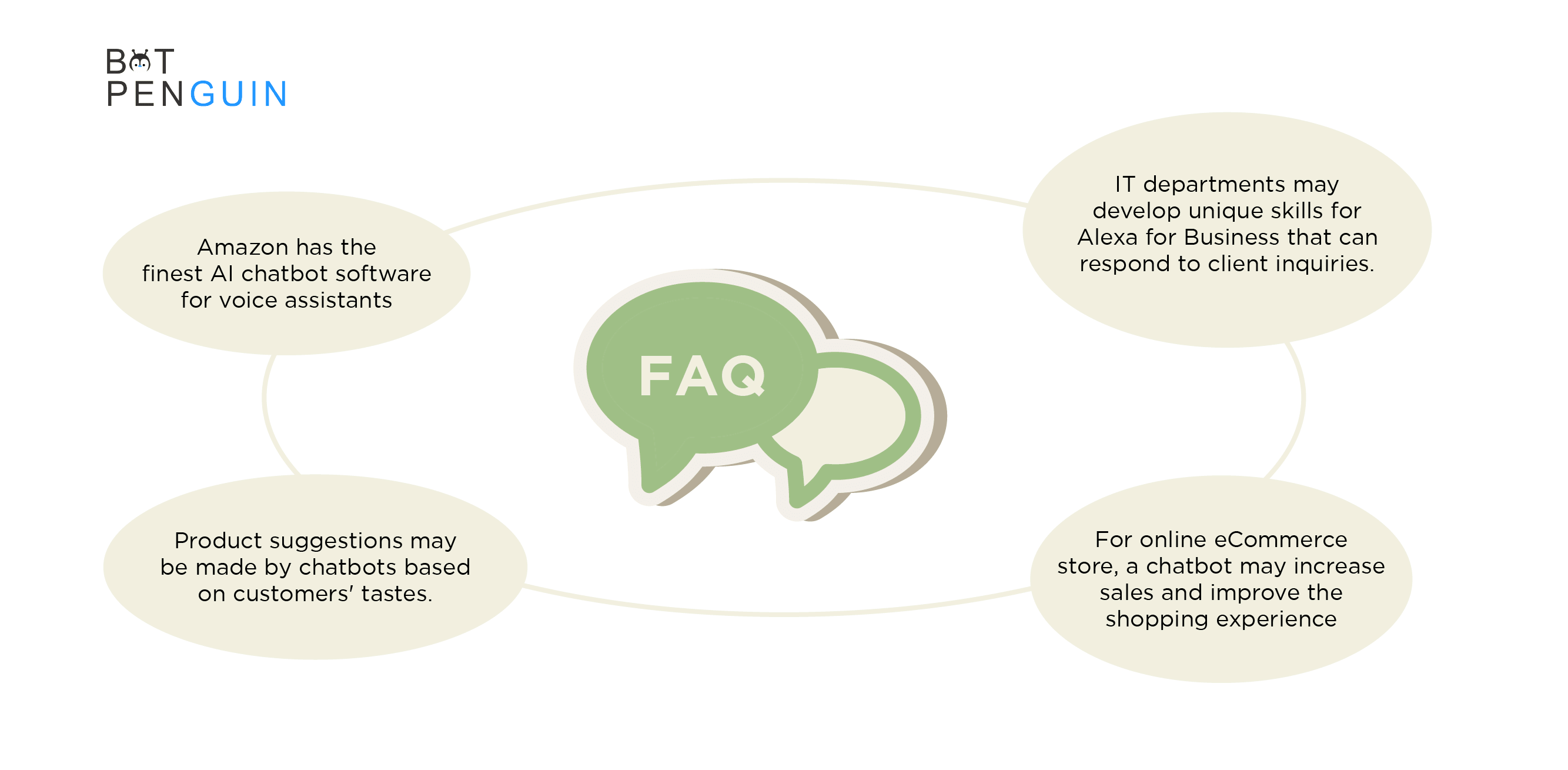 1. What businesses have the most effective chatbots?
Amazon has the finest AI chatbot software for voice assistants and has 70% of this market.
IT departments may develop unique skills for Alexa for Business that can respond to client inquiries.
2. Can chatbots generate income?
Even product suggestions may be made by chatbots based on your customers' tastes.
For your online eCommerce store, a chatbot may increase sales and improve the shopping experience—especially for first-time consumers.
You may establish a chatbot business to earn money by following these four steps.
Conclusion
Appointments can be booked more efficiently and effectively using a chatbot through multiple channels of communication.
To conduct the booking without human participation, appointment booking systems are experiencing new advancements.
Additionally, it makes perfect sense to employ the system to provide valued clients with 24/7 availability when it is strong enough to handle reservations.
BotPenguin is the best AI chatbot that offers appointment features. You can go ahead with this platform if you want to interact with more and more customers.
Thank you for stopping by!