Everybody's talking about HubSpot. It's a big name in the world of digital marketing, providing loads of features to help businesses grow. But, HubSpot might not be the perfect fit for everyone.
Why? Well, for some, it can be pretty expensive, especially for small businesses or those who need more advanced features. Plus, with so many features in the toolbox, some people might find it tricky to learn all its ins and outs. And if you're running a simple operation, you might not need all that fancy stuff – you might be after something more straightforward.
So, why are we discussing this? It's not to put down HubSpot – it's definitely a favourite for many businesses.
But it comes down to the fact that different businesses have different needs. Some might need all the bells and whistles, while others might want something less complicated.
What's important is finding the right tool for you. An alternative to HubSpot could be just what you're looking for, helping you run your business your way.
What is HubSpot?
HubSpot is an advanced, all-encompassing platform designed to augment several facets of your business. It aligns inbound marketing, sales, and customer service efforts, aiding businesses in attracting, engaging and pleasing their customers.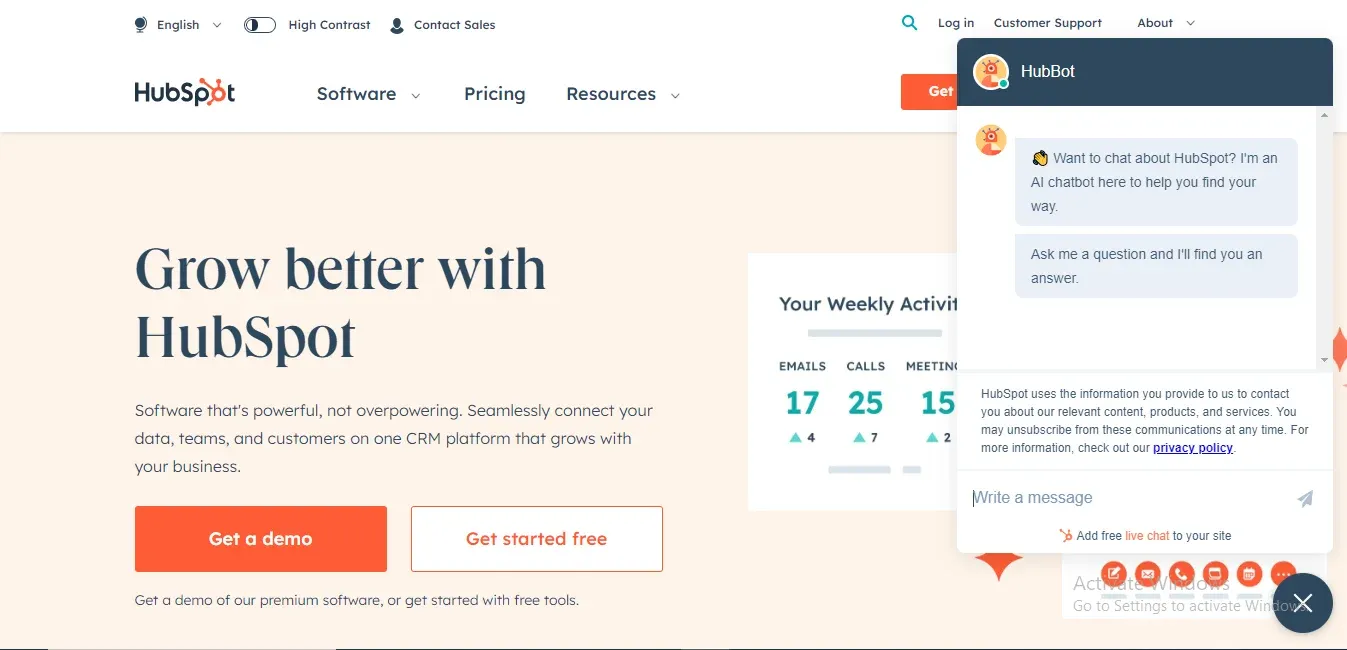 Divided into specialized 'hubs' — including the Marketing Hub, Sales Hub, Service Hub, and CMS Hub — HubSpot allows precise functionality in each business segment. Yet all these hubs work together in unison, forming a comprehensive customer management suite.
At HubSpot's heart lies a potent CRM system which is available at no extra cost. This feature empowers businesses to organize, track, and nurture their leads and customers effectively.
Its robust analytics and reporting features enable businesses to evaluate the performance of their processes in-depth, making it a favored choice whether you're a small business or a multinational enterprise. HubSpot's scalability and customizable features reinforce its adaptability for businesses of all sizes.
Features:
CRM: At the heart of HubSpot is a powerful, free CRM that allows businesses to store and manage customer data effectively.
Content Management System (CMS): A built-in CMS makes it easier to create, manage, and modify content without needing technical skills.
Marketing Automation: HubSpot offers comprehensive marketing automation tools that are easy to use yet powerful.
Sales Hub: Streamlines sales processes and provides useful tools like email sequences, meeting scheduling, and pipeline management.
Service Hub: Offers including tickets, knowledge base, and customer feedback tools to empower your customer service team.
Analytics and Reporting: HubSpot has robust reporting tools to help you understand the effectiveness of your marketing, sales, and customer service efforts.
Cons:
Price: Some businesses find HubSpot expensive, especially as you add more advanced features and users.
Learning Curve: Due to its wide range of features and tools, HubSpot's learning curve can be steep for some users.
Lack of customization: While HubSpot does offer a number of customizable features, some users argue it doesn't quite go far enough in this respect.
Limited features in lower-tier plans: Some key features are only available at higher pricing tiers, potentially excluding small businesses or startups.
Complexity: For smaller businesses or those with simpler needs, HubSpot can sometimes seem too complex.
Why Do People Look for HubSpot Alternatives?
While HubSpot provides a comprehensive collection of tools and features, its sophisticated nature and pricing may not suit all businesses.
The cost becomes especially significant as a business grows and more functionality and wider access are required. Some businesses might encounter a steeper learning curve due to HubSpot's comprehensive toolset which can be overwhelming for beginners.
Finally, HubSpot might offer more features or a greater level of complexity than needed for smaller operations or those with straightforward needs, making simpler, targeted solutions potentially more appealing.
Along with the 60+ Integrations

The Top 5 HubSpot Alternatives That You Must Try in 2023
When seeking comprehensive software for your business operations, HubSpot is often the first name that comes to mind.
However, different businesses have diverse needs, and HubSpot might not be the perfect fit for everyone. In this light, consider the following alternatives that specialize in areas such as CRM, chatbots, marketing automation, or ticketing systems.
Each platform has its unique characteristics, advantages, and disadvantages.
1. BotPenguin
BotPenguin is a proprietary chatbot-making platform focusing on customer service and engagement. As a chatbot builder, it uses advanced artificial intelligence to streamline customer interactions.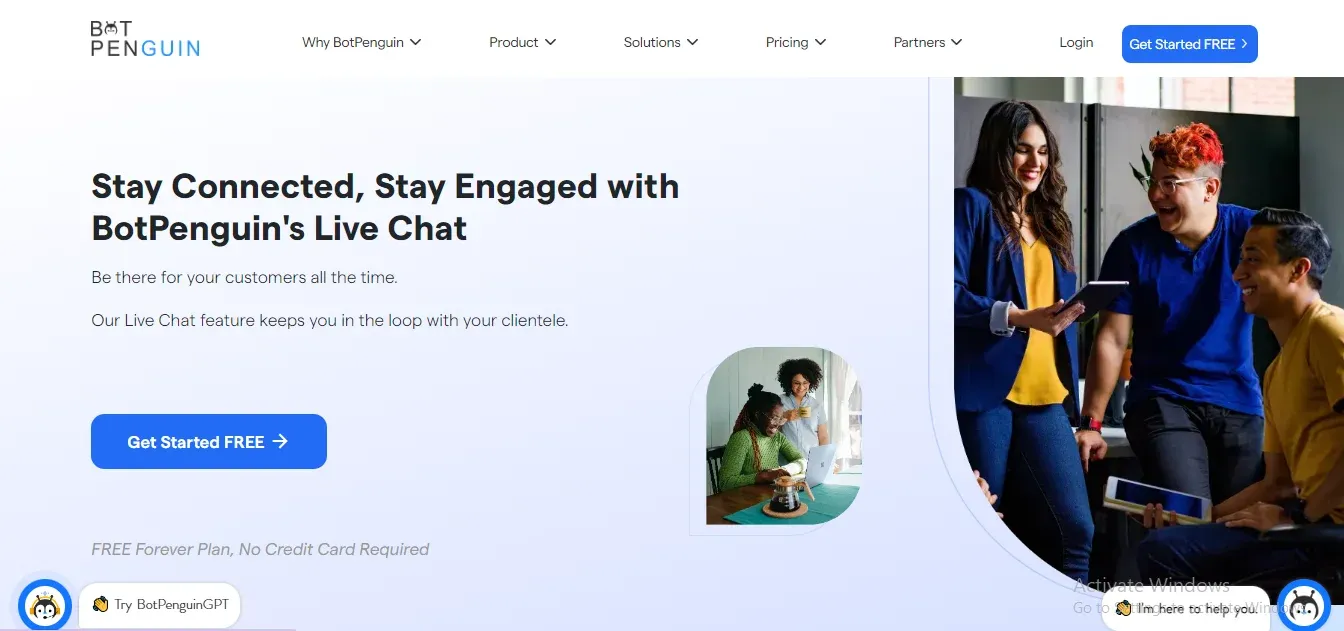 Features:
AI-Driven Learning: BotPenguin learns from each conversation's context, ensuring it improves over time and offers optimized responses.
Omnichannel Support: This involves providing a seamless customer experience, whether interaction takes place on your website, social media, or through email.
Rich Analytics and Reports: You can gain valuable insights into customer behavior and chatbot efficiency through detailed reports.
Seamless Integration: The platform integrates smoothly with popular platforms such as Facebook, Slack, and WhatsApp, among others.
Scalable Bot Builder: The scalable chatbot builder allows for straightforward scalability as your business grows.
Pre-designed Templates: These ready-to-go templates make the process of building a chatbot faster and easier.
24/7 Customer Support: Offers round-the-clock assistance so you're never left in the lurch.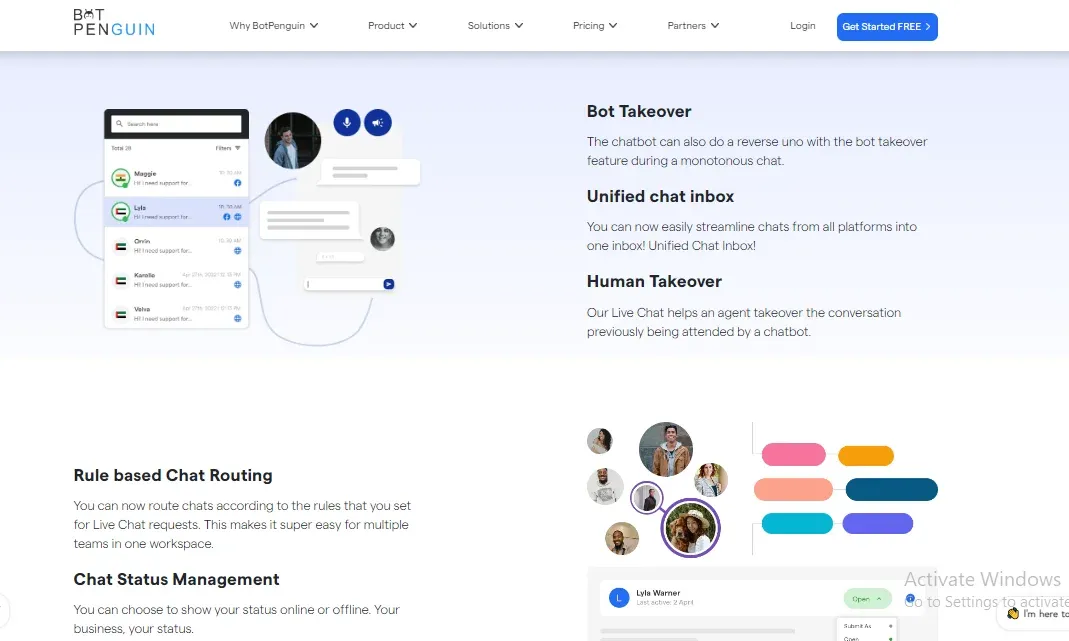 Pros:
Provides 24/7 customer interactions

Easy to build and customize chatbots

Provides insightful customer data

Seamless Integration with 60+ platforms

AI-Driven Learning and Adaptability

Omnichannel Support
2. Pipedrive
Specifically focused on efficient sales management, Pipedrive is a CRM solution that boasts an aesthetically pleasing and user-friendly interface.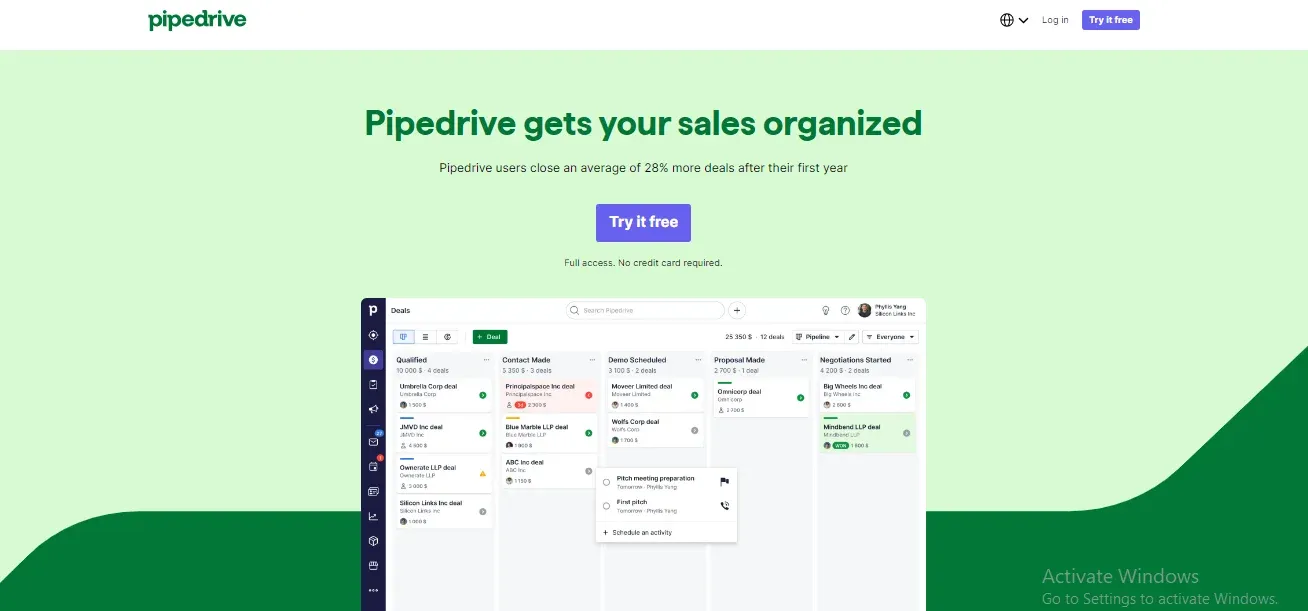 Features:
Visual Sales Pipeline: Offers a clear view of your sales pipeline and allows for easy drag-and-drop updates.
Customizable Reports: Generate tailored reports to track sales performance and other metrics.
Sales Forecasting: Helps predict future sales trends based on available data.
Email Integration: Sync with popular email services to track and manage your email correspondence within the CRM.
Mobile App: Access your sales data on-the-go via the Pipedrive mobile app.
Pros:
Intuitive interface

Visual approach to sales management

Excellent sales process tracking

Extensive integration possibilities

Mobile app available for both Android and iOS
Cons:
Limited marketing automation features

No inbuilt customer service features
3. EngageBay
EngageBay is an all-in-one marketing, sales, and customer service automation software, perfect for small to medium-sized businesses.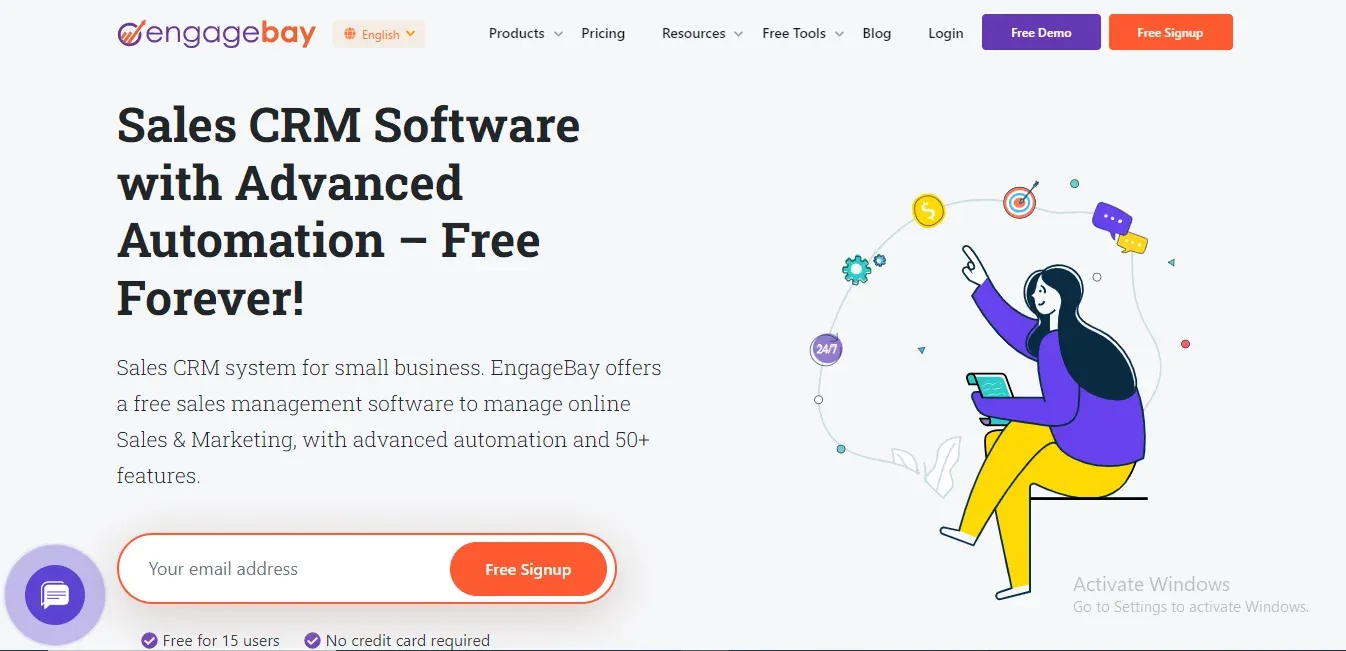 Features:
Email Marketing: Create and send targeted email campaigns to your customers.
CRM and Sales Automation: Manage contacts, deals, and tasks more efficiently for increased sales.
Customer Service Helpdesk: Offer exceptional customer support with a ticketing system and live chat functionality.
Landing Page Builder: Build responsive landing pages to capture leads and boost conversions.
Marketing Analytics: Track and improve your marketing performance with real-time data and reports.
Pros:
Comprehensive all-in-one marketing solution

Excellent value for the features offered

Customer service capabilities included

Great for small businesses

Seamless CRM integration
Cons:
Lacks advanced automation capabilities

Reporting features could be more robust
4. Marketo
Marketo, now known as Adobe Marketing Cloud, is the go-to marketing automation software for many enterprises.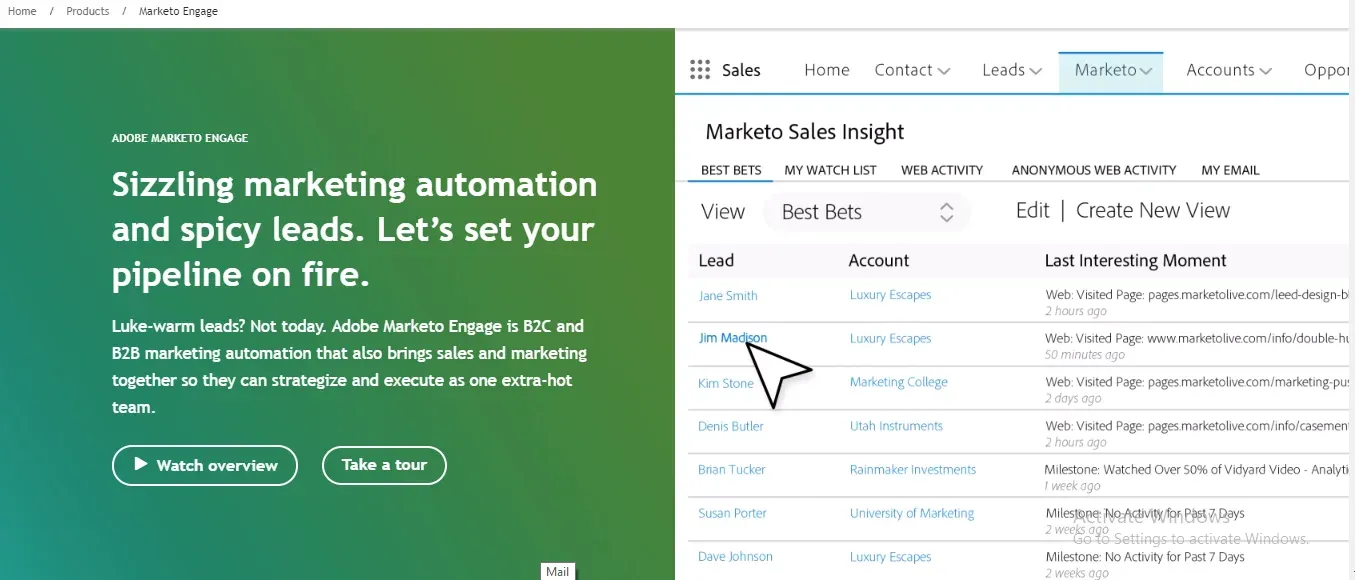 Features:
Lead Management: Improve lead nurturing and tracking with advanced segmentation and scoring.
Marketing Automation: Streamline and optimize marketing campaigns across multiple channels.
Email Marketing: Create personalized, targeted email campaigns that resonate with your audience.
Analytics and Reporting: Get valuable insights into your campaigns and lead performance.
Third-Party Integrations: Connects with popular platforms to simplify your marketing efforts.
Pros:
Advanced marketing automation capabilities

Detailed analytics and performance tracking

Strong focus on lead nurturing

Industry-leading features

Part of the Adobe suite of products
Cons:
Higher price point might be prohibitive for smaller businesses
5. SharpSpring
SharpSpring is a highly versatile marketing automation and CRM platform perfect for businesses of all sizes.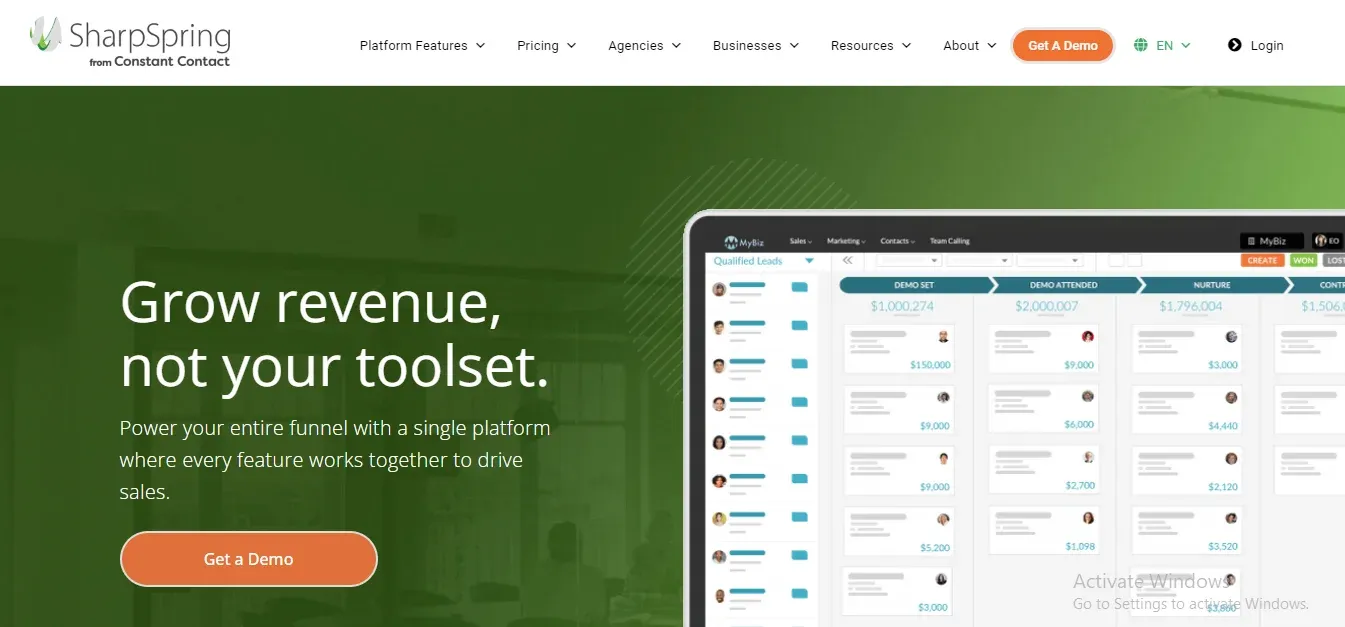 Features:
Marketing Automation: Create fully automated marketing campaigns across multiple channels.
CRM and Sales: All-in-one CRM and sales platform to manage your sales pipeline.
Landing Pages & Web Forms: Design high conversion landing pages and web forms to capture leads.
Behavior Tracking: Gain insights into customer interactions and behavior on your website.
Third-Party Integrations: Integrates with other popular tools for seamless marketing efforts.
Pros:
Comprehensive marketing and sales platform

Reasonable pricing for the features offered

White-label solutions for reselling

Continuously updated and improved

Responsive customer support
Cons:
Interface not as user-friendly as other options

Steeper learning curve for some users
In conclusion, remember that the best fit for your business is the one that meets your unique needs most effectively. Different platforms cater to varying operational requirements. By exploring these alternatives, you can find the solution that aligns with your needs while offering the best return on investment.
Bonus
1. Salesforce
Salesforce is a leading CRM solution that caters to businesses of all sizes. It offers impressive contact, lead, and opportunity management tools that can help businesses generate more sales and enhance customer relationships.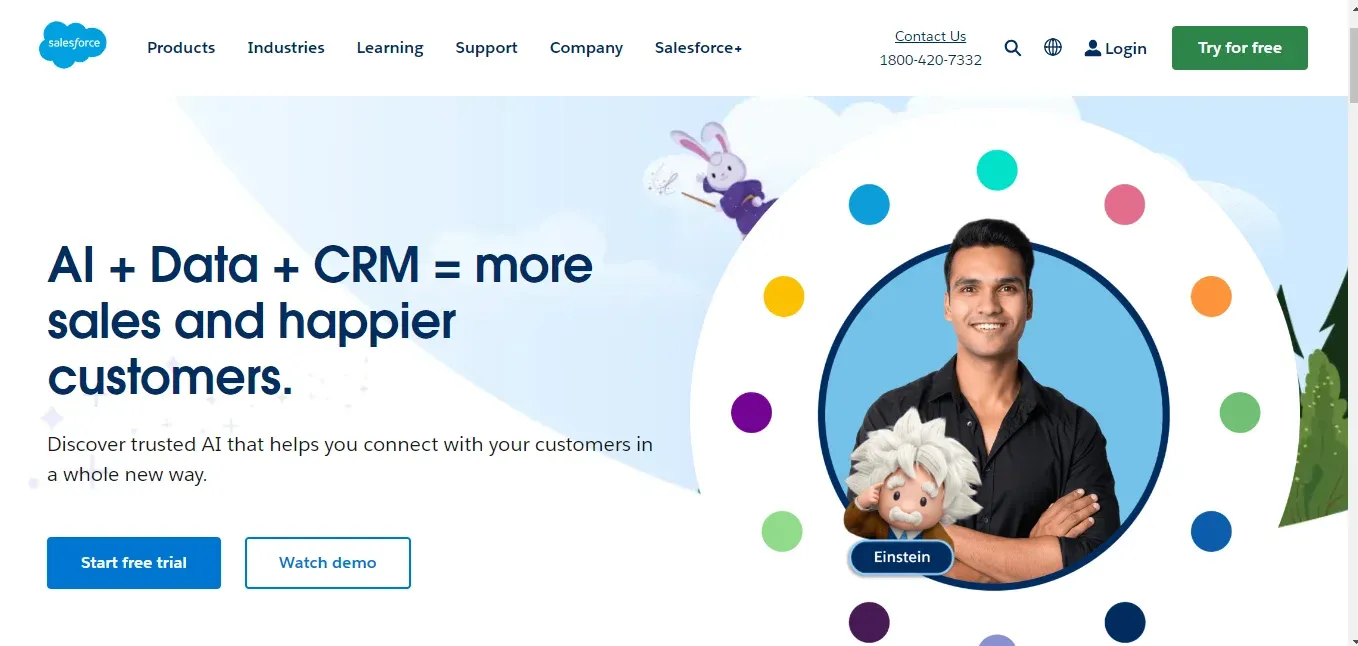 Features:
Unified Customer View: Salesforce provides a comprehensive, central display for all of your customer interactions, ensuring easy access to key insights.
Contact and Opportunity Management: Manage contacts effectively, including activity history and essential contact information.
Sales Forecasting: Enables better predictions of future sales trends by utilizing available data and analytics.
Workflow Automation: Streamlines processes by automating routine tasks like email follow-ups, lead management, and more.
Customization Options: Salesforce allows extensive customization to fit the unique needs of any business.
Third-Party Integrations: Seamlessly integrates with a variety of third-party applications, enhancing its capabilities and versatility.
Scalability: The platform is designed to grow with your business, ensuring you have the features you need at every stage.
Pros:
Comprehensive customer information

Robust contact and opportunity management

Accurate sales forecasting

Workflow automation

Extensive customization options
Cons:
Steeper learning curve for non-technical users

Higher price point compared to some alternatives
2. GetResponse
GetResponse is an all-in-one marketing platform, providing tools for email marketing campaigns, landing pages, conversion funnels, and webinars.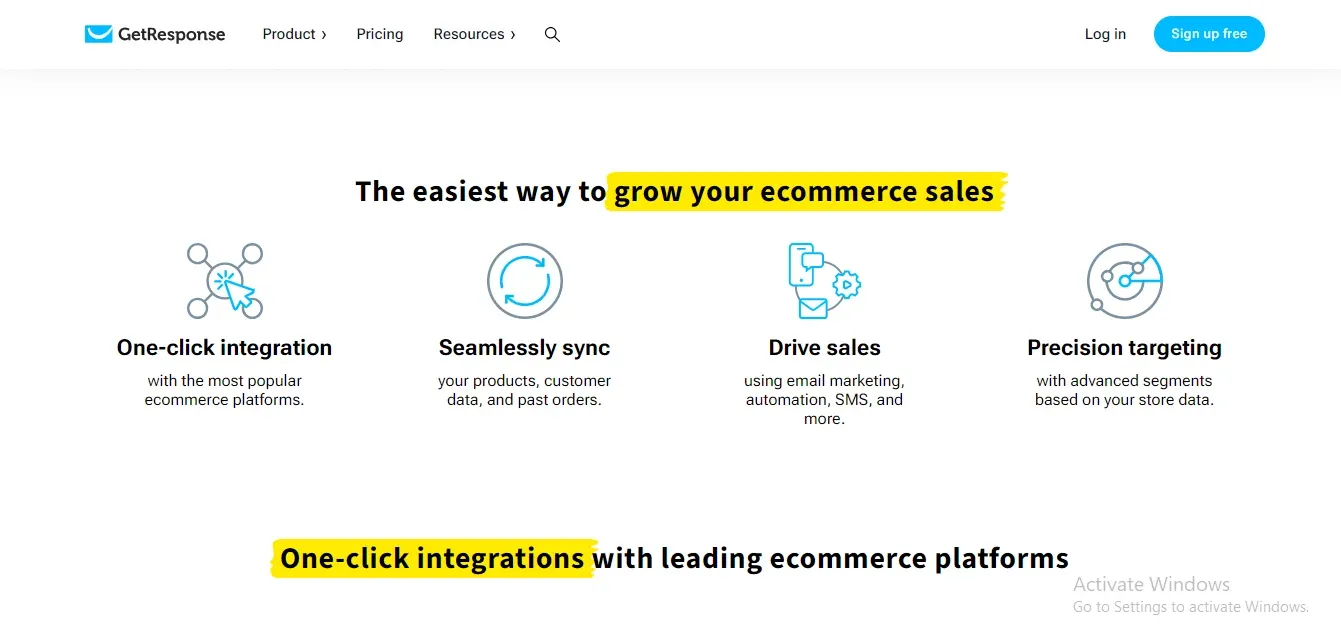 Features:
Email Marketing: Supports email design, segmentation, personalization, and automation to improve and refine your email campaigns.
Landing Page Builder: Provides a user-friendly landing page builder with a variety of customizable templates.
Webinar Hosting: Offers webinar hosting capabilities to encourage customer engagement and hosting virtual events.
Conversion Funnel: Handles various automated sales funnels aimed at targeting specific marketing objectives.
Advanced Analytics: Gives comprehensive analytics to track performance and optimize your marketing efforts.
E-commerce Tools: Enhance your e-commerce sales through tools like cart abandonment emails and product recommendations.
Ease of Use: Features a user-friendly interface that simplifies navigation and usage.
Pros:
Robust email marketing features

User-friendly landing page builder

Webinar hosting capabilities

Pre-built conversion funnels

Comprehensive analytics
Cons:
CRM features not as advanced as some competitors

Limited third-party integrations
3. ActiveCampaign
ActiveCampaign is a powerful marketing platform with email marketing, CRM, and sales automation tools, known for its advanced automation features.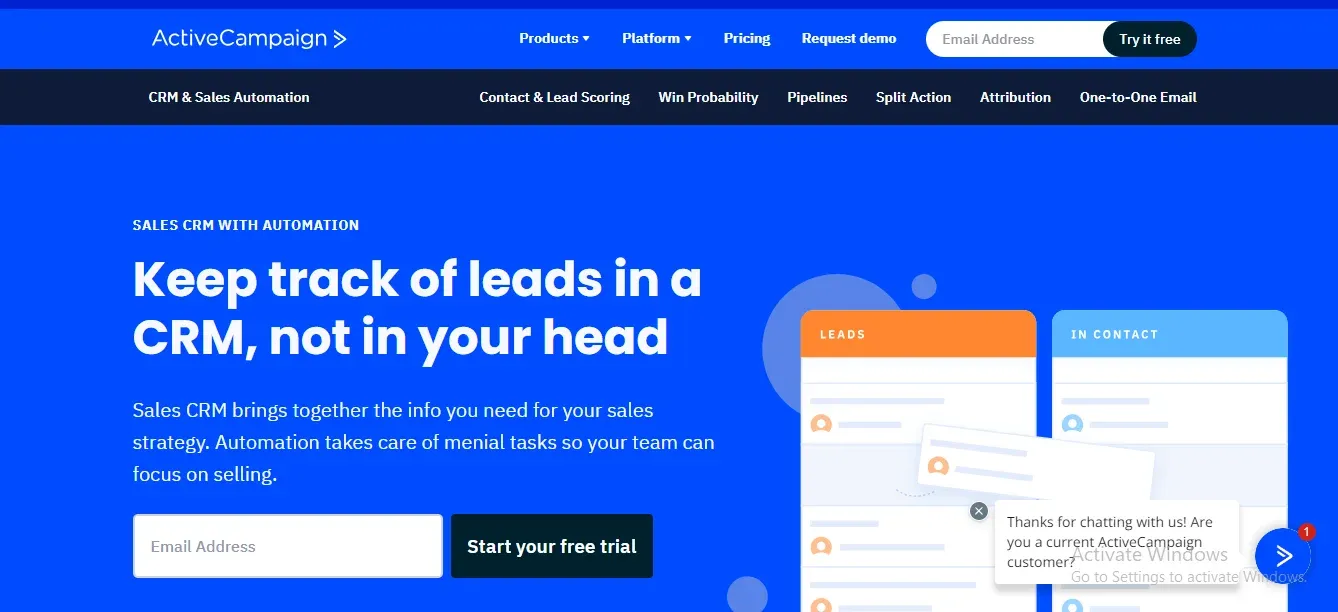 Features:
Advanced Marketing Automation: Offers flexible and powerful marketing automation capabilities tailored to complex workflows.
Built-in CRM System: Delivers a

basic CRM solution for small businesses

alongside marketing automation tools.

Email Campaigns: Provides email capabilities like triggered emails, targeted messaging, autoresponders, and funnel marketing.
Machine Learning: Uses machine learning to provide predictive insights, such as determining the optimal time to send an email.
Detailed Tracking and Reporting: Offers robust analytical tools to monitor and analyze campaign performance.
SMS Marketing: Integrates SMS marketing with email campaigns for a more comprehensive, engaging marketing strategy.
User-friendly Interface: Maintains a clean, intuitive interface that simplifies navigation and usage.
Pros:
Powerful marketing automation capabilities

Built-in CRM system

Diverse email campaign tools

Machine learning for predictive insights

Comprehensive tracking and reporting
Cons:
CRM capabilities not as extensive as some competitors

Customization options may be limited for advanced users
Conclusion
There are many solutions on the market, as seen in our comparison of HubSpot alternatives. Still, businesses have become picky regarding the features. They always search for the greatest services at the lowest prices.
Try out the alternatives listed above to find which is ideal for you and your company. The best marketing, sales, and development tool to boost your earnings and accelerate business growth are simple to choose. We advise reviewing the top five list first and then trying the bonus list. Good luck, everyone.

Frequently Asked Questions (FAQs)
What sets these HubSpot alternatives apart?
These HubSpot alternatives offer unique features and pricing models that may better suit specific business needs. They provide different levels of scalability, integrations, reporting capabilities, and customer support options.
Can these HubSpot alternatives integrate with other software and tools?
Yes, most HubSpot alternatives offer integrations with a wide range of software and tools, such as CRMs, email marketing platforms, social media management tools, and analytics platforms. This allows for seamless data flow and workflow automation.
Which HubSpot alternative is best for small businesses?
HubSpot alternatives like ActiveCampaign and Zoho CRM are often more affordable and user-friendly for small businesses. They offer features such as email marketing, lead nurturing, and contact management that cater to the needs of small teams.
Which HubSpot alternative is best for enterprise-level organizations?
Salesforce and Marketo are popular choices for enterprise-level organizations. These platforms offer advanced features, scalability, and extensive integrations, making them suitable for complex marketing and sales operations.
Can these HubSpot alternatives replace all HubSpot features?
While these HubSpot alternatives offer similar features, each platform has its own strengths and limitations. It is important to evaluate your specific requirements and compare them with the features offered by different alternatives.
How do I choose the right HubSpot alternative for my business?
To choose the right HubSpot alternative, consider factors such as your budget, specific features needed, scalability, integrations, and user-friendliness. It may also be helpful to read reviews, compare demos, and seek recommendations from other businesses in your industry