Installing an artificial intelligence chatbot on your website is a little step for you, but it is a tremendous leap for your clients.
A Capgemini study of more than 12,000 customers found that 74% utilize chatbot platforms for various functions, including online product and service research and purchases.
Not a bad deal at all, is it?
A chatbot is computer software that communicates with users via text or voice input using advanced algorithms or artificial intelligence (AI).
The trouble? The variety of chatbot platforms available is intimidating. Particularly for someone who is just beginning to dangle their toe in the chatbot pond.
The greatest chatbot systems available online have been compared in this article, and only a chosen handful remain.
What's best? Most of them are ideal for small enterprises and free to test.
Keep reading to discover the top 8 revolutionary website chatbots of 2023!
What is a Website Chatbot?
Website chatbots are computer-programmed interfaces that interact with visitors to a website or application. They closely resemble human behavior in the way they converse with visitors.
Instead of a direct conversation with a human agent, chatbot software conducts an online conversation via text or text-to-speech.
Businesses use them to interact with visitors in messaging apps.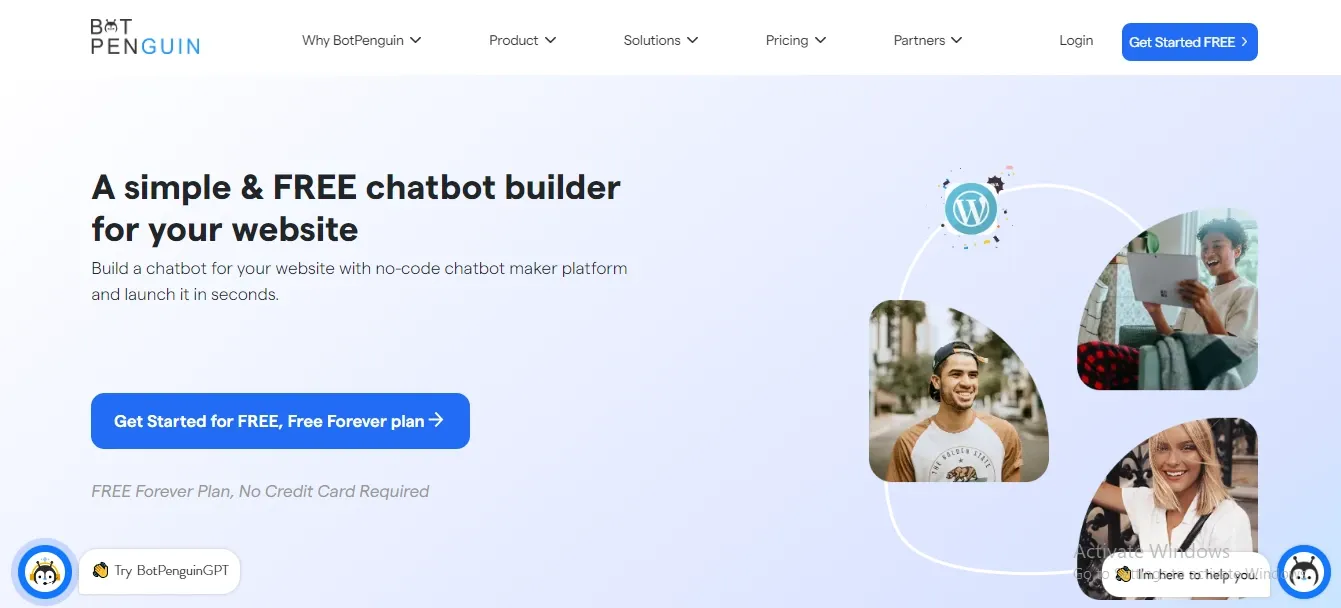 The 8 most innovative chatbots for websites in 2023
Most innovative chatbots for websites in 2023
1. BotPenguin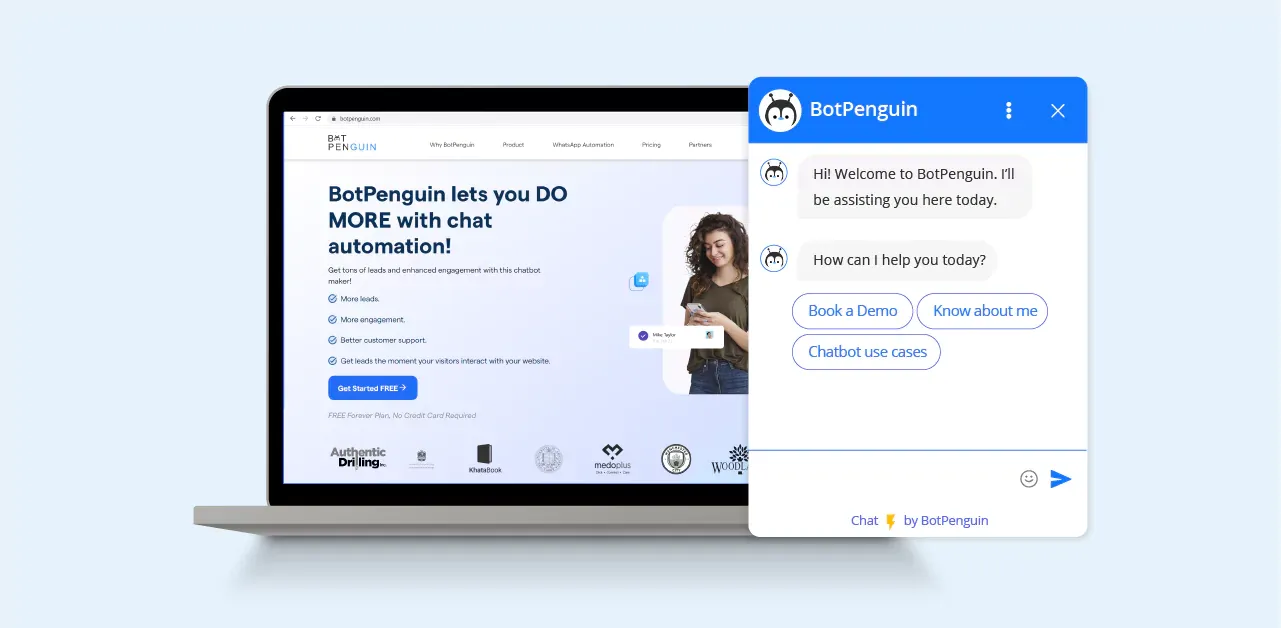 When it comes to website chatbots, BotPenguin is the best!
It is a chatbot maker tool that includes a chat window for answering visitor questions and collecting contact information to save as a lead.
They believe that everyone should be able to create a common user experience with their clients without having to pay for it.
For a live chat on your website, BotPenguin is wise to hand over the conversation to human agents.
It allows your customers to book your calendar directly from the website Chatbot window while chatting and receive an invitation in their calendar.
Build your own Website Chatbot using BotPenguin, it also offers chatbot creation for social platforms, websites, wordpress:

2. Drift
With this website chatbot, you can provide targeted messages and interactions to each visitor in a matter of seconds.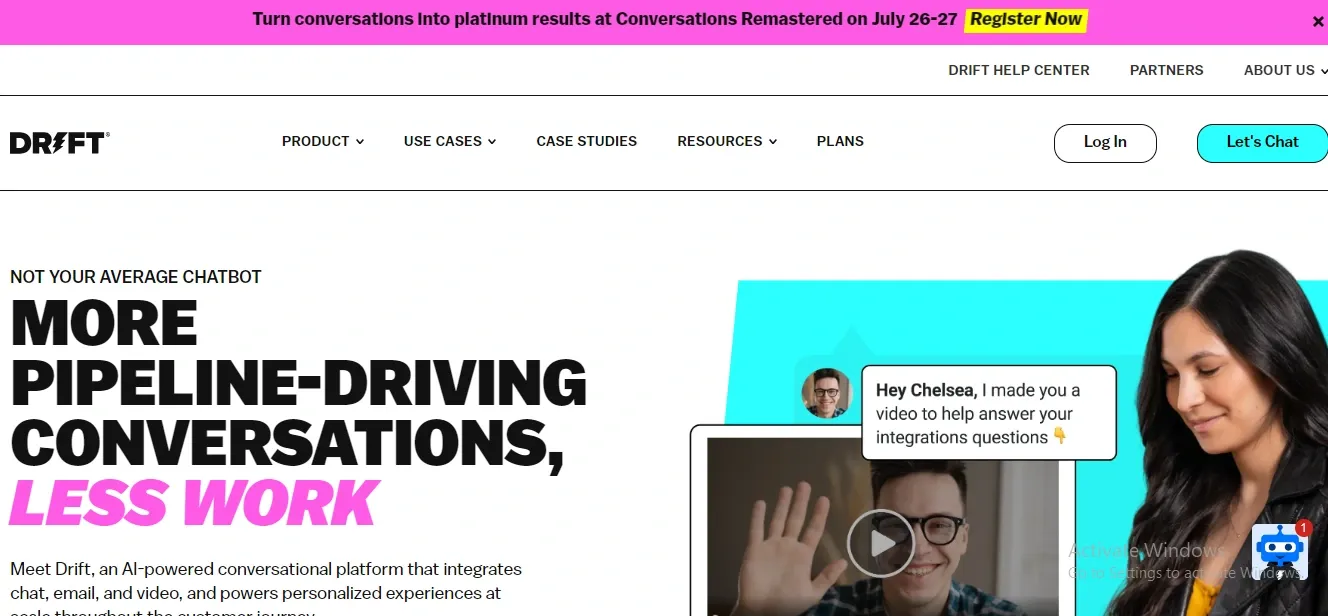 You can also schedule a meeting with sales, share your compelling content, and quickly assess customer interest.
By pre-qualifying visitors, Drift Chatbots offer and schedule a meeting with sales, converting interest into the pipeline.
3. Aivo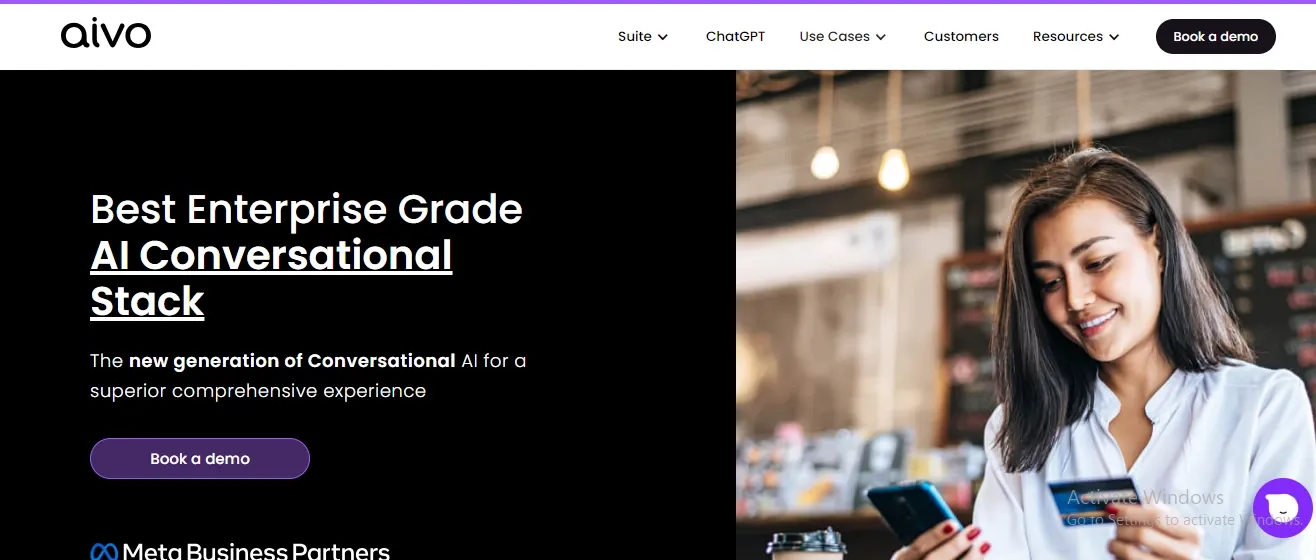 One of the top AI platforms for providing multilingual bots for your website is Aivo. Additionally, it enables you to customize the bots exactly how you want.
Numerous dashboards that help with data interpretation allow you to visualize statistics. You can use it to analyze customer feedback and enhance the chatbot's future responses.
4. Chatfuel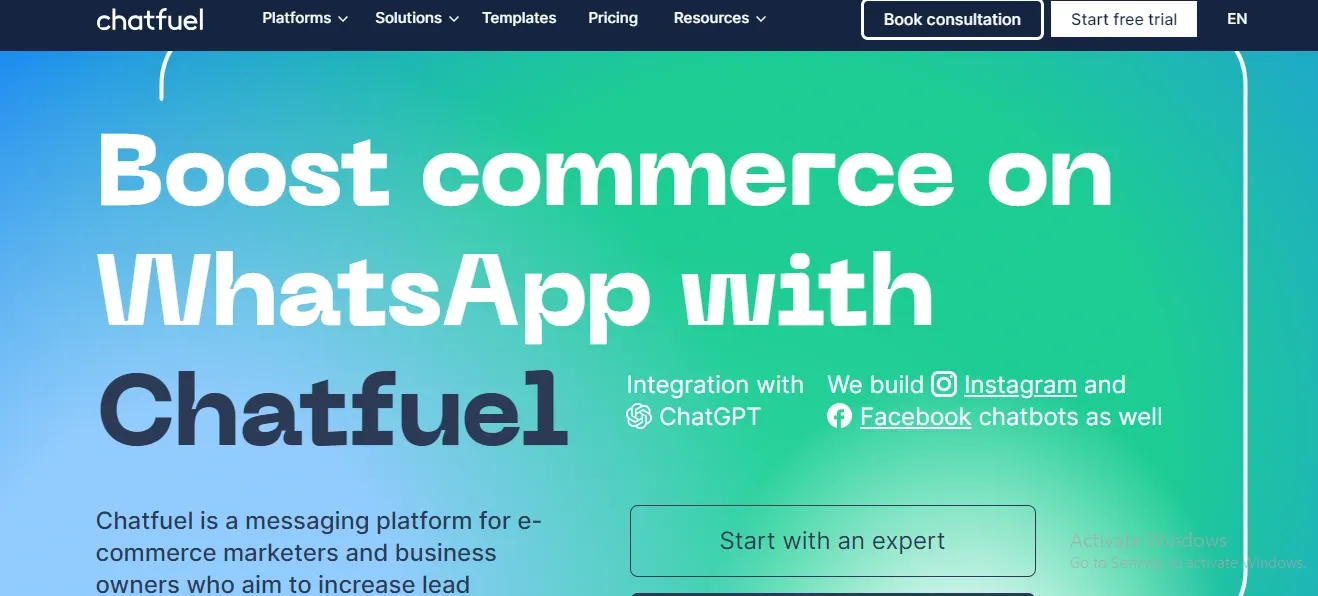 Chatfuel is primarily a powerful chatbot builder that focuses on automation and versatility.
This chatbot provider is ideal if you need a simple-to-use bot for your Facebook Messenger and Instagram customer support.
Chatfuel also includes an AI component that allows you to instruct your bot to respond to specific keywords.
This is another common feature in most chatbots, and Chatfuel handles it straightforwardly.
5. Dialogflow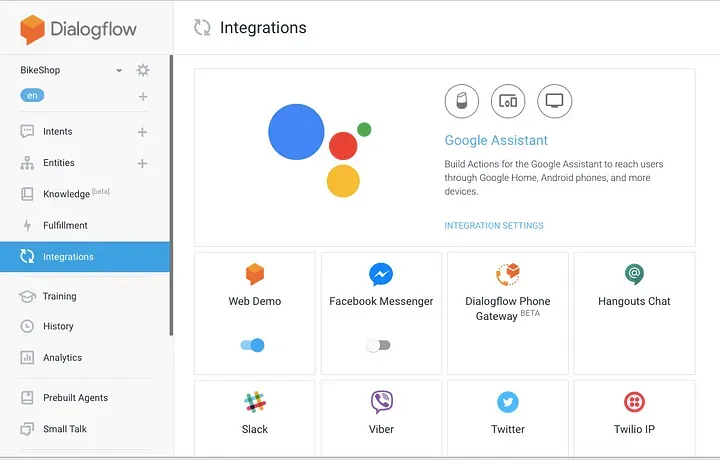 Designing and integrating chatbots is simple with Dialogflow, a platform for natural language understanding.
This Google AI chatbot platform uses NLP to build conversational user interfaces for websites, apps, Internet of Things (IoT) devices, and messaging services. For a better user experience, Google Assistant is also optimized.
The Dialogflow Messenger integration does, however, comes with several restrictions.
6. Purechat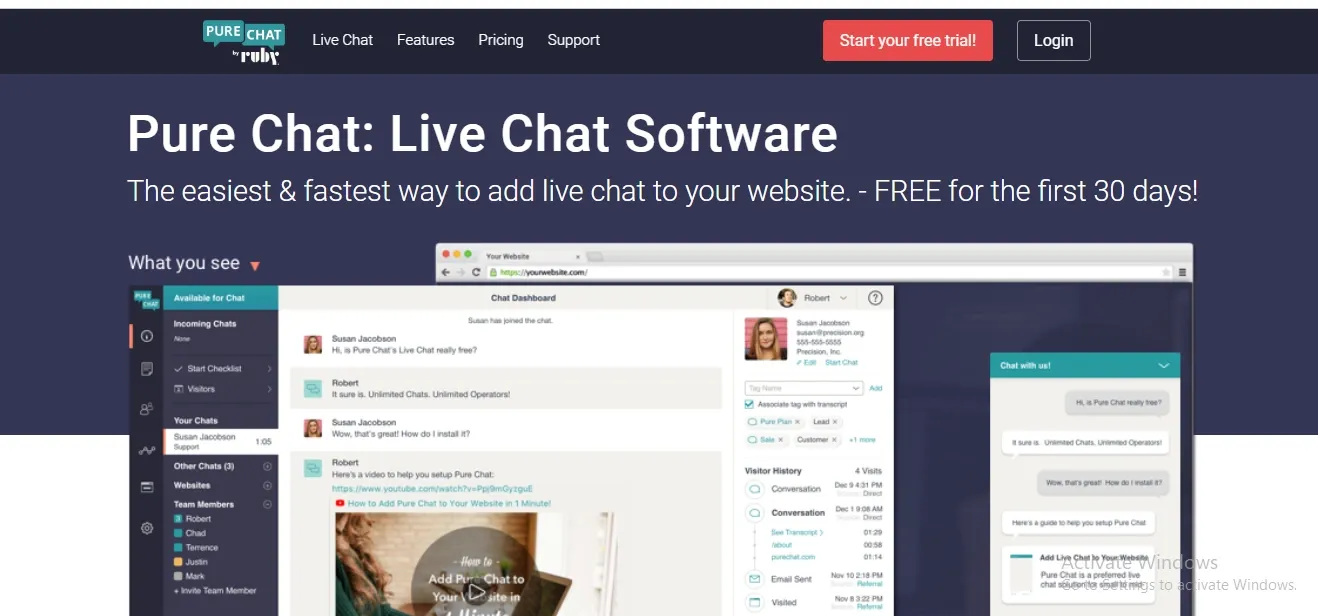 The software is simple to use and does not require hours of training. You can set it up in minutes, and begin serving your customers immediately.
Pure Chat has several additional advantages that make it an appealing solution for websites looking to improve their customer service experience.
7. Tidio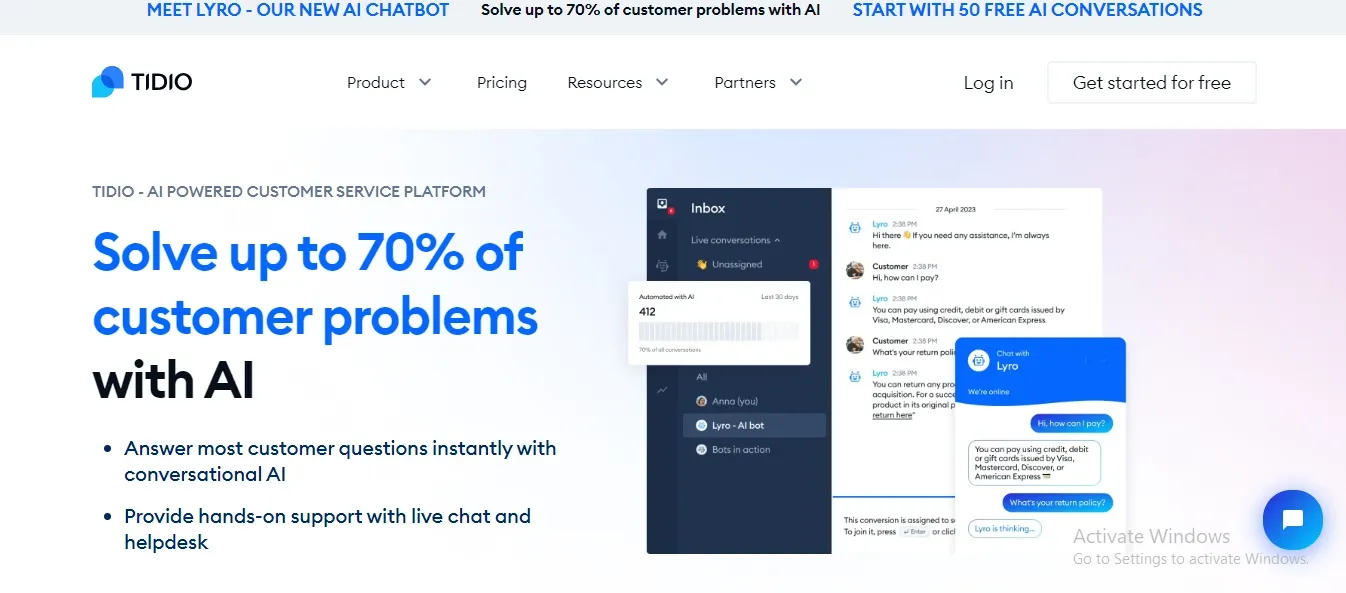 To help you improve customer support, Tidio provides a live chat solution with chatbots.
Tidio offer proactive customer service, it also offers a live view feature that enables you to see who is currently on your website.
When creating your bot, you can also use the visual builder interface and Tidio chatbot templates to watch it develop with each input you provide.
8. Intercom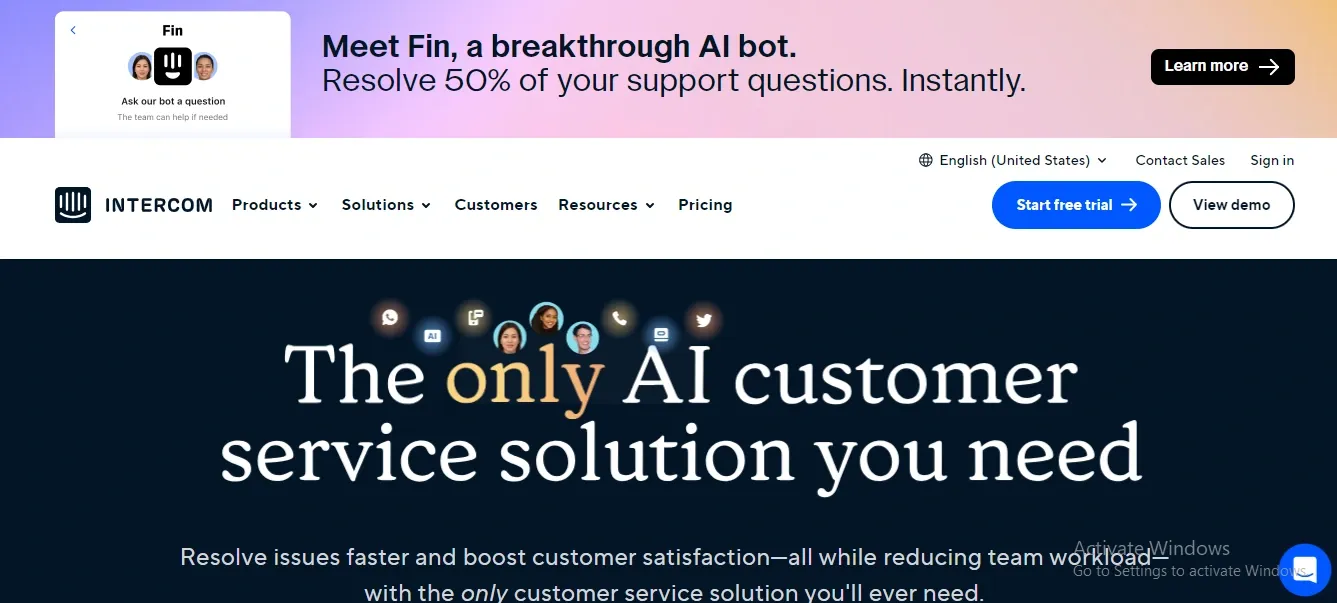 Custom bots from Intercom automate workflows, connect to your tech stack, ask questions based on user questions, and route conversations to a human agent when additional assistance is required.
Intercom's appearance, from its chat widget to its UI/UX, is their greatest achievement. Their tools have been well-crafted, with the end-user experience always in mind.
Conclusion
Selecting a chatbot platform can take time and effort.
After all, you need to understand social messaging platforms, chatbot analytics, natural language processing (NLP), or machine learning in addition to chatbot apps or builders (ML).
Take the time to evaluate your technical capabilities and business needs before selecting the best chatbot platform.
Consider your objectives for using the platform as well as your technical capabilities.
Each chatbot platform mentioned above is different and can support you in getting the results you want.
Remember to adhere to the best bot design practices once you have determined which platform is right for you to improve performance and satisfy users!
To make this process seamless and efficient, consider using BotPenguin