If you plan to venture into a new online business, you might need help finding an affordable CRM that fits your budget and has good features. There are many good CRM software in today's market, but they need more funding for startups or small business owners.
Only some people can invest a considerable amount of money in CRM software. But they will still be able to access it.
Less Annoying CRM is one such CRM software that was created keeping in mind the needs of small business owners. It is one of the best CRM available at such an affordable price range.
Less Annoying CRM is affordable and has features that are good enough for a business to run effectively and efficiently.
This blog will focus on how to use Less Annoying CRM in 2023. We will discuss its benefits and share a setup tutorial to help you get started.
So, what are you waiting for? Let's dig in!
What is Less Annoying CRM?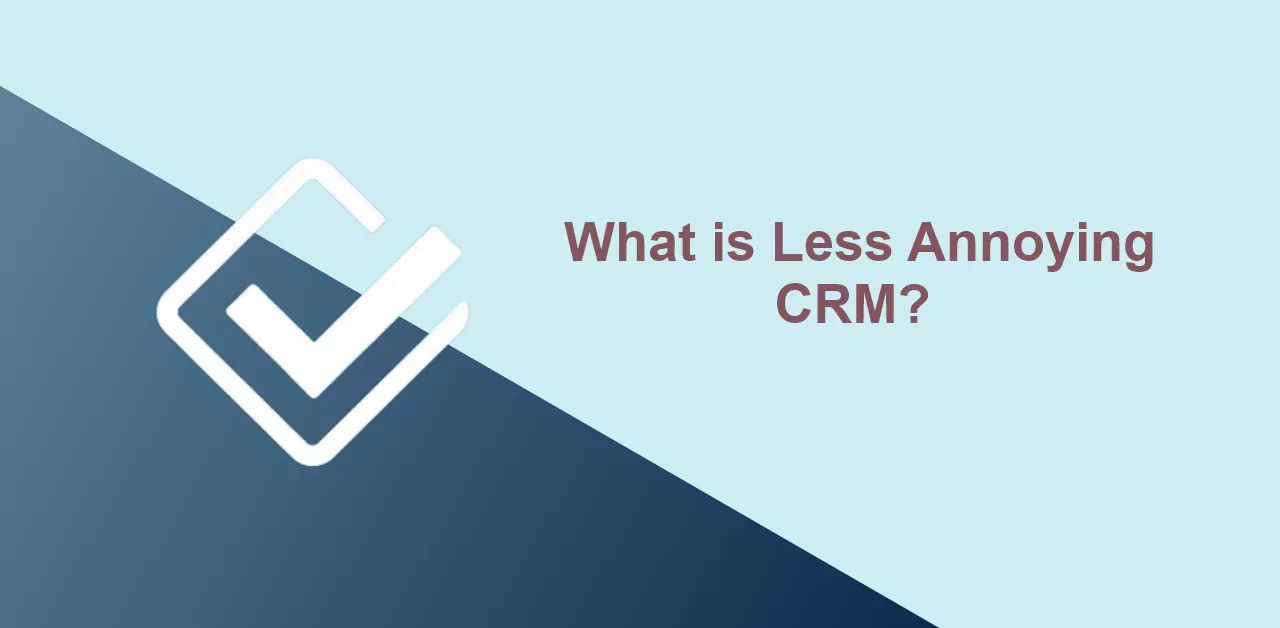 It is one of the most popular CRM software that aims to develop easy-to-use and affordable CRM software for all. Less Annoying CRM was launched in San Francisco in 2009 by Taylor and Bracken King and hired its first employee in 2011. A year later, Less Annoying CRM reached its first thousand users. It is based in St. Louis and has more than 23000 users.
Less Annoying CRM has a unique approach to customer relationship management and is designed to avoid typical problems offering an uncomplicated interface that is easy to use for everyone. It is one of the most affordable offerings in the industry to date and provides CRM tools that small business owners mainly need. They charge a minimum fee of $15 per user per month for all its products to be accessible to all.
Also, offer a summer coding and programming fellowship which aims to bring to light some of the underrepresented people in the industry, like women or African Americans. Less Annoying CRM received the title of the 'Best place to Work' in Saint Louis for young professionals in 2017 by the Saint Louis business journal.
Popular features of Less Annoying CRM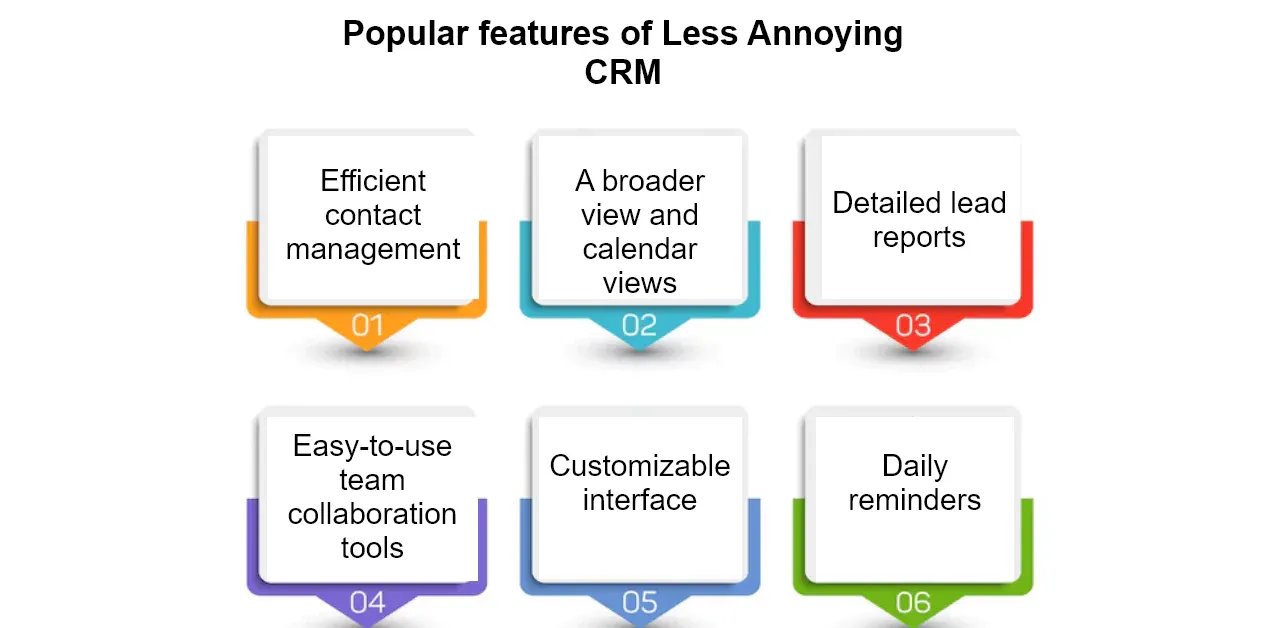 Less Annoying CRM does not provide a wide variety of features, unlike costly CRM software but offers some core functionalities required to streamline business operations.
Efficient contact management- Less Annoying CRM has a sound contract management system that efficiently manages all its clients and sees that no one is neglected.
A broader view and calendar views- this feature of less annoying CRM helps to get an overall idea of the work going on as the teams can have a more comprehensive view of the tasks and what needs to be completed. It also consists of a calendar view that helps schedule tasks and set goals.
Detailed lead reports- These provide a detailed description of the number of leads acquired during a specific period and detailed information about each.
Easy-to-use team collaboration tools- Less Annoying CRM comes with easy-to-use collaboration tools so beginners can use them efficiently rather than getting confused.
Customizable interface- It gives the freedom to customize fields throughout the entire software. It makes it more attractive as users can provide a personal touch while using the software.
Daily reminders- Less Annoying CRM gives you daily agenda emails to focus on your daily goal and helps you achieve it. A daily email reminder can ensure you get all the essential tasks.
How to use Less Annoying CRM in 2023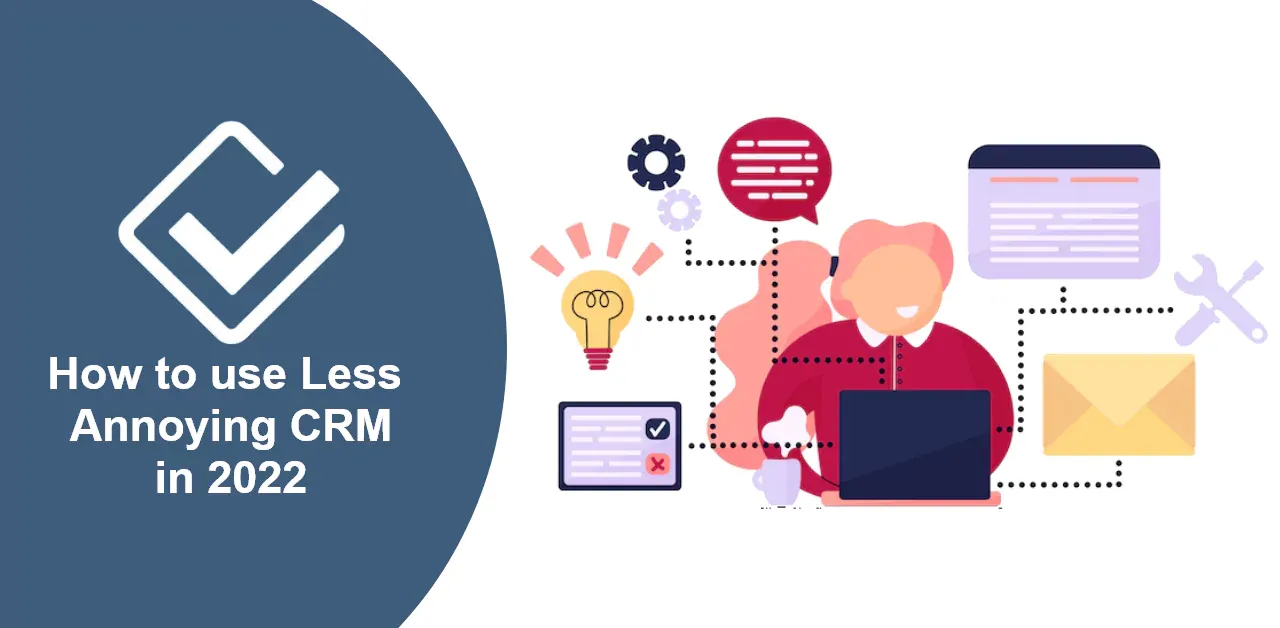 Start by creating an account or signing up for a free trial
In less annoying CRM, you can create your free trial account and input data or set up customization features to explore the CRM software. You can clearly understand the CRM and discuss with your team if it is enough to satisfy your business needs. It is one of the great opportunities provided by less annoying CRM, as you can get a good idea about it before investing. It will take about 5 minutes to create a free trial account.
Access the self-help materials provided
Less Annoying CRM comes with please videos titled The Beginner's guide that share with you the main features of the CRM. You can go through these videos to learn in detail about CRM and its features. It is beneficial because it can give you a clear idea about the software and the knowledge to use it to the fullest.
Go for a demo session
You can choose a demo session where a CRM coach will assist you in carrying out some of the essential tasks in Less Annoying CRM and share customization tips. In this session, you can also get answers to your queries that may have arisen after watching the tutorial videos. They also offer long account consultation calls and assist unit calls for a detailed discussion about your issues or questions.
Gather your data and transfer it to the CRM
After you have a clear idea about the CRM software, start gathering all your contacts and export data from your email, email marketing program, or any old existing CRM. After you have collected all your data, you can enter it into the Less Annoying CRM. Import up to three spreadsheets for you to send files over. But the rest of the work is to be done manually. Make sure you have enough time to import necessary contacts or necessary data manually. It may be a time-consuming task, but once you are done with it, you are ready for the next step.
Start assembling your account
It's time to organize your account after importing all your data or entering contacts manually. Make sure to take your contacts in the correct groups and attach them to the suitable pipelines according to your needs. If you need clarification about what to do, you can contact customer support to get suggestions. If there is any duplicate contact, you can mark them rather than delete them. Customize your account according to your wish and use the customization tools fruitfully to get the best out of it.
Use the CRM regularly
In the beginning, it can be tricky to use Less Annoying CRM, but the more you use it, the easier it becomes. Set reminders in your account to help you log in daily and explore the various options. With regular use, you will become a master in using CRM most beneficially. In return, you can expand your business with the help of Less Annoying CRM.
Pros and Cons of using Less Annoying CRM
Pros
Less Annoying CRM is the best option for small businesses that want to manage their sales pipeline, as it has a very affordable price.
It offers simple customization options for users to customize their interface according to their needs quickly. Even small business houses this facility because of less annoying CRM.
It provides email support to businesses in minimum cost investment. It is beneficial in maintaining a good relationship with customers.
It also comes with a mobile application so that you can work on the go.
Cons
This CRM is not a good option for businesses that want to manage marketing with their CRM software.
It is not recommended for companies that link project delivery with their sales process.
As it mainly caters to small businesses, it does not have the complex CRM facilities and tools required for large Enterprises.
It does not provide integrations. It can be a problem for companies that want to integrate with third-party services.
Conclusion
Less Annoying CRM is a particular CRM space that offers unique features in a limited range. But the primary purpose of this CRM is to provide service in an affordable price range.
If you are a smaller business that doesn't need a lot of luxurious features and tools, less annoying CRM is the best choice for you. Its main attraction is its simplicity and affordability. Less Annoying CRM is the perfect budget-friendly option to get started in the CRM software world.
In this blog, we have discussed Less Annoying CRM software focusing on features, pros, and cons and a setup tutorial. We hope this blog finds an affordable CRM option to start your business. If you have any queries regarding Less Annoying CRM feel free to drop a comment down below. It will be a great pleasure for us to help you out.
Also, if you are searching for an alternative affordable chatbot maker, feel free to check out the features offered by BotPenguin!
Related articles
Zoho CRM VS Spiro: Which CRM is worth it
9 Things You Didn't Know About PipeDrive CRM