Healthcare, a foundational pillar of contemporary society, is likely one of today's most essential industries. The future of the healthcare business appears bright, as technology promises to usher in a new era of automation that will increase the industry's speed, security, and accuracy. For example, deploying chatbots in the healthcare sector is a promising technique to handle patients and clients better.
Intelligent text or voice-based interfaces driven by algorithms have proliferated over the past few years and are already supplanting traditional ones in the healthcare industry. The Medical Futurist believes that healthcare chatbots like Molly, Ginger, Replika, and others will relieve the strain on primary care doctors and teach patients how to take care of their health responsibly.
The market for healthcare chatbots is anticipated to increase from 183.3 million in 2019 to $703.2 million in 2025, at a CAGR of 25.1%.
Do you want to try one? Explore this blog; here is a list of the ten most fascinating healthcare chatbots for 2023.
The 10 top healthcare chatbots in the market
1. Woebot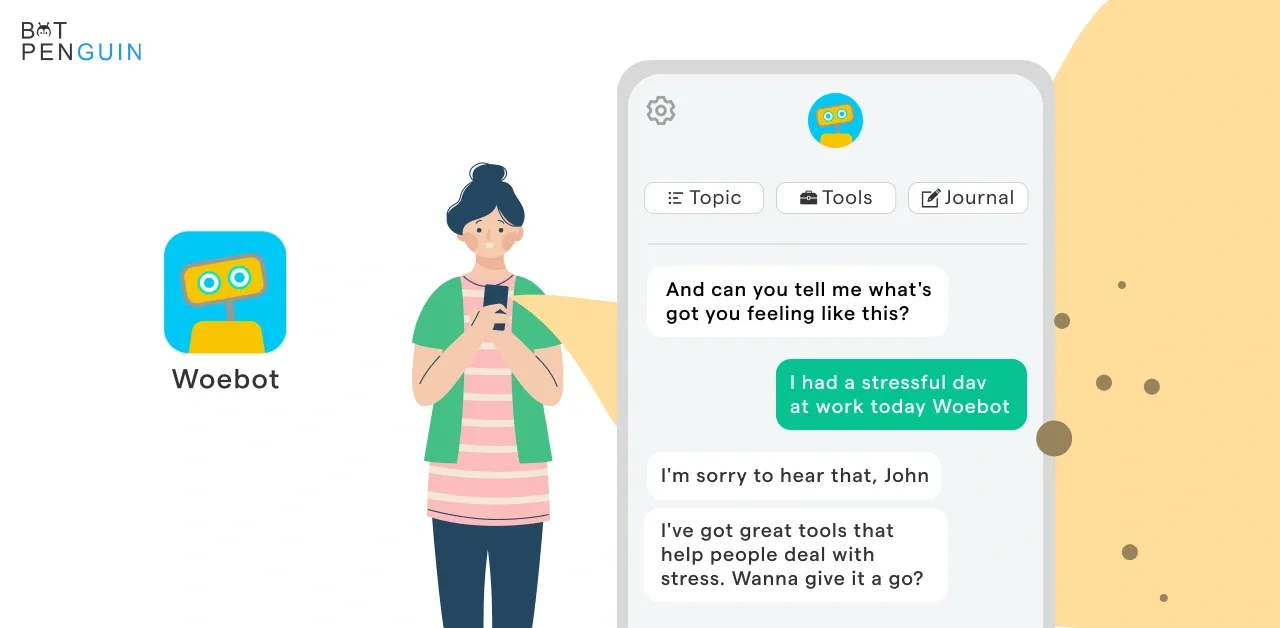 Woebot is a mental health chatbot that provides users with cognitive-behavioral therapy (CBT) via a conversational interface. The chatbot uses natural language processing (NLP) to understand and respond to users' messages, providing personalized support and guidance for managing symptoms of anxiety, depression, and other mental health conditions. Woebot was developed by a team of psychologists and computer scientists and has been clinically tested to demonstrate its effectiveness in improving mental health outcomes.
2. Babylon Health
Babylon Health is another healthcare chatbot that offers a range of services, including symptom checking, triage, and virtual consultations with healthcare professionals. The chatbot uses AI and NLP to provide personalized recommendations and treatment plans based on users' symptoms and medical history. Babylon Health also offers a range of health monitoring tools, including fitness tracking and sleep monitoring, to help users manage their overall health and well-being.
3. Sensely
Sensely is a healthcare chatbot that offers a virtual medical assistant to help patients manage their health and navigate the healthcare system. The chatbot uses AI and NLP to provide personalized support for medication management, appointment scheduling, and accessing health resources. Sensely's virtual medical assistant is designed to help patients stay engaged and informed about their health, reducing the burden on healthcare providers and improving patient outcomes.
4. Florence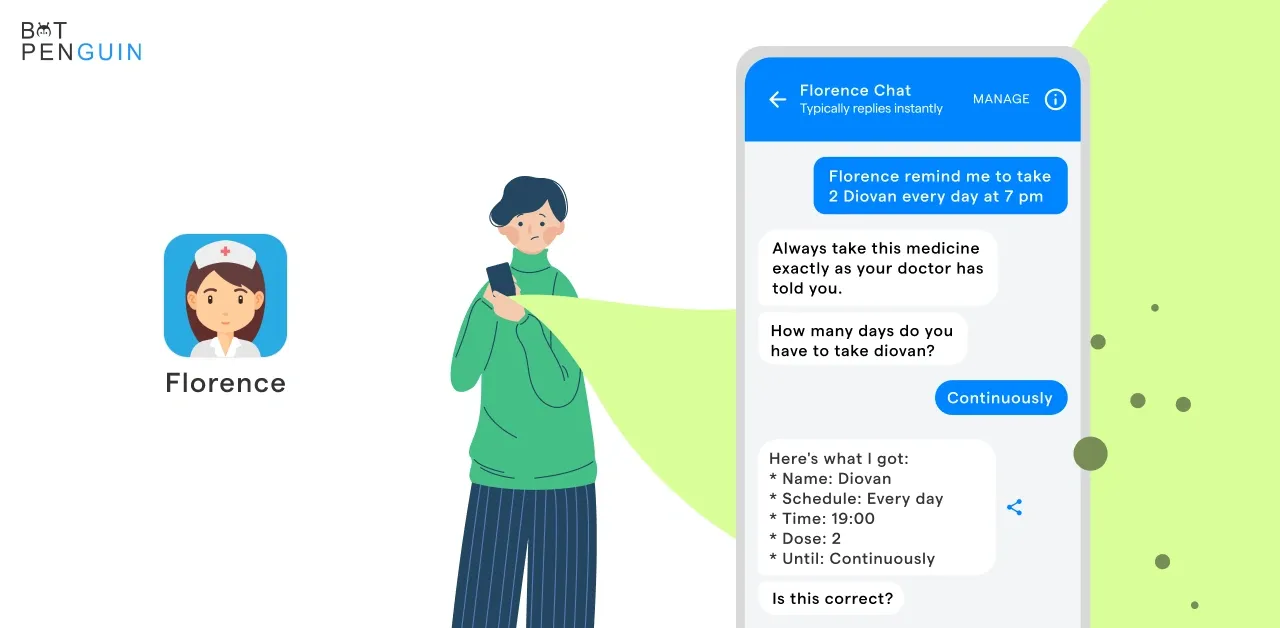 Florence can monitor a user's health, such as their body weight, mood, or menstruation, assisting them in achieving their objectives. The chatbot can also be programmed to locate the closest pharmacy or medical facility.
5. Cancer Chatbot
Dedicated to charitable causes: On Facebook Messenger, the Cancer Chatbot is useful for cancer patients, carers, friends, and family. The chatbot provides patients with a wealth of options, including free services and advice on chemotherapy. It offers carers resources to lessen the cost of providing care and simplifies their lives.
Additionally, it provides recommendations to friends and relatives on what to say and how to support cancer patients. It's an elegant and well-considered solution.
6. Gyant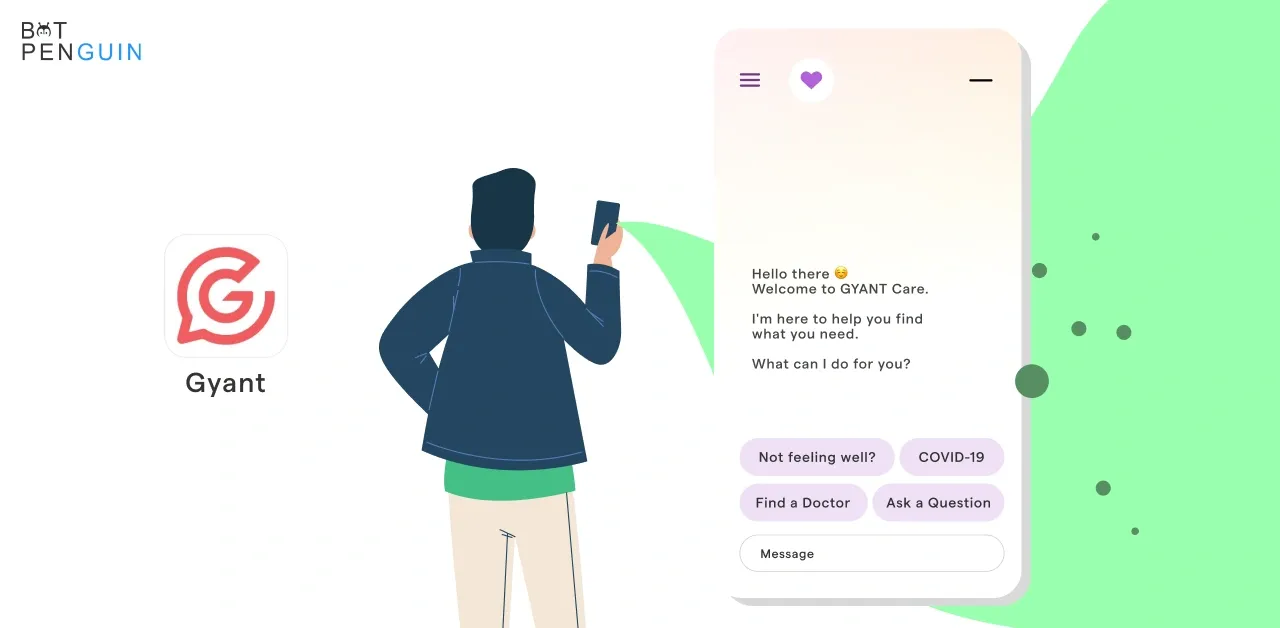 Gyant is a health chatbot that prompts users to describe their symptoms before sending the information to physicians, who diagnose and issue prescriptions in real time. The team has already made the service available on Facebook Messenger and Alexa, but they eventually hope to make it available on other messaging platforms.
Additionally, Gyant can converse with users in Spanish, Portuguese, or German and assist English-speaking patients.
7. Buoy Health
Buoy Health was reportedly trained on clinical data from 18,000 medical articles through the Harvard Innovation Laboratory. It was designed to replicate the literature cited by clinicians. 5 million patients and nearly 1,700 ailments are only a few examples of data.
To determine what might be wrong with your health, you can look up your symptoms online or search the extensive database of Buoy Health. The chatbot carefully probes you about the specifics of your medical condition and presents you with a range of options and doable next steps.
8. Suki
Suki offers voice-activated, AI-backed medical documentation solutions. It offers a digital assistant that can record doctor-patient discussions, help clinicians take notes orally using natural language, and listen to them. It makes use of cloud and NLP technology.
9. Ada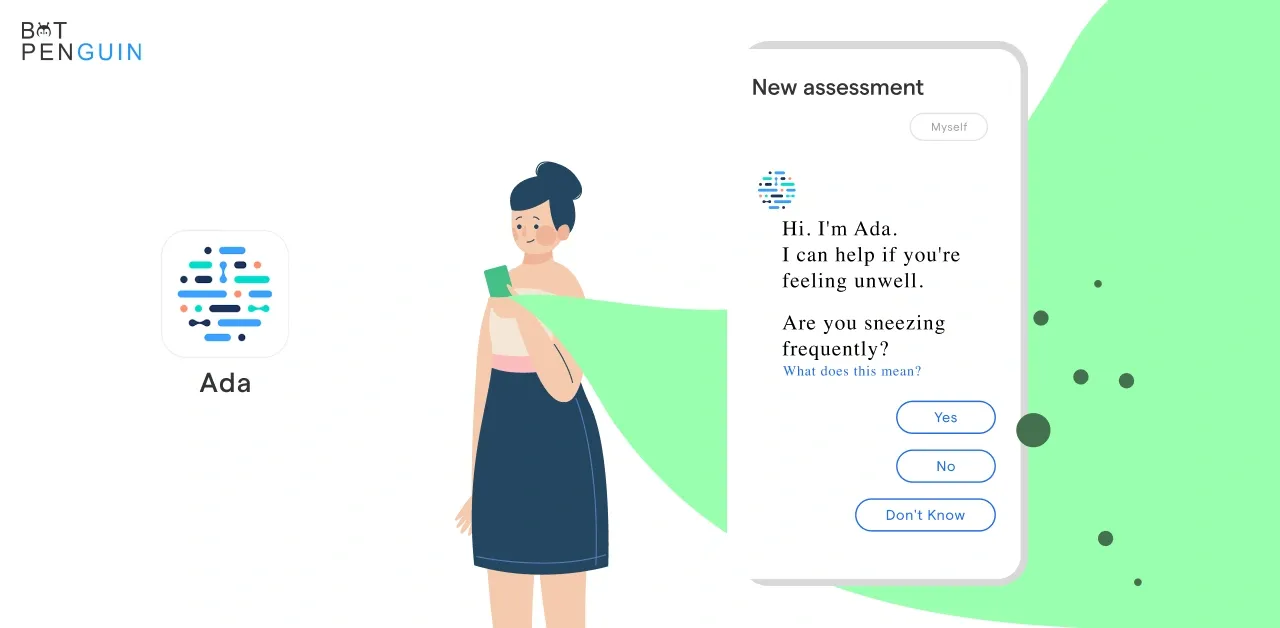 Ada is a healthcare chatbot that offers a symptom assessment tool to help users determine the underlying cause of their symptoms. The chatbot uses AI and NLP to understand users' symptoms and medical history, providing personalized treatment and further evaluation recommendations. Ada is designed to empower users to take an active role in their healthcare and to help them make informed decisions about their health.
10. Patientco
Patientco is a healthcare chatbot that offers a virtual billing assistant to help patients manage their medical bills and insurance claims. The chatbot uses AI and NLP to understand patients' billing questions and concerns, providing personalized support for payment scheduling, insurance verification, and claim status updates. Patientco's virtual billing assistant is designed to reduce the administrative burden on healthcare providers and improve the patient experience.
Conclusion
Although the market for healthcare chatbots is expanding, no one could collect them all because new ones would inevitably appear the next day. That demonstrates the promising Future of chatbots in the healthcare industry and the breadth of the areas where they may assist patients and doctors.
It is clear how chatbot technology in healthcare is easing the workload of the already overworked hospital staff and enhancing the scalability of patient communication as it advances.
This is the ideal moment to start if you want to. In the same way, if you require help setting up a healthcare or medical chatbot, get in touch with BotPenguin. We'll explain the use cases in more detail and show you how to employ chatbots in your healthcare institution.