ChatGPT was released in November 2022 but it has already captivated people with the advanced conversational abilities. But did you know there are already dozens of handy plugins that can help you get even more out of this powerful AI tool?
According to recent data from PluginRank, downloads of ChatGPT plugins have surged over 600% in just the past two months.
Why? Because these plugins give the power to integrate ChatGPT into any apps and workflows for next-level productivity..
To take one step further, there are many custom ChatGPT plugins available that can take the personalization into another level. Whether you're a writer, developer, or student, custom ChatGPT plugins let you tap into AI anywhere with just a click
In this article, we've rounded up 11 of the most useful, time-saving custom ChatGPT plugins for businesses that can take your AI experience to the next level in 2023. Let's dive in!
What are Custom ChatGPT Plugins for Businesses?
ChatGPT Plugins, also known as OpenAI Plugins, are add-ons that can be integrated into ChatGPT to enhance its capabilities. These custom ChatGPT plugins for businesses are custom modules that can be tailored to fit specific industries, such as e-commerce, healthcare, finance, and education.
With custom ChatGPT plugins for businesses, you can do more than just chat with the AI. OpenAI has created two plugins itself: the Web Browser Plugin and the Code Interpreter Plugin. These plugins help mitigate some of ChatGPT's current limitations and make it a more useful tool.
Why do you need a ChatGPT Plugin?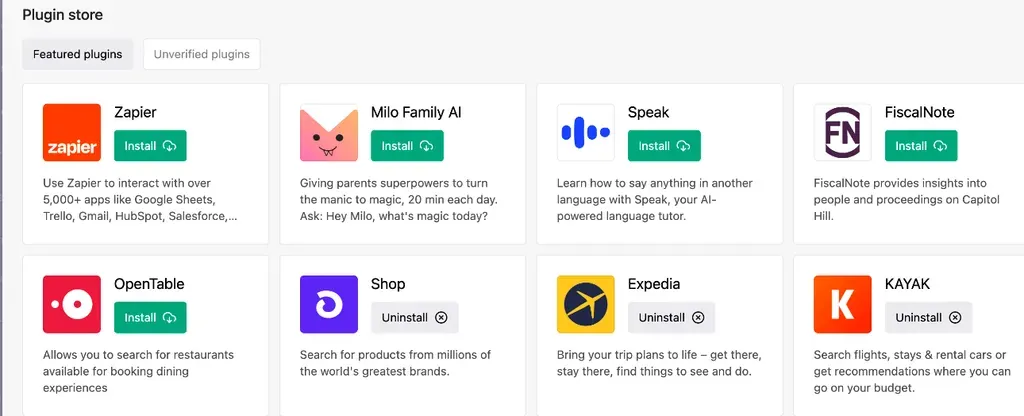 While ChatGPT is incredible as a conversational AI chatbot, it comes with limitations, such as giving outdated and biased responses, being limited to text, and lacking voice support. Custom ChatGPT plugins for businesses are the first step to overcoming some of these limitations.
Meanwhile the code interpreter plugin minimizes errors in code generated by ChatGPT by testing in a live environment.
Third-party plugins like Instacart, Slack, Zapier, and others help you automate redundant and boring tasks. ChatGPT Plugins serve as the 'eyes and ears' for the language model, giving it access to personal, recent, or specific information.
Top 11 Third-Party ChatGPT Plugins
Now, let's explore some of the third-party best custom ChatGPT Plugins 2023 that can further enhance your chatbot experience.
1. Browsing Plugin
One of the best custom ChatGPT plugins 2023- Browsing Plugin is your super-smart assistant that browses the internet.
The Browsing plugin uses Microsoft's Bing search API and safety features to ensure the reliability and truthfulness of the information it provides. It also cites its sources, allowing you to verify the accuracy of ChatGPT's responses.
2. Code Interpreter Plugin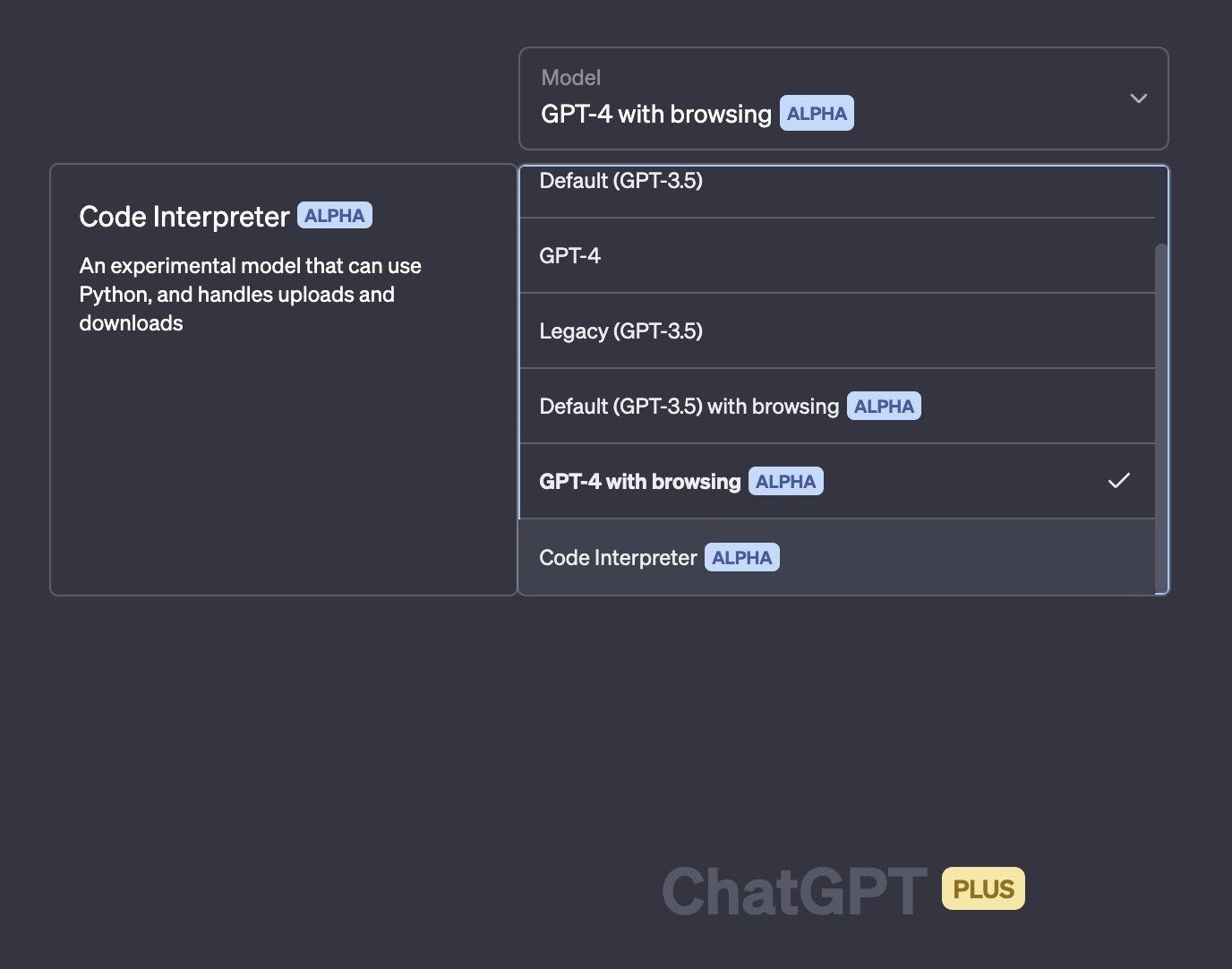 The Code Interpreter Plugin uses Python in a sandboxed and firewalled execution environment to handle code uploads and downloads. It allows you to evaluate code in a persistent session and supports tasks such as solving mathematical problems, data analysis, visualization, and file format conversion.
With the Code Interpreter Plugin, you have an eager, junior programmer at your fingertips, helping you build efficient workflows effortlessly.
3. Expedia Plugin
Expedia, the one-stop destination for all your travel needs, has developed a ChatGPT Plugin that revolutionizes trip planning. By integrating the Expedia Plugin into ChatGPT, you can research travel costs, receive suggestions for resorts and local activities, and customize your options based on preferences such as amenities, flight duration, ticket prices, and discounts.
This plugin uses real-time data and code-based calculations to provide personalized travel options tailored to your needs.
4. FiscalNote Plugin
The FiscalNote Plugin empowers users to convert insights into practical strategies by offering a comprehensive outlook of legal, policy, and regulatory advancements.
By interacting with ChatGPT, users can ask questions and receive personalized responses from the FiscalNote Plugin. Through AI and machine learning, this plugin provides a seamless and intuitive experience, helping users stay ahead in a rapidly changing regulatory landscape.
5. Instacart Plugin
Meal planning and grocery shopping are made easy with the Instacart Plugin for ChatGPT. With this plugin, you can ask ChatGPT open-ended meal questions or for inspiration for a specific type of food.
ChatGPT will suggest recipes and meals based on your needs, and with a few clicks, you can add all the necessary ingredients to your Instacart cart. It's a convenient way to get instant meal inspiration and have the necessary ingredients delivered to your door.
6. Slack Plugin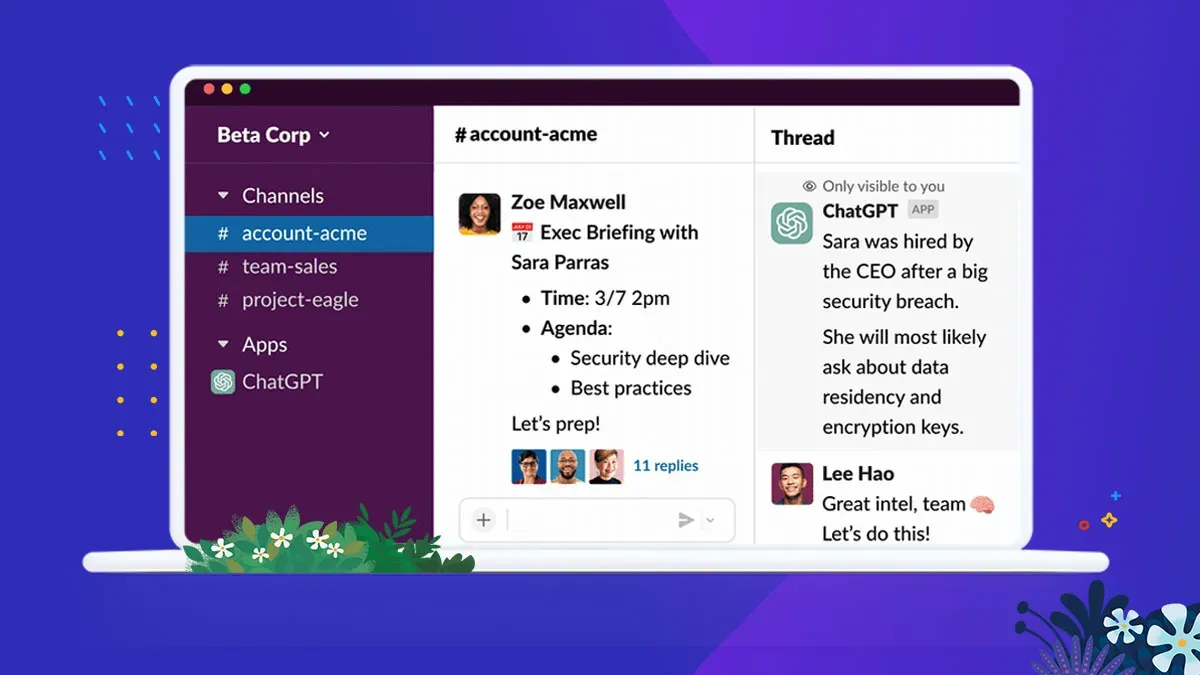 The Slack Plugin for ChatGPT allows you to seamlessly integrate ChatGPT with the popular workplace messaging platform. With this plugin, you can use ChatGPT right within your Slack channels, enabling collaborative conversations, brainstorming sessions, and quick access to information. It's a great way to enhance team communication and productivity.
7. Zapier Plugin
Zapier is a powerful automation tool that connects different applications to streamline workflows. By integrating the Zapier Plugin into ChatGPT, you can automate redundant and boring tasks, saving time and increasing efficiency.
Whether it's creating new tasks in project management tools or sending notifications based on specific triggers, the Zapier Plugin makes it easy to automate processes and focus on more important tasks.
8. OpenTable Plugin
If you're a food enthusiast, the OpenTable Plugin for ChatGPT is a game-changer. This plugin allows you to search for restaurants, make reservations, and explore dining options right within the chat window.
Simply ask ChatGPT for restaurant recommendations, specify your preferences, and let the plugin handle the rest. It's a convenient way to make dining plans without leaving the conversation.
9. Wolfram Plugin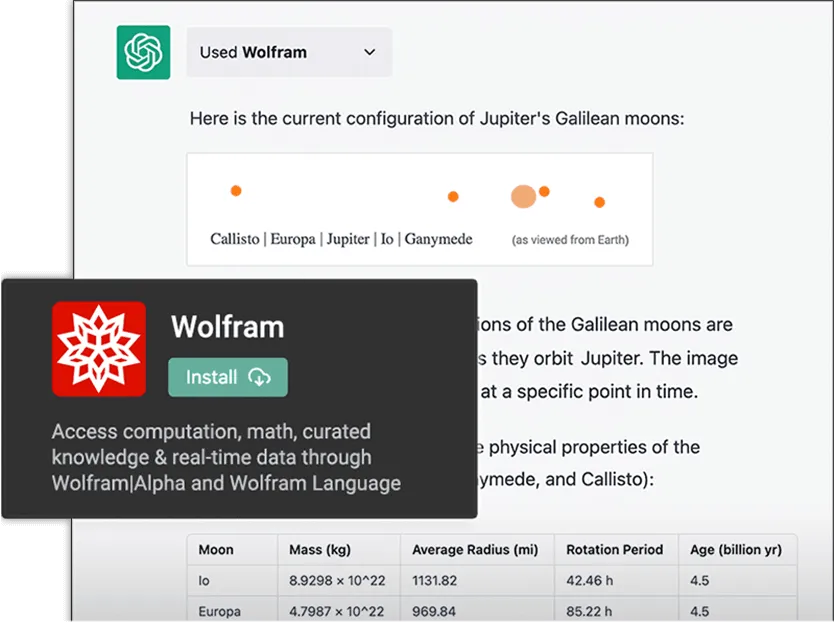 The Wolfram Plugin integrates the power of Wolfram Alpha's computational knowledge engine into ChatGPT. With this plugin, you can as,k complex, mathematical, or scientific questions and receive computed answers, visualizations, and explanations.
Whether you're a student, researcher, or simply curious, the Wolfram Plugin helps you access accurate and reliable information right within ChatGPT.
10. Klarna Plugin
The Klarna Plugin enables seamless integration with Klarna's payment solutions. With this custom ChatGPT plugin, you can offer flexible payment options to customers, improving the buying experience and increasing conversions.
Whether it's Buy Now, Pay Later, or installment plans, the Klarna Plugin makes it easy to implement these payment options within your chatbot.
11. Speak Plugin
The Speak Plugin adds a voice to your ChatGPT conversations. By integrating this plugin, you can enable ChatGPT to not only respond with text but also generate spoken responses. It's a great way to make the conversational experience more engaging and interactive.
Conclusion
With new custom ChatGPT plugins emerging every day, it can be hard to keep track of the truly game-changing ones. But this roundup reveals the top plugins that can enhance productivity, creativity, and efficiency across the board when using ChatGPT.
Whether you need AI writing support, programming help, or simply want ChatGPT access on the go, these custom ChatGPT plugins for businesses have you covered.
Companies like BotPenguin are also making it easy for anyone to build their own customized ChatGPT chatbots for business uses, without coding. The possibilities with ChatGPT get more exciting by the day. By integrating these custom ChatGPT plugins for businesses into your workflows now, you can tap into the power of this revolutionary AI as it continues to evolve.
The key is finding the plugins that best suit your individual needs. With this diverse list of top-rated options spanning extensions, API tools, workflows, and more, you can build an AI-powered toolkit tailored to your goals in 2023 and beyond.
So explore these cutting-edge 11 best custom ChatGPT Plugins 2023, amplify your ChatGPT experience, and take your productivity to the next level!
Frequently Asked Questions (FAQs)
What are ChatGPT plugins and how can they enhance my website's functionality?
ChatGPT plugins are custom software modules that integrate with the ChatGPT platform, adding new features and expanding its capabilities. These plugins can improve user engagement, automate tasks, and provide a more personalized experience for your website visitors.
Are the listed ChatGPT plugins compatible with popular website builders like WordPress and Wix?
Yes, the listed ChatGPT plugins are designed to be compatible with popular website builders like WordPress and Wix. They can be easily integrated into your website regardless of the platform you are using.
Can I use multiple ChatGPT plugins simultaneously on my website?
Absolutely! You can use multiple ChatGPT plugins simultaneously on your website. Each plugin serves a different purpose, so utilizing multiple plugins can help you offer a wide range of functionalities to your users.
How do I install and activate ChatGPT plugins?
Installing ChatGPT plugins typically involves downloading the plugin files, uploading them to your ChatGPT dashboard, and then activating and configuring them according to your preferences. Detailed installation instructions are usually provided by each plugin's developer.
Do I need any programming knowledge to use these ChatGPT plugins?
No, you don't necessarily need programming knowledge to use these ChatGPT plugins. Most plugins come with user-friendly interfaces and provide easy-to-follow documentation or tutorials to simplify the installation and configuration process.
Are there any free options among the listed ChatGPT plugins?
Yes, some of the listed ChatGPT plugins are available for free, while others may have premium versions or additional paid features. It's important to review the pricing and features of each plugin to determine the best fit for your website and budget.