Today, technology is everything. Our lives revolve around apps, websites, and bots. We use them to book vacations, order groceries, get news and see if it's raining today. They're all so easy to use and convenient. For example, you can chat with a bot on Facebook Messenger or Telegram, which gives you access to a service agent 24/7 without having to call customer service.
Telegram is a fantastic app with tons of bots that make life easier. Whether you want to schedule an appointment or check the air quality around you, these little programs can do it all.
In the spirit of productivity and automation, here are 10 Amazing Telegram bots that'll boost your productivity.
Why are these Telegram bots so popular?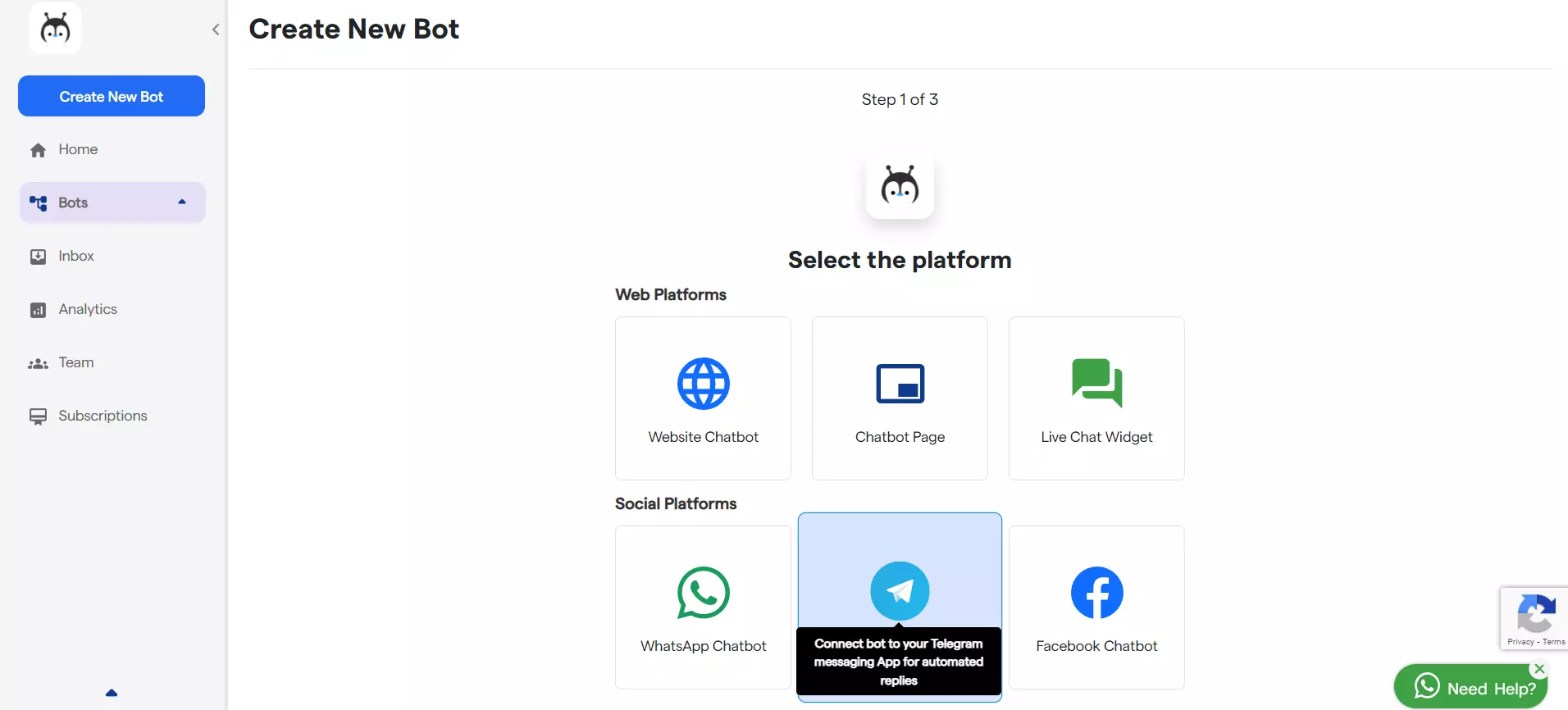 In the age of smartphones, these little bots can perform a myriad of tasks in an instant, making your life easier in ways you didn't know needed help.
They can send you quick updates on weather, traffic, news headlines, sports scores, and much more. They can help you order a pizza or find out what movie is playing at your local theater. They can even keep track of your favorite teams scores while you're away from your TV!
Telegram Bots have been around almost as long as the app itself. The first ones appeared when Telegram launched its Bot API in 2015. Since then, over 100 000 developers have created bots for Telegram users to add to their chats and enjoy the benefits of automation.
Telegram Bots make life easier because they improve our day-to-day lives by automating tasks and updating us on the information we need in seconds.
BotPenguin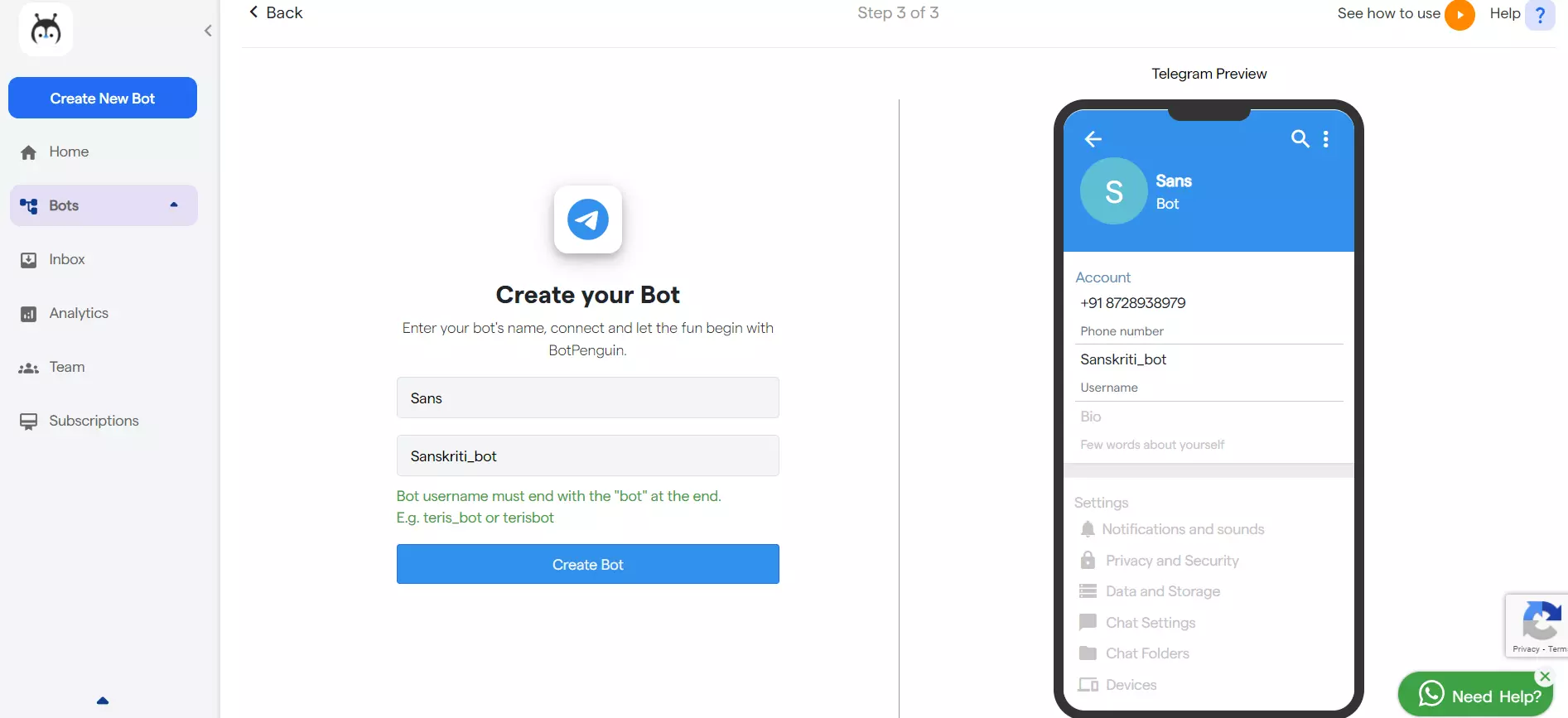 BotPenguin is a chatbot platform that helps businesses to create their chatbots. It enables you to engage with customers and increase sales. It allows enterprises to build, deploy and manage chatbots without programming skills.
BotPenguin offers several features, including messaging, SMS notifications, data analytics, Facebook messenger integration, live chat support, and more. You can get your bot up and running in minutes, and it is perfect for both small businesses and large corporations.
It is an easy-to-use chatbot platform that helps those who want to create their bot and don't have the time or resources to do so themselves. The platform allows anyone with little or no coding experience to build bots quickly using templates.
Build your own Telegram Chatbots using BotPenguin, it also offers chatbot creation for social platforms, websites, wordpress:
The Skeddy Telegram Bot (@skeddybot)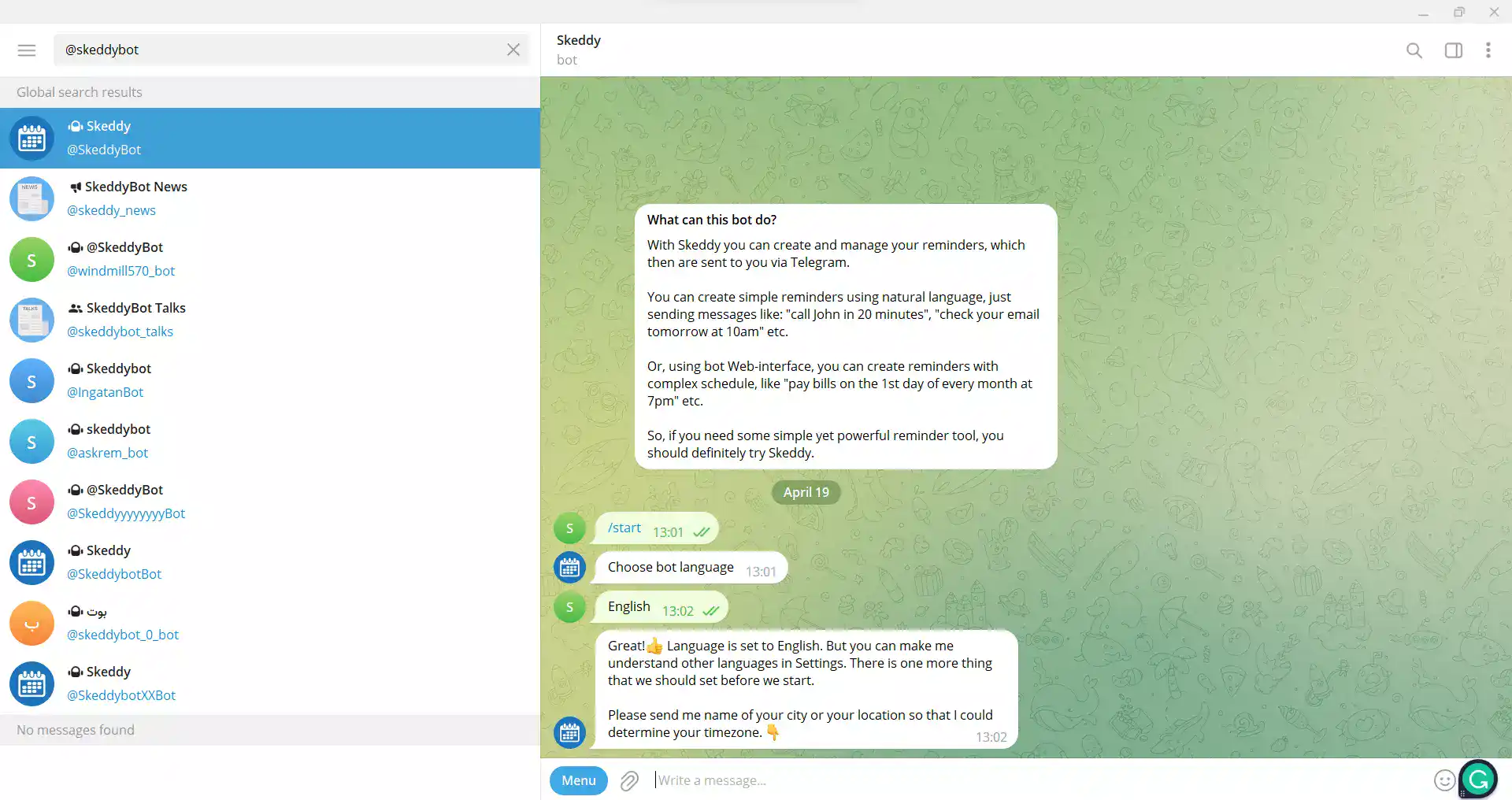 It is a simple reminder tool that allows you to create unlimited reminders for yourself and your friends.
With this bot, you can easily set up a reminder that it will send to you or another person every day, week, or month (or even on a specific date). All that is needed is the person's name and an optional message. To do this, send a message to @skeddybot in any group chat.
The Botfather Telegram Bot - @botfather
The BotFather is the official Bot of the Telegram Bot API. It can help you create new bots, manage existing ones, and do bot-related tasks.
The BotFather is a convenient wrapper around Telegram.bot API allows you to create your Telegram bot using Python easily.
The library has a simple interface that lets you define all aspects of your bot in a single file: from its name and description to how it looks and behaves. You can also add multiple commands with their triggers and control their behavior with simple JSON-based configuration files.
Once you've defined your bot's behavior, you can use the BotFather to generate a unique token. You can then use it to connect the bot to its users through the /start command or via HTTP POST requests.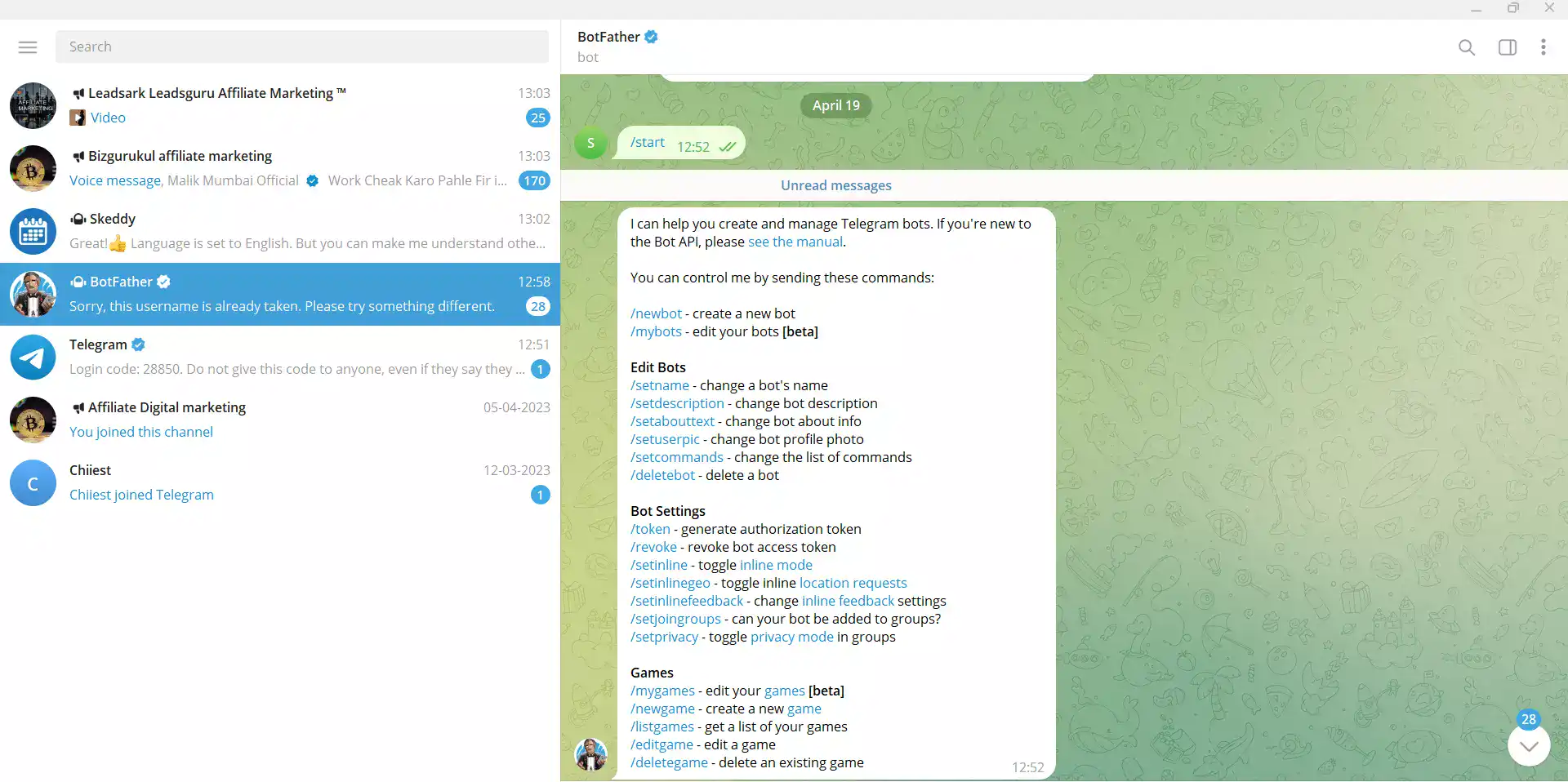 The Airtrack Telegram Bot - @airtrack_bot
The Airtrack Telegram Bot is a real-time flight tracking service that provides information on flights, airports, weather, delays, and security risks. You can get flight status updates sent directly to your phone. With the Airtrack Telegram Bot, you will always know if your plane is on time or delayed and what gate it is.
There are a few ways to use the Airtrack Telegram Bot:
Send @airtrack_bot a message with the flight number of any airplane you want to track. The bot will reply with the flight status and more details about the flight.
Send @airtrack_bot a message with an airport code or city name for detailed information about that airport or city's weather, delays, and security risks.
Send @airtrack_bot a message with any flight number to get detailed information about that flight's status, including boarding procedures and gate information.
IFTTT Telegram Bot - @IFTTT
The IFTTT Telegram Bot is designed to help you automate and simplify your life. It allows you to create "recipes" that let you connect different apps and services. When one app or service triggers an event, the bot can send a message to another app or service — either on its own or by responding to a user's request for help.
It allows you to create custom bot services with a few simple steps. You can also use the bot to access existing third-party services such as Google Drive, Gmail, and Twitter.
To start, open the Bot Store in Telegram and search for IFTTT. Then click on "Start." The first thing you'll need to do is connect your account with IFTTT by linking to your account.
It's necessary so that the bot can access your channels without accidentally spamming them with automated messages. Follow the instructions, and you'll be ready to go in no time!
The File Converter Telegram Bot - @newfileconverterbot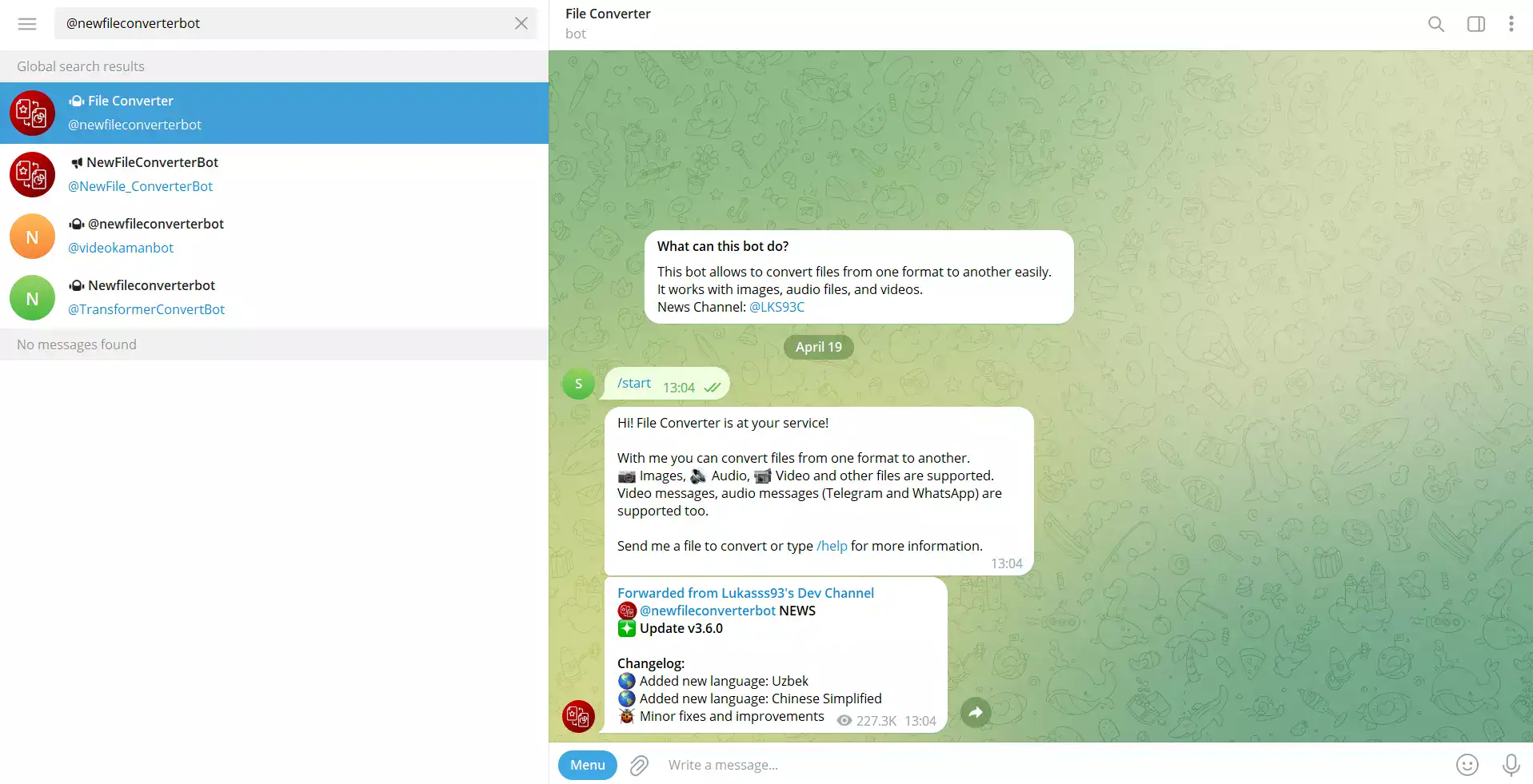 It enables you to convert files into various formats. It can handle several files, including images, audio, videos, documents, and archive files. It delivers the converted file back to you on your device in seconds!
The bot is free to use, and the developer has no intention of charging for it.
You can do conversions from within the Telegram client by typing @newfileconverter in a group chat with the bot or via private message.
Once you've uploaded your file(s) onto the platform, you will receive a link you can share with anyone. From there, the person who receives your link can download the converted file(s).
The Trello Telegram Bot - @trello_bot
The Trello Telegram Bot is a tool that allows you to manage your Trello boards directly from your phone. You can manage your tasks and projects and create new ones.
How does it work?
Once you have installed the bot on your device, you'll see a list of all your boards. Tap on one of them to open it, and tap on the "New Card" button at the bottom right corner of the screen to create a new card for this board. You can also tap on an existing card to edit or delete it.
Suppose you want to add cards to an existing board, tap "Add Card," and select a commission from the list of available options. It will open up another window where one can enter all relevant data like title and description into fields provided by both apps.
Once you do it, hit "Create Card" at the bottom right corner of this screen to save it permanently on this specific board. Also, you can hit "Cancel" if you no longer want to create this particular item (i.e., task).
The BabelGram Bot - @BabelGram
The Babelgram Telegram Bot is an artificial intelligence-powered bot that can translate and speak multiple languages. It is the first-ever translation app that uses AI to translate between languages. It is a free app that anyone can use to translate text messages, images, and videos with one click.
Anyone with a Telegram account can use the Babelgram Telegram Bot. The bot works by taking in a text message or URL and translating it into another language. Anybody can use it to translate words or entire sentences into their native language.
The Babelgram Telegram Bot uses Google Translate API for translating text messages into other languages. It supports over 50 languages, including Czech, Danish, Dutch, English, Finnish, French, German, Greek, Hindi, Hungarian, Icelandic, and Italian.
The Dropmail.me Telegram bot - @DropMailBot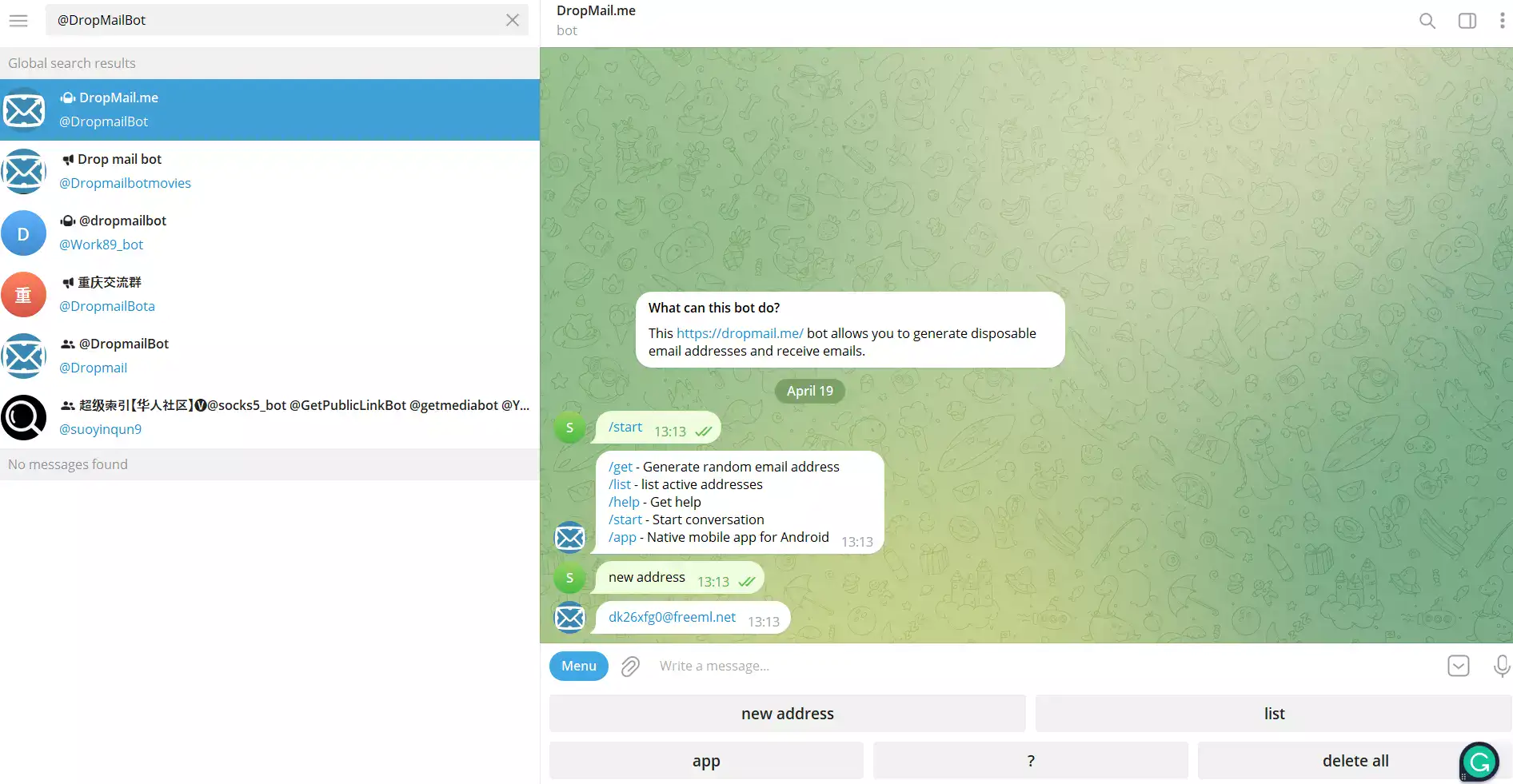 It is a bot that allows one to create and manage unlimited email accounts with your domain name. It's a great way to manage your email accounts while using a service that some email providers do not support.
The Dropmail Telegram Bot allows you to create unlimited email accounts with domains worldwide. It includes parts from countries like China, Russia, and Iran, which are not supported by other email providers like Gmail and Yahoo! Mail.
How does it work?
The first step is to get an API key from Dropmail, which requires registration on their website. Once you receive your API key, you can start creating new accounts by sending a message to @dropmailbot with the following command:
/create_email <username>.<domain_name> (e.g.: /create_email johndoe@example
File To Bot On Telegram -(@filetobot)
File To Bot On Telegram is a cloud storage solution that allows you to send files between devices. It is similar to Dropbox and Google Drive but has a few added features.
File To Bot On Telegram is the world's first file-sharing application for Telegram messenger. It is unique because it has many different features no one else has.
In File To Bot On Telegram, you can:
Send a file from your device to another.
Download any file from another user on the network.
Upload multiple files at once.
Share files with other users on the network.
Watch movies and listen to music directly from the application.
Create folders to store your files.
Search for anything.
Share your profile with other users on the network (if they want).
Conclusion
Ultimately, the popularity of Telegram can be attributed to its cutting-edge features, data security, and easy-to-use interface. And there's no doubt that Telegram has staying power—it's not going anywhere and will likely remain popular for a long time.
These bots can automate small tasks that take too much time. You can relax and catch your breath while you book an appointment. You can save your essential data on a cloud at zero cost. Moreover, you have to no more wonder about other languages with the Babelgram translator.
Build your own Telegram Bot know! Try BotPenguin:
We hope you enjoyed learning about some of our favorites, and we wish you luck finding the perfect bots for your needs.
Frequently Asked Questions
What are Telegram bots?
Telegram bots are automated programs that interact with users on the Telegram messaging app. They can perform various tasks, such as delivering news updates, providing weather forecasts, playing games, and assisting users with managing their schedules.
How do I use Telegram bots?
To use Telegram bots, you can search for them within the app and start interacting with them by sending messages or commands. The bot will then respond with the requested information or action.
Can I create my own Telegram bot?
Yes, you can create your own Telegram bot using the Telegram Bot API, which allows developers to build custom bots for various tasks within the app.
What are popular use cases for Telegram bots?
Popular use cases for Telegram bots include providing news updates and weather forecasts, managing tasks and projects, playing games, performing calculations and answering questions, and transcribing audio and video messages.
Can Telegram bots be customized?
Some Telegram bots can be customized, while others have a fixed set of features. Check the bot's documentation to see if customization is possible.
Can Telegram bots be used on desktop or web versions?
Yes, Telegram bots can be used on desktop and web versions of Telegram in addition to mobile versions. The process of finding and using bots is the same across all versions of the app.